Blockchain has become the hottest tech term used in recent times. Being primarily set up for the trading of cryptocurrencies such as Bitcoin, Ethereum and Ripple, blockchain technology holds the potential to deliver significant transformations and finally become a means of solving many modern day problems that exist industry-wide. Basically, with blockchain, you can store data more securely and efficiently and thus, it can be useful for any sphere. By using smart contracts, companies can form an electrical code that assists organizations to develop a venture in a conflict-free manner.
Disclosure: This is a Sponsored Article

Therefore, as it was already mentioned in the opening, blockchain technology can be useful for any industry. Wondering what blockchain has to do with advertising?
Well, the lack of transparency in the world of online media is one of today's biggest challenges. Indeed, trust is critical if we need to create a better advertisement ecosystem and it's exactly what most advertisers, media agencies, publishers and enterprises are determined to achieve. Today, many companies try to harness blockchain technology to make digital advertising more transparent, trustworthy and, of course, safe. In fact, there are several exciting technologies coming out using blockchain. Blockchain-integrated apps, such as Hooch in close cooperation with TAP Coin, can solve dozens of issues the advertising industry has to face on a regular basis.
Today's Advertising Industry and The Challenges It Faces
Look around, most people use a third-party ledger on a daily basis – even if they actually don't realize it. It could be your credit card company recording your purchase of a book, or a booking site that you've recently visited reminding you to make a reservation again and again. Needless to add, your data is being collected regardless of the device you are using, be it a desktop computer, a MacBook or a mobile device.
People are getting too many ads, often not tailored to their preferences or ones that are improperly analyzed. Just a simple example to demonstrate-  you can see the same display ad for a hotel following you from one site to another, even though you have already booked your accommodation there three days ago. Indeed, we can spot a significant disconnect between consumers and marketers with respect to what people desire, when and where they desire it, and in what manner they desire it.
The other important issue we face today is non-human traffic, fake profiles, and botnets. The advertisers might spend hundreds of dollars displaying ads for people who don't exist.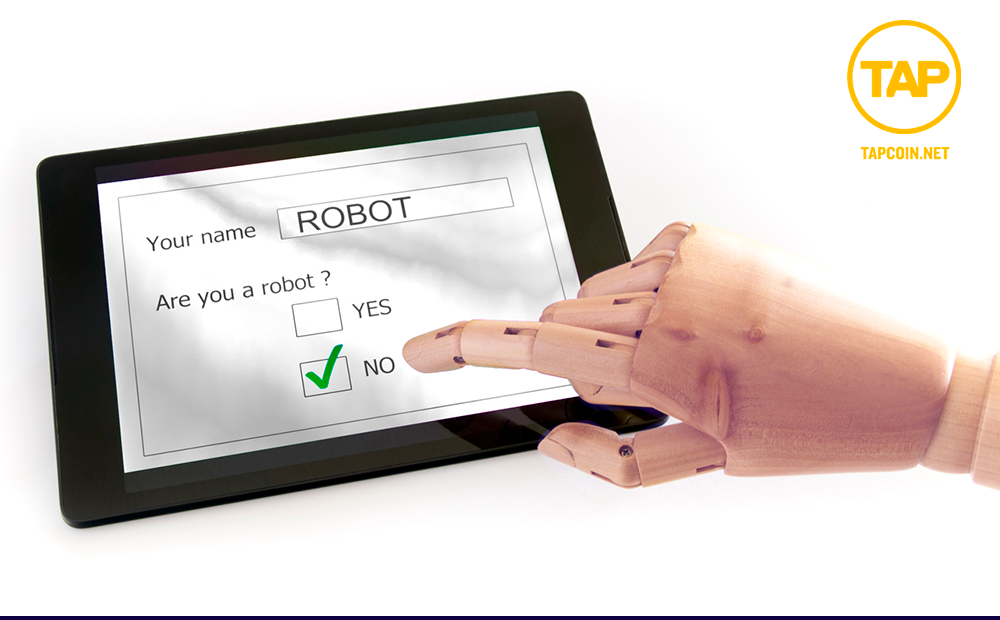 TAP Coin that aims to solve all of the mentioned challenges.
What's the Advertising Industry Look Like With TAP Coin Like Apps In Its DNA?
With TAP Coin, brands can identify and reward target consumers based on their purchase history. Moreover, digital advertisers can pay content creators directly, avoiding giants like Facebook and Google. Undeniably, it's blockchain that can reduce the third-party interference in maintaining, securing and verifying data. Once entered into blockchain, the data cannot be altered and hence no scope of manipulation/cheating in future. Imagine direct business to business or peer to peer transactions. No banks, no government, no intermediaries of any type.
Regarding fake/bot ads display prevention, with TAP Coin, the integrity of all user profiles is strengthened via diffused validation — all interactions are verified on the blockchain, including ad instance IDs, timestamps, metadata, and also how a user's data is being kept and used. Thus, advertisers will not spend money on showing their ads to an inexistant audience. That's a ton of dollars saved.
Anyway, this is what TAP Coin-like apps are all about. Digital advertising needs them to give advertisers and consumers absolute confidence in the numbers they are given.
A word of caution, though. Blockchain technology is absolutely not the only answer to an industry struggling with the increasing complexity of a fragmented media landscape – but it can be a very powerful one. Blockchain cannot ensure that all customer advertising appears in a brand-safe environment since in every new case the aspect of truth or validation can greatly vary. It's the specific app with the blockchain integrated system and a well-thought out combination of vision and architecture, like Hooch's TAP Coin, that can make the difference.
In essence, if you are interested in knowing more about blockchain and want to get a more in-depth look at blockchain-based advertisements, you are encouraged to attend Advertising Week in New York, the premier event/conference for marketing, brand, advertising, and technology professionals. On the fourth day of the event, the CEO of TAP Coin, Lin Dai will be hosting and speaking during the blockchain topic day. When it comes to other speakers taking part in this huge event, we can say without exaggeration that it's a world-class mix of the industry's best and brightest. Just for the record, you will meet Jordan French, a Fast 50 and Inc. 500 five-time serial entrepreneur and on the editorial staff atTheStreet.com.
So, if you are interested in blockchain and advertising, attending this event seems like a smart way to go. Besides gaining the needed knowledge and getting up to speed with the most promising technologies, you can solidly leverage your professional network.
This is a sponsored article and does not reflect the opinions or views held by any employees of NullTX. This is not investment, trading, or gambling advice. Always conduct your own independent research.
Image(s): Shutterstock.com