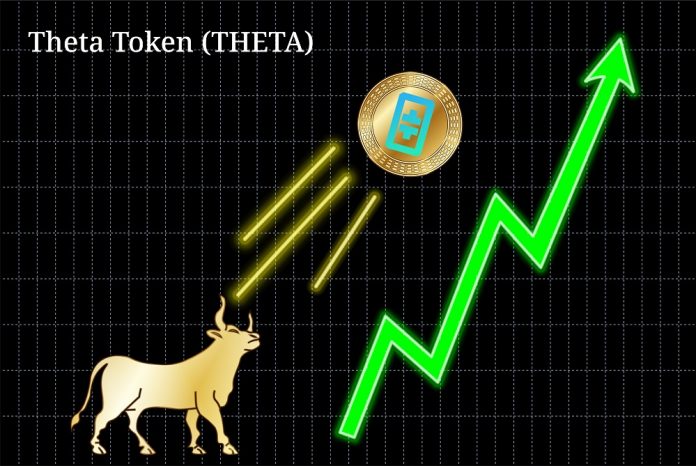 Considering how all of the top cryptocurrencies are going through another round of corrections. Traders are looking elsewhere for profits. One currency getting a lot of attention is Theta Token. Its massive price increase is quite impressive. The biggest development is how this relatively unknown altcoin generates nearly twice its market cap in trading volume.
Theta Token Price Increase Grows Steeper
Not too much is happening in the cryptocurrency top 50 right now. Most projects follow Bitcoin's price trend, which is anything but positive. As such the profits will need to be found elsewhere, and lower-ranked altcoins offer an interesting option in this regard. One of those currencies is, by the look of things, Theta Token.
Over the past 24 hours, there has been a pretty interesting Theta Token price trend. A whopping 47% increase in USD value, followed by a 55% gain over Bitcoin and a 53% gain over Ethereum are the cause of this sudden price spike. Despite its market cap of $56m, the altcoin also notes nearly $100m in trading volume. Very peculiar statistics, although they also raise plenty of questions.
Looking on social media, it seems a lot of people are waiting for THETA to hit very specific targets prior to selling. The top target was reached several hours ago, as the value surpassed 3,300 Satoshi at that time. It seems there won't be much of a bigger uptrend to speak of, and this blatant pump will come to an end eventually.
Target 4 reached on @signals_premium ~65% profit #Theta (#THETA) $THETA

Sign up to access all our trade signals -> https://t.co/26RByB6Z7N#bitcoin #altcoin #trading #cryptocurrency #bittrex #binance #暗号通貨 pic.twitter.com/RHBn0q4gLc

— The Signal (@thesignalio) November 30, 2018
The social media sentiment regarding Theta Token is, according to The TIE, heading in a positive direction. So much even the company still advises users to effectively buy this token even though it has clearly peaked – or close to it. As such, the sentiment might need to be adjusted a bit, even though there will always be people getting caught up in the FOMO.
#ThetaToken up 46.72% over the last 24 hours. Trading volume is up 1,245.32% and tweet volume is up 765.75%.

After peaking at $.1308 the token has returned back down to $.7939

The 7 day return on #Theta is 41.67%

See full data at https://t.co/0XDHEqJCZC pic.twitter.com/O2bwI2fius

— The TIE (@TheTIEIO) November 30, 2018
According to the CoinAlert team, there already some violent price changes taking place where Theta Token is concerned. This is only normal after noting such strong gains, although hourly dips of nearly 7% and more are rather worrisome for the faint of heart. That is the life of cryptocurrency trading, after all, as everything that goes up must come down eventually.
#THETA – Sharp decrease 1h: -6.9% V: 94.7M$

Subscribers have been notified 1 hour ago via https://t.co/mfcT6cyBbr & App. #blockchain #cryptocurrency #altcoins #coinalert $THETA $BTC $ETH $XRP $BCH $LTC $EOS $NEO $TRX $IOTA $XVG pic.twitter.com/lDSgWScIaB

— Coinalert.live (@coinalert_live) November 30, 2018
Keeping all of this information in mind, there is a chance Theta Token will try to push to $0.1 once again. It has been rejected at a higher level before, and a push to $0.1 would still represent a near 65% increase. That is unsustainable either way one looks at it. especially in the year 2018.
---
Disclaimer: This is not trading or investment advice. The above article is for entertainment and education purposes only. Please do your own research before purchasing or investing into any cryptocurrency.
Image(s): Shutterstock.com