In the last few months, the Decentralized Finance (DeFi) space has exploded in both interest and innovation, as ever more creative and accessible platforms and protocols emerge to build out an entirely new financial system that could be poised to shake up the way people manage their money. 
Now, a new platform known as Symblox looks set to continue that ambition, with the release of a pioneering new synthetics issuance and derivatives trading platform. 
Going Synthetic
Synthetic crypto assets have been kicking up quite the fuss lately, due to their capacity to make practically any asset more accessible, more liquid, and more fungible. 
Synthetics are essentially cryptocurrency tokens that represent traditional assets, derivatives, and practically anything else while mimicking their value. With synthetic assets, cryptocurrency holders can gain exposure to a range of simple and complex assets, ranging from fiat currencies to commodities, stocks, index funds and derivatives without needing to actually hold these assets or be subject to any associated limitations — like regional restrictions or liquidity issues.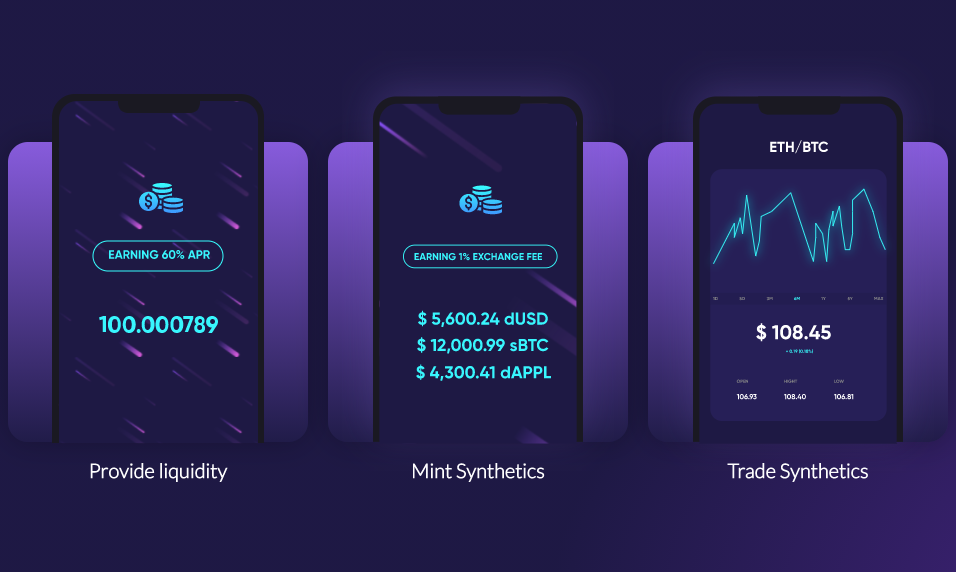 Image: Symblox
Through Symblox, users can deposit any of a range of supported assets to one of the Symblox collateral pools and receive an equal number of synthetic asset tokens in return, e.g. deposit 100 US dollars (USD) and receive 100 syUSD in return, or deposit 2 Bitcoin (BTC) and receive 2 syBTC in return. These synthetics can then be traded and exchanged for a profit in a permissionless manner on the Symblox protocol, or can be exchanged back to the original asset at any time. 
Symblox stands out from other synthetic token issuance platforms thanks to its extreme simplicity. It is designed to make minting and trading synthetics as accessible as possible, helping to grow the burgeoning DeFi industry, and break down barriers to entry through its clean, accessible user experience. It achieves this by cutting fees down the bare minimum and enabling simple cross-chain asset swaps thanks to its use of a novel blockchain solution. 
Leveraging Futureproof Blockchain Technology
Unlike most DeFi platforms which launched on Ethereum, Symblox is one of the first DApps to launch on the artificial intelligence-powered Velas blockchain. Unlike other blockchains that take up to ten minutes to confirm transactions, Velas is able to handle as many as 30,000 transactions per second and achieve transaction finality in as little as one second. 
Beyond this, Velas is one of the few blockchains capable of supporting cross-chain asset swaps through Velas Bridges, allowing crypto asset users to easily swap their assets between multiple chains, while unlocking a wealth of possibilities for interoperable DeFi platforms like Symblox. It is also capable of automatically updating its network, keeping it optimized at all times. 
By leveraging Velas' cross-chain bridges, Symblox synthetic token holders will gain access to more liquidity than ever before, ensuring better returns and less slippage. They will also be able to earn rewards in Symblox tokens (SYX) for minting and exchanging their synthetic assets, and can earn both VLX and SYX tokens for staking their assets to Symblox liquidity pools. SYX tokens entitle holders to their share of any fees earned through the Symblox platform, and can also be used for issuing proposals and voting as part of Symblox's community governance.