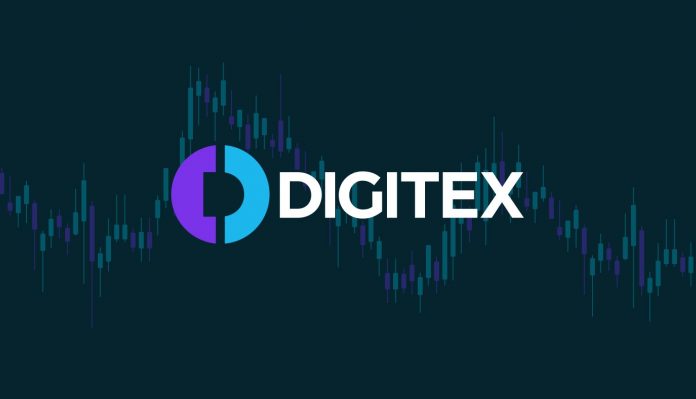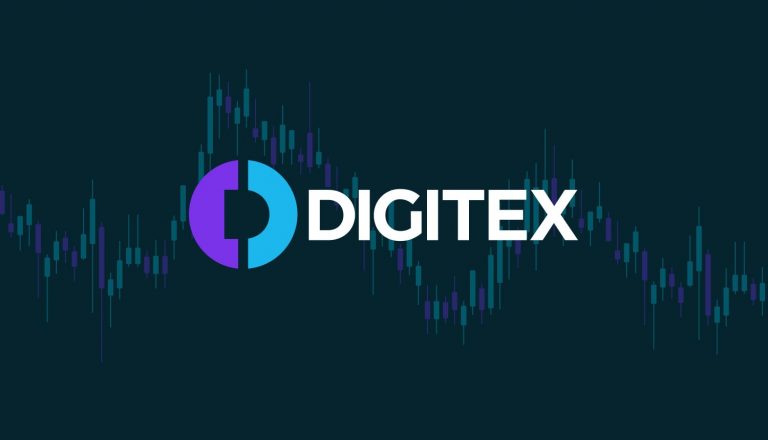 In a 24-hour long campaign called 'Monday Madness', Digitex Futures set its market makers to lose a staggering 1 million DGTX for traders to win. After the success of the event which saw Digitex's $1 tick size BTC market reach a 24-hour trading volume of $1.1 billion (just shy of Binance at $1.3 billion), the zero-fee exchange has decided to hold another event this coming Monday, October 12, 2020, from 14:00 UTC for 24 hours.
CEO of Digitex Adam Todd explained prior to the event that it was going to be "difficult to lose" on the Digitex exchange throughout the madness as orders would be instantly filled–and he was right. The exchange saw 5x more users trading on this market competing for market maker losses and enthusing over the liquidity and easy profits.
Sending Liquidity Through the Roof
In fact, programming its market makers to lose money had the effect of sending liquidity on the DFE "through the roof", seeing trading volume soar. For 24 hours, the exchange became a scalpers' paradise with ultra-fast fills and a tight spread. It caused a flurry of excitement among existing traders on the recently launched exchange as well as an influx of interest from new traders coming to the platform to rack up easy gains from the market maker losses. 
One enthusiastic trader on the exchange Raymond Chong enthused, "24-hour volume has reached $515 million 6 hours into the Monday campaign. Amazing!", and another, SoaD_Aerials, said, "Wow, best trading day ever on Digitex!! Plenty of liquidity!! If this was a normal trading day it would be paradise!" 
Clearly, it's not just good for liquidity but also viral marketing especially when traders can trade BTC futures over and over again with zero fees and no house edge, keeping all of their profits.
It also had the added advantage of recreating the testnet environment, making it very easy for traders to win and emboldening novice traders to try out different strategies. Adam Todd commented, "We wanted to bring the excitement back into the exchange and recreate the fast and loose environment of the testnet. We've seen simply astounding results from this and that's why we've decided to do it all over again next Monday."
Monday Madness – Round 2
The second time around is going to be different though. After putting it to a community vote via a poll on its lively Telegram channel, the Digitex community voted to split the market maker losses across two of Digitex's markets: $1 BTCUSD and $5 BTCUSD. A massive 82% of the community voted in favor of doing Monday Madness all over again.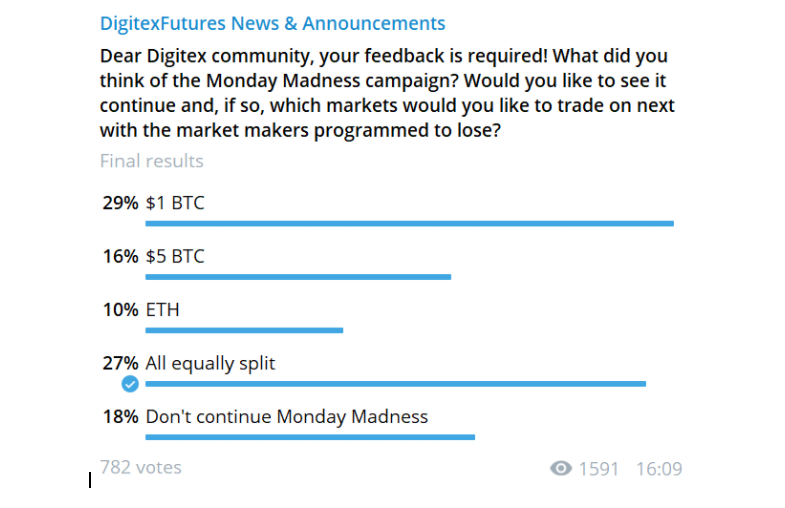 "Our traders absolutely loved trading in such a high-octane environment making easy gains and placing orders left and right. We're really looking forward to seeing how the next event goes on two markets and invite traders from all exchanges to give Digitex a whirl as the only zero-fee crypto derivatives exchange which actually helps its traders to win," Adam added.
The Pivot to Digitex City
Digitex also has plans to expand the exchange's markets, and launch Digitex City this December. In addition to offering zero-fee futures markets, the cryptocurrency platform will also feature a zero-fee spot exchange and a no-spread forex exchange. The platform will launch with a brand-new stablecoin, the DUSD token pegged at $1, which will remove current issues of DGTX volatility while trading. 
By adding these new markets, according to Adam, the demand for the DUSD will increase which will place upward pressure on the DGTX token. But while the team is hard at work on finalizing these products, they never want to lose sight of their flagship commission-free crypto futures exchange.
Events like Monday Madness that lead to hyper liquidity and trading volume and that catch the eyes of more and more traders enjoying the benefits of zero fees, a rapid-fire trading ladder, and a tight bid/ask spread aren't really madness after all but an excellent way of keeping Digitex top of mind while the transition is being made.