As the week approaches its end, it is crucial to closely monitor polarizing topics that could significantly impact the financial markets. Three key subjects stand out: Curve, RWA, and the Litecoin halving price performance. Curve, a decentralized exchange protocol, has garnered attention due to its innovative nature and potential to disrupt traditional finance systems. The adoption and development of Curve could influence market sentiment and potentially trigger volatility.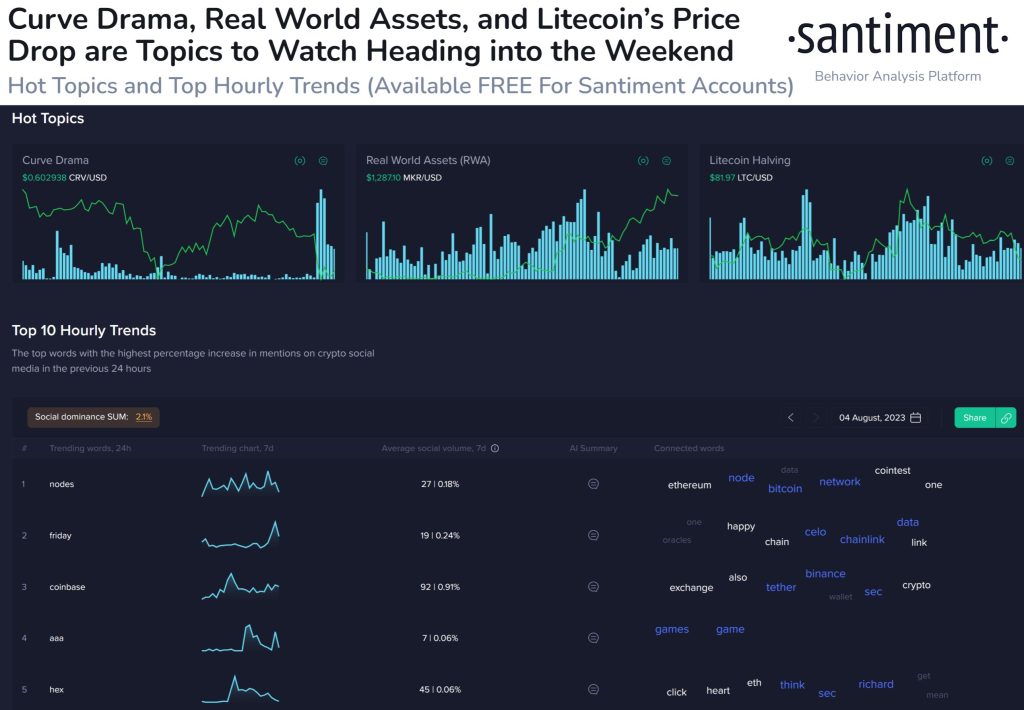 RWA – Real World Assets
RWA, which stands for "real-world assets," is another topic that has been under scrutiny. The integration of real-world assets into the blockchain ecosystem poses both opportunities and risks, making it a focal point for investors and market analysts alike.
Litecoin Halving Price
Additionally, the Litecoin halving price performance is a critical event. Halving refers to the reduction of block rewards for miners, which can affect supply dynamics and potentially impact Litecoin's price. Traders and investors closely watch such events for potential trading opportunities and market movements.
SEC Drama
Furthermore, ongoing exchange-related concerns and regulatory drama involving the SEC add another layer of uncertainty. News and developments regarding crypto exchanges and regulatory decisions can significantly influence market sentiment and capital flows.
Conclusion
In summary, these polarizing topics, coupled with the ongoing exchange and regulatory issues, hold the potential to drive markets either up or down. Traders, investors, and analysts must closely track these developments to make informed decisions in the volatile crypto landscape. A prudent approach, considering risk and market sentiment, will be crucial in navigating the current financial landscape amid these evolving topics and uncertainties.
Disclosure: This is not trading or investment advice. Always do your research before buying any cryptocurrency or investing in any services.
Follow us on Twitter @nulltxnews to stay updated with the latest Crypto, NFT, AI, Cybersecurity, Distributed Computing, and Metaverse news!
Image Source: elnur/123RF // Image Effects by Colorcinch