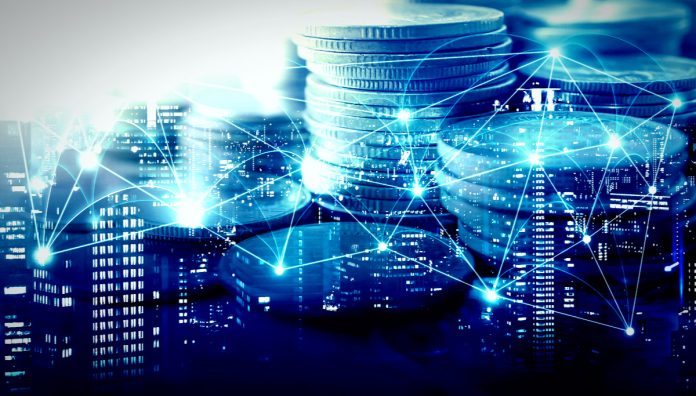 Decentralized exchanges are becoming more popular due to inherent benefits over centralized platforms. Due to the number of DEXs on the market, a new type of service has been born called Decentralized Exchange Aggregators. DEX Aggregators are blockchain-based services that provide traders with real-time data regarding the best price to buy or sell various digital assets. Let's look at the top three DEX Aggregator Algorithms offering traders the best rates on the market.
#3 1inch
The leading DEX Aggregator is 1inch. It features a similar UI to the popular Uniswap and PancakeSwap and automatically routes swaps via the optimal route. At the time of writing, 1inch offered $14 in savings over Uniswap for converting ETH to DAI.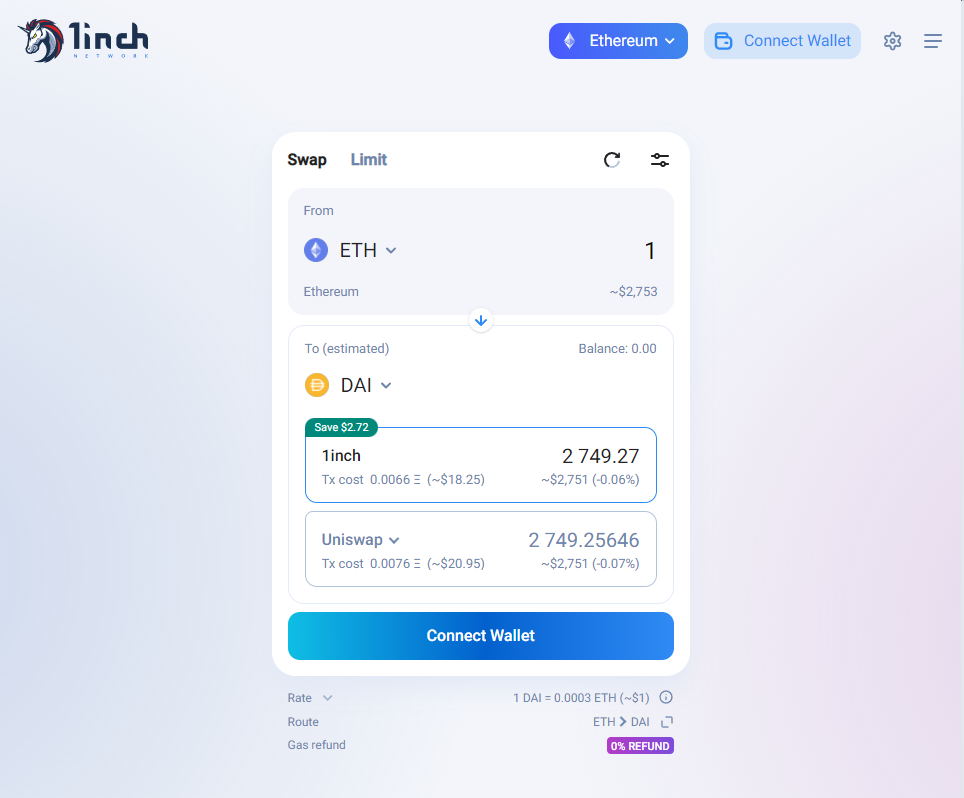 In recent news, 1inch announced that it expanded to the Avalanche and Gnosis Chain, continuing its conquest of the DeFi space. Avalanche is a popular cross-chain network whose valuation is in the multi-billions.
With the integration of 1inch with Avalanche, several protocols will be immediately available to trade on the platform, including TraderJoe, SushiSwap, Pangolin, Lydia Finance, and much more.
Avalanche averaged over 223k daily transactions in December, and its token AVAX currently ranks as the 12th largest cryptocurrency on the market.
Expanding to Avalanche's network is a sure way to grow the current userbase and increase the effectiveness of the 1inch aggregator, which already features one of the most robust DEX Aggregator Algorithms.
#2 1Sol
Another top DEX aggregator is 1Sol, an innovative cross-chain DEX aggregator for decentralized protocols built on Solana. 1Sol enables the most seamless, protected, and efficient operations in DeFi. 1Sol wants to bring liquidity from DeFi and order book DEXs for multi-chains.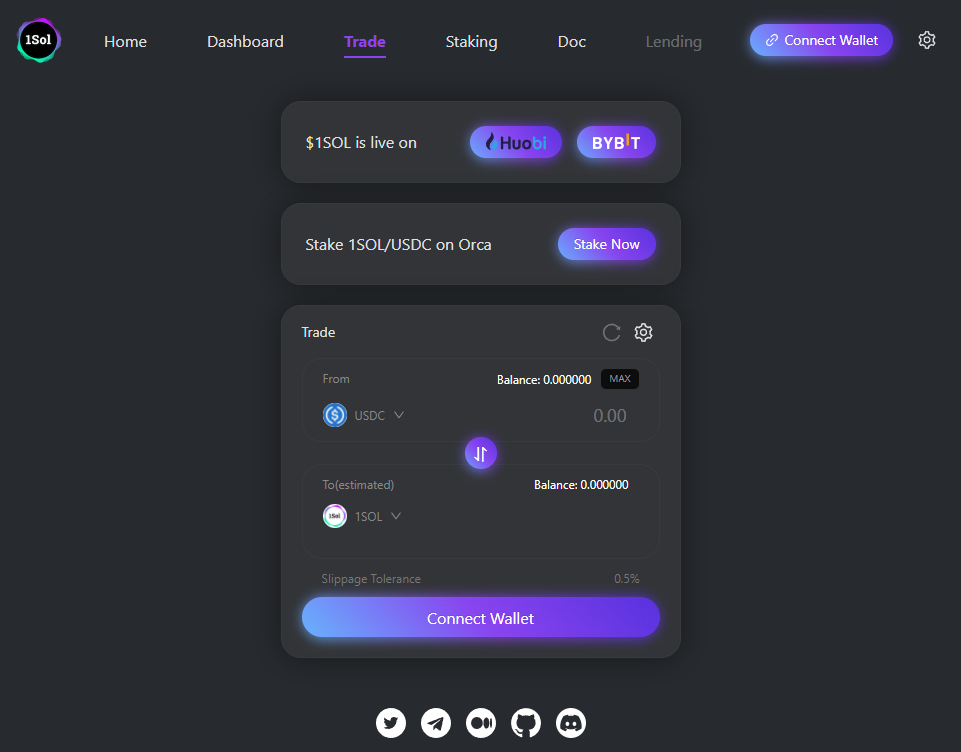 This Solana-based DEX aggregator features a similar UI to 1inch. Users can connect their Phantom wallet and see various options for the best exchange rates. 1Sol supported exchanges like Raydium, Serum, Orca, and more at writing.
One of the most popular features for 1Sol is their staking option, currently offering up to 78% APY for staking their 1sol tokens.
🎊The 2nd staking pool is unlocked now!!!🚀

🎁100,000 1sol staked at price $1.3575/1sol, the total volume is $135750, with 78% APY(59.07% APR)

🎉The revenue is about $6682.29375, and we decided to make it $6700

Withdraw from the web and check your rewards🧙 https://t.co/AbmHSI32n0

— 1Sol (@1solProtocol) January 25, 2022
1Sol is the best DEX aggregator on the Solana blockchain, and their staking options are an excellent incentive for holding their tokens.
In recent news, 1Sol announced on their Fortnightly project update added support for over 50 currencies. In addition, 1Sol improved their calculation speed and added support to Saros Finance pools.
Saros Finance is a DeFi Super-network built on Solana enabling users to supply liquidity and earn SAROS tokens.
1Sol is rapidly expanding its ecosystem with the recent partnerships and will continue dominating as the leading Solana-based DEX Aggregator.
#1 Arken Finance
The leading DEX Aggregator featuring the best-in-class trading view is Arken Finance. This DEX aggregator features multiple chains, including BSC, Ethereum, Polygon, Avalanche, and Arbitrum.
Arken Finance enables traders to swap between various tokens and provides a helpful dashboard, including price charts and multiple orders on different DEXs. The platform offers similar tools to TradingView, such as comparing the charts of various cryptocurrencies and placing technical indicators on the charts.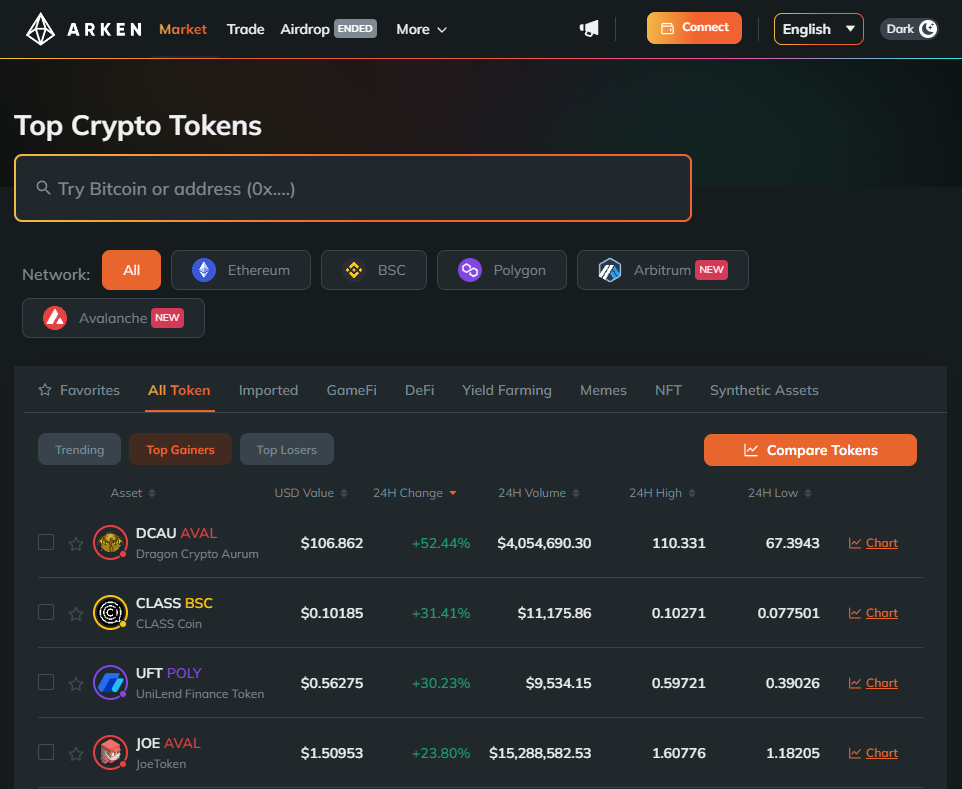 In recent news, Arken Finance announced their brand new DEX Aggregator Algorithm dubbed "Best Rate 3.0." This algorithm improves traders' prices by utilizing split trading and combining various sources' best rates.

According to the announcement:
"Alongside splitting orders, the "Best Rate 3.0" engine indexes prices from multiple pools to find the best price across all and splits trading amounts across multiple routes in a single transaction to make the trade make an even better price."
Arken Finance also features several cryptocurrencies not available on other DEX Aggregators. One example is LOA, League of Ancients, a play-to-earn Metaverse MOBA-style game. For users looking to trade LOA to BUSD, Arken was able to save fees by using both Pancake V1 and V2 protocols.
If you're looking for a one-stop platform including a DEX aggregator and a trading dashboard, I highly recommend checking out Arken Finance. Their dApp supports multiple wallets and makes their intuitive dashboard makes it easy to find new tokens and the best prices for your swaps.
Disclosure: This is not trading or investment advice. Always do your research before using any cryptocurrency services.
Image Source: Number1411/Shutterstock.com