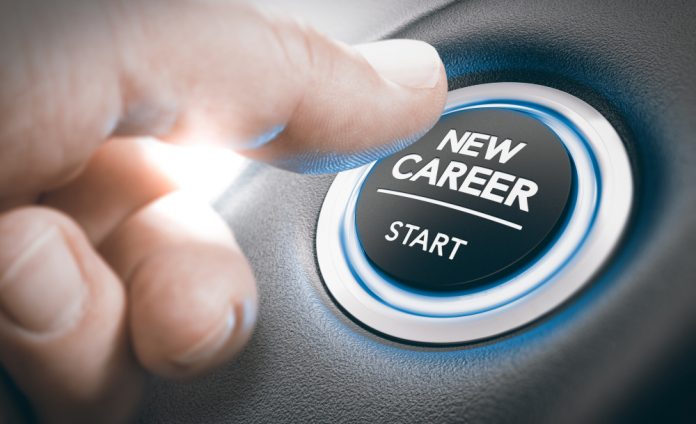 We all know that cryptocurrency is a growing industry. And we're aware that blockchain tech has the potential to save the world. That makes for an exciting space to work in and a bunch of highly creative cryptocurrency jobs up for grabs.
In fact, any cursory Google search will pull up pages and pages of listings of cryptocurrency jobs (some legitimate, others not so much). But if you want to do more than just invest or read about cryptocurrency from the sidelines, why not think about changing your career direction?
Here are the top five cryptocurrency jobs available right now:
5. Cryptocurrency Data Scientist
If you're looking to make big bucks and be in demand industry-wide, think about becoming a cryptocurrency data scientist. With an average salary of $120,931 per year, you'll need to marry a deep knowledge of cryptocurrencies with deep learning.
What does the job entail? Making predictions about cryptocurrency prices by interpreting patterns using deep learning and insights driven by data. You'll need to have a computer science or mathematics degree, plus extra qualifications in data science.
You'll also need to be flexible since your job will probably be made redundant by AI in the coming years. So, keep an eye on industry trends and be sure to keep your skills updated.
4. Cryptocurrency Project Manager
This is a decent position for you if you don't have a CS background. You will, however, need to have a good grasp of technical concepts to be able to translate them to the wider public. If you can take the notion of Ethereum gas and Merkle Trees and explain them to a five-year-old, this is the job for you.
Like any project manager, you'll need to be highly organized and qualified to degree level (preferably business related) with project management experience. Then you'll need to brush up on your crypto knowledge through online courses, your own reading, and research.
According to Paysa, cryptocurrency project managers can expect to make an average of $105,000 a year, depending on skills and experience.
3. Smart Contract Developer
Being a smart contract developer used to mean creating smart contracts for Ethereum using its programming language, Solidity, as well as APIs to read and write data on the blockchain.
However, with new blockchains continuing to emerge, being a smart contract developer doesn't limit you to the Ethereum blockchain. Smart contracts are being written for NEO and the DAG as well.
As smart contract technology is the main feature that makes blockchain so applicable to all industries, this is an awesome career to jump into.
You'll first need to be a regular developer with a degree or at least a strong background in computer science. Then you'll need to learn about Ethereum (or the specific blockchain you want to work on) and study its programming language. You can then expect to make around $120,000 a year.
2. Ethereum Developer
With by far the largest developer community out there and accelerator giants like ConsenSys involved, becoming an Ethereum developer is a solid career move right now. Depending on where you are and whom you work for, you can make around $110,000 a year.
You'll need to have a developer background and then specialize in Ethereum and building apps on its blockchain. You'll also need to learn Solidity and take a bootcamp course in order to familiarize yourself with coding and building DApps.
1. Blockchain Engineer/Developer
The number one skill searched for on freelancing site Upwork in Q1 of 2018 was "blockchain." With every man, woman and dog clamoring to build a blockchain project, blockchain developers are in their element.
You'll need to use blockchain technology to bring your founder's vision to life, inventing secure and innovative solutions for them. This position is not for the faint-hearted. You'll probably be dealing with non-technical people who expect Rome to be built in a day, so decent communication skills will come in handy.
You'll also need a developer background and some specialized knowledge in blockchain technology, either in the form of proven experience or certifications.
Alternative Options
The top cryptocurrency jobs right now are for the developers, but that doesn't mean that non-technical folks can't get involved as well. There are a ton of related positions, from administration and accounting to marketing and PR.

Keep in mind that if you want to work in cryptocurrency, it's likely that you'll be working for a startup or a small team. You'll need to get used to wearing a lot of hats and doing tasks outside your blurry job description.
Don't expect to be just a "writer" or "marketer." You'll probably be filing trademarks, getting on the phones, and wearing T-shirts at conferences. And it will help to learn about the tech behind it, at least in a basic way.
Wrapping It Up
With many people struggling to find work in their chosen field, cryptocurrency jobs are abundant and pretty well paid. Like investing, you may find that working in this industry has its ups and downs. Not all startups will get off the ground, and your journey within one company may be short.
But this technology isn't going away, and if you want to be part of a passionate community that's excited about the future, it might be worth investigating.
Image(s): Shutterstock.com