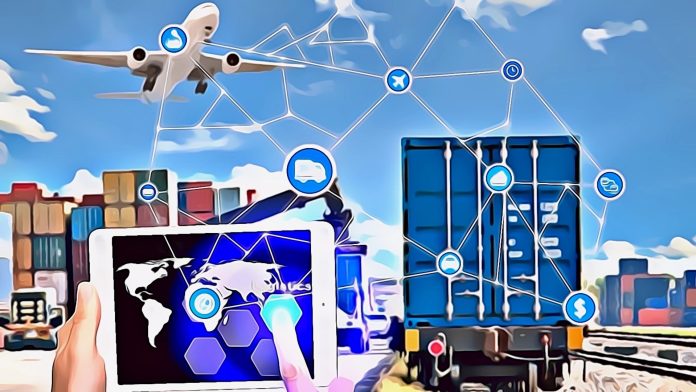 Simply said, logistics refers to the meticulous planning and execution of a complex task. To meet demands, it manages the flow of goods between two points: the point of origin or production and the point of consumption or use.   The General Logistics Token's market capitalization is $2,176,895,107 and has a growing total trading volume of $187,119,574.
Note: Tokens are sorted by their price unit from lowest to highest.
Populous (PPT)
Unit Price: $0.09024

Market Cap: $4,883,024

Distinct Features: Populous seeks to reinvent how small and medium-sized businesses manage liquidity.
Populous was created to give SMEs access to invoice liquidity for up to 90 days. Populous, introduced in 2017, intends to facilitate peer-to-peer (P2P) interaction between businesses, increase liquidity, and address SMEs' working capital issues.
The Populous network enables decentralized communication between firms and permits them to share liquidity pools by depending on blockchain technology and smart contracts. In contrast to waiting for customers to pay invoices, the network enables businesses quick access to funds by offering short-term liquidity to them through P2P lending.
Populous makes the blockchain more scalable, quick, and simple for businesses to employ by moving the lending of money backed by invoices.
Exchange – PPT has a 24-hour trading volume of $220,081, currently trading on OKX, KuCoin, Bitrue, HitBTC, and LATOKEN.
OriginTrail (TRAC)
Unit Price: $0.2116

Market Cap: $76,839,439

Distinct Features: The OriginTrail Decentralized Knowledge Graph offers a fundamental fabric to link, validate, and value data on physical and digital assets by reshaping it for Web3.
The most precious assets of humanity are organized in OriginTrail, the first Decentralized Knowledge Graph, which makes them discoverable, verifiable, and valuable.
It was created to form a seamless connection between the physical world (such as art, healthcare, fashion, and supply chains) and the digital world (such as blockchain, smart contracts, Metaverse & NFTs, and DeFi).
Exceptional businesses already use OriginTrail to enrich their ecosystems. By encouraging the secure exchange of security audits, OriginTrail facilitates frictionless international trade for over 40% of US imports.
Pharmaceutical supply chains are safeguarded by the decentralized knowledge graph's semantic structure, which can be utilized to arrange blockchain data for easy access by DeFi decentralized apps.
Exchange – TRAC has a 24-hour trading volume of $887,126, currently trading on KuCoin, Huobi Global, BitMart, Coinbase Exchange, and HitBTC.
CargoX (CXO)
Unit Price: $0.2148

Market Cap: $44,526,171

Distinct Features: CargoX wants to make it possible for anybody to transfer digital documents to anyone in the world instantly.
Unlike DHL, FedEx, and UPS, CargoX touts itself as an independent blockchain courier business.
The CargoX dApp, launched in January 2018, transfers digital original papers using Ethereum.
Aiming to provide a global solution for document ownership transfer that's quick, safe, reliable, and affordable, the company started expanding its BDTS (blockchain document transaction system) solution to verticals like air cargo in 2019. The company initially concentrated on global freight and supply chain documents.
Audit records of all sent documents are provided by BDTS's smart contracts, which can substantiate that the papers were genuine and unaltered during transfer.
Exchange – With a 24-hour trading volume of $29,635.32, CXO is currently on Uniswap (V2) and Uniswap (V3-Polygon).
Waltonchain (WTC)
Unit Price: $0.2733

Market Cap: $21,984,099

Distinct Features: Waltonchain (WTC) is developing an ecosystem that combines IoT (Internet of Things), RFID, and blockchain technology.
The Internet of Things is the primary focus of the Ethereum token, Waltonchain.  According to its website, The Waltonchain protocol seeks to "automatically incorporate actual assets into the blockchain,"
On the Walton blockchain, Walton coin is used for administration and to cover transaction costs. In an effort to promote openness and democratization in the way businesses run their supply chains, Walton Chain aims to combine RFID and blockchain technology.
Information from the whitepaper shows that the blockchain relies on devices, value, networks, and data as it merges across the IoT. To track the logistics, production, warehousing, and retail movements of all commodities, traders can design unique child chains on the WTC eco chain.

Exchange – With a 24-hour trading volume of $1,952,275, WTC is currently trading on Binance, OKX, KuCoin, Bitrue, and Huobi Global.
Morpheus.Network (MNW)
Unit Price: $0.5905

Market Cap: $27,378,361

Distinct Features: Morpheus.Network was created by bringing together the top minds in international trade, information security, blockchain, and artificial intelligence to simplify logistics utilizing blockchain technology.
Supply chains are optimized by Morpheus.Network. This is achieved through the seamless integration of legacy and emerging technologies in their SaaS middleware platform, giving supply chain managers a Digital Footprint, shipment, and item visibility for automating secure supply chains, saving time and money.
Morpheus.Network's inception was dedicated to assisting businesses and governmental bodies in removing obstacles to streamline and automate their worldwide supply chain operations.
Morpheus.Network provides effective, equitable, and efficient global trade solutions while assisting clients in maximizing revenue through digitalization and process automation, preserving sensitive data, and resolving complicated issues with the traditional supply chain system.
Exchange – With a 24-hour trading volume of $112,798, MNW is trading on KuCoin, Gate.io, and Bittrex.
Disclosure: This is not trading or investment advice. Always do your research before buying any cryptocurrency or investing in any services.
Follow us on Twitter @nulltxnews to stay updated with the latest Crypto, NFT, AI, Cybersecurity, Distributed Computing, and Metaverse news!
Image Source: ake1150/123RF // Image Effects by Colorcinch