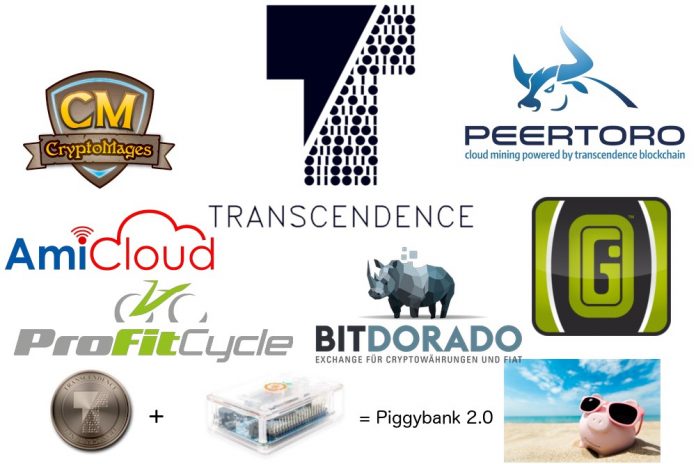 Granted the increasing popularity of blockchain technology, it is believed that transferring the cloud storage and cloud computing aspects of cloud-source software, to the open-source blockchain, would provide a wide array of benefits.
Disclosure: This is a Sponsored Article
Purpose
Transcendence represents an exciting project that aims to combine the advantages of open-source and decentralized blockchain technology, with already-existing services such as AmiCloud and the IndieGo app store.
This will allow Transcendence to become an open marketplace targeted towards developers and artists, a decentralized and optionally-private communication method, but also a powerful processing platform that will grant users access to conventional cloud services as well as the D-Wave quantum computing cloud. This is in fact possible, considering that IndieGo and AmiCloud, two platforms offering such services, are already available on the Transcendence platform.
The cryptocurrency project will do this, by putting all participants of the network on an equal level. This can be done by combining Proof of Stake, with Proof of SaaS (Storage as a Service), alongside PoC (Computational Power as a Service).
The Telos Coin
With this in mind, Transcendence is backed by the native Telos Coin, whose purpose is to act as the ecosystem's payment method of choice. To put things better into perspective, the Telos Coin is a cryptocurrency focusing on privacy, which is backed by the Blackcoin PoS 2.0 protocol. This means that it works by leveraging a network consisting of master nodes, which can be used to attain an open form of decentralized governance, alongside increased privacy for all transactions.
Following the launch of Transcendence, the main goal of the Telos Coin would be to obtain instant privacy-backed transactions, and a governance protocol that can actively help users sustain the network.
The Telos Wallet
Owning the Telos Coin wouldn't be possible without its mother-wallet. The Telos wallet offers predefined bounties, but also the option for the community to set-up their very own bounties, on a project basis. Similarly to other blockchains, Telos is backed by a P2P blockchain architecture, which means that third-party involvement is virtually impossible, and running operations do not have a defined point of failure. The wallet is supported on Windows, Mac OS X and Linux. Recently first screenshots of the upcoming Transcendence Wallet were published on Twitter.
Current and Future Development
Currently, the Transcendence team is working on the Telos Coin website (which will include a price index and calculator), a master node subpage, and the Orange PI bundles called PiggyBank 2.0, which can be used to easily control the network's master nodes. Also the Transcendence Dashboard, which is meant as successor to the QT-based Wallet, in under development. The Dashboard app will combine all services and 3rd Party services as like Hashrate renting (cloud mining) and Masternode hosting service as well es Exchanges.
Existing indieGO! Retro console owners can install the Telos Walel by updating their consoles. This allows to earn Telos while playing retro and mordern games on your TV.
In the future, Transcendence will support the Bitcoin, Zcash, Verium and Hush networks, for transactions spotting lower fees. Additionally, the network will also run on PeerToro (cloud mining successor to german based Peerschweinchen) and Bitdorado, a upcoming exchange operated in Estonia.
Image(s): Shutterstock.com