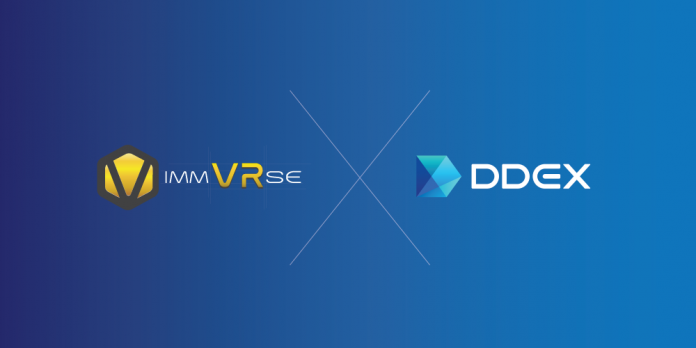 Blockchain-based virtual reality content-sharing platform ImmVRse has announced the listing of its platform's utility token IMVR on the DDEX exchange. In recognition of ImmVRse's recently successfully concluded crowdsale event in September, DDEX has invited its users and IMVR token holders to take part in its trading competition.
ImmVRse and IMVR
As a disruptive technology, the ImmVRse decentralized platform plans to lead the next phase of a multibillion-dollar industry of VR products. It is creating a smart-contract-enabled platform for players within the industry to leverage the perks of blockchain technology in advancing the VR marketplace. This is expected to further bolster innovative VR content creation and sharing. Essential to the project's disruptive agenda is its native token, IMVR, which function as a utility token to drive value exchange among users on the ImmVRse platform and dApps.
Having garnered the support of 48,000 followers across various social media channels, ImmVRse is gradually moving towards its goal of becoming an important vector in the VR space. More so, the listing on DDEX is an important milestone for the ImmVRse platform in broadening the scope for adoption of IMVR tokens.
ImmVRse CEO Farabi Shayor, conveyed his optimism about the DDEX exchange listing, saying:
"We would like deliver the amazing crypto community with multiple options to join and cooperate with us in the development of disruptive platforms that we aim to develop. DDEX provides an exceptional platform and prospect for current and upcoming IMVR traders to trade using a next-generation and cutting-edge user interface."
Trading on DDEX
DDEX is recognized as one of the top five decentralized exchanges in the world, where smart contracts supported by the 0x protocol are used to trade native Ethereum tokens. The DDEX platform enables users to trade directly from wallet to wallet using the hydro protocol technology. The exchange also accords its users instant and real-time on-chain settlement when performing trades.
In light of the listing of IMVR tokens on the DDEX exchange, traders have been invited to compete for a prize pool of 400,000 IMVR which will be distributed among the first 100 winners. The trading is scheduled to run from 15:00 September 25, 2018 to 15:00 October 7, 2018 (GMT + 08:00).
Future Events for IMVR
As the platform continues to grow, the ImmVRse platform is considering other exchanges to list their IMVR token in the bid to grow adoption of the platform. Other exciting activities for community development such as giveaways and more trading competitions are in the pipeline.
For more information about the platform, visit the ImmVRse website. To talk with the community and team members, make sure to hop into their Telegram channel. For more updates on their social media, follow their Facebook and Twitter accounts.
---
This is a sponsored article and does not necessarily reflect the opinions or views held by any employees of NullTX. This is not investment, trading, or gambling advice. Always conduct your own independent research.
Image(s): Shutterstock.com