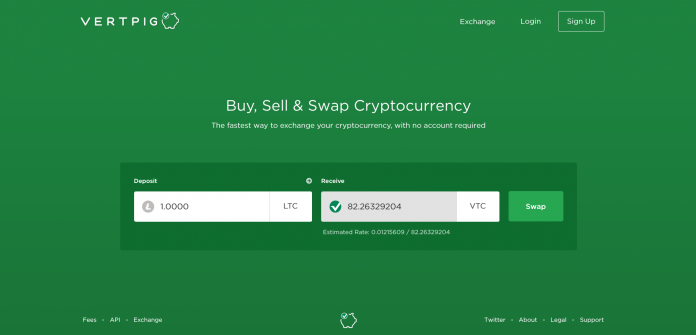 Cryptocurrency enthusiasts favor convenient solutions when it comes to buying and selling their preferred coins. In the case of Vertpig, its business model is very different from what one would expect. Despite sharing similarities with ShapeShift, it focuses on Vertcoin first and foremost.
The Vertpig Concept
While Vertpig may not necessarily be the most appealing name for new users, it illustrates what the platform is all about. Its main objective is to make Vertcoin, one of the many altcoins, more appealing to mainstream consumers. This is achieved through support for various conversion options, and more are being added on a regular basis.
How Does it Work?
Some people may draw similarities between ShapeShift and Vertpig. It is a very similar platform on the surface, especially because it is designed to serve as an actual competitor to ShapeShift. Moreover, it appears ShapeShift is currently having some issues with the Vertcoin gateway, although those problems are expected to be resolved in the near future.
Vertpig is primarily focused on Vertcoin, which is to be expected. Anyone looking to get their hands on this altcoin can use this instant conversion service without signing up for an account. The platform supports conversions to and from euros, Bitcoin, Litecoin, and Digibyte. That is a rather limited list, all things considered, although the team has confirmed that GBP support will be enabled fairly soon.
While it remains to be seen how popular this service will become in the long run, it is a worthwhile venture. All cryptocurrencies need to transition to offering native services, rather than rely on major exchanges for support. If all of this can soon be achieved in a decentralized manner, the future will look very interesting for all of the world's cryptocurrencies.
The Road Ahead
Vertpig's appeal and usability will always be limited. However, it shows that solutions such as this one can be built for virtually any cryptocurrency, which will eventually lead to even more decentralization. So far, the service seems to have been well-received by VertCoin supporters, as it makes converting to and from various cryptos or fiat currencies very straightforward. With more fiat currency support to be added in the future, Vertpig is well worth keeping an eye on.
Image(s): Shutterstock.com