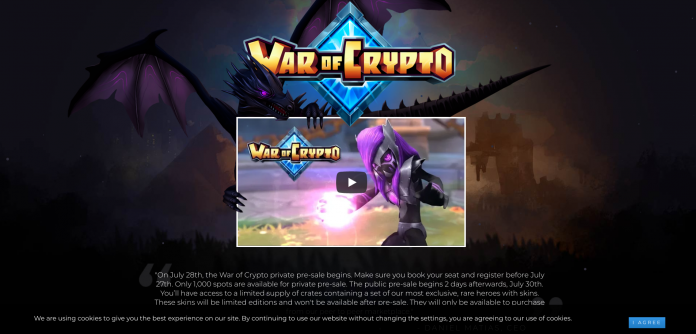 The blockchain industry is attracting a lot of attention from developers. Especially when it comes to games and digital collectibles, the industry is growing fairly quickly. War of Crypto is another blockchain game which will put a positive spin on digital collectibles. Whether or not it can compete with existing and in-development offerings is a different matter.
War of Crypto Explained
It is not uncommon to see video games launch on top of an existing blockchain. This is a brand-new way of determining whether or not blockchain-based collectibles are an option worth exploring. Even though some projects have been successful in this regard, it is evident there is still plenty of room for competition. War of Crypto is a game revolving around heroes and combat in a fantasy-driven setting.
How Does it Work?
This player-vs-player web-based and future mobile game features unique heroes. These heroes can grow in power, evolve, and be traded with other players. Players can collect, customize, and strengthen their own unique heroes. It all comes down to selecting the right strategy for the heroes on one's team and pit them against teams created by other players.
The battle system of War of Crypto involves looking at players' stamina and the skills of their heroes. This should allow for proper matchmaking, rather than pitting novice players against experienced veterans. All of this takes place with blockchain technology. One added benefit is that players' accomplishments can be integrated into other games or turned into real-world rewards.
The trading and selling of in-game heroes can be done in several ways, and it will be facilitated by a yet-to-be-rolled-out marketplace. The project will also offer exclusive heroes for pre-sale through a special private sale which will only offer select heroes for sale. It is a different form of an initial coin offering, although it still boils down to raising money prior to officially launching this game.
The Road Ahead
For War of Crypto, conducting the private pre-sale will be the first order of business. This campaign is currently taking place, and it allows players to buy 11 unique editions of the in-game heroes. Additionally, the team still needs to develop its marketplace, as well as further flesh out the PVP battle system for the game itself. A lot of work lies ahead for the War of Crypto team.
Image(s): Shutterstock.com