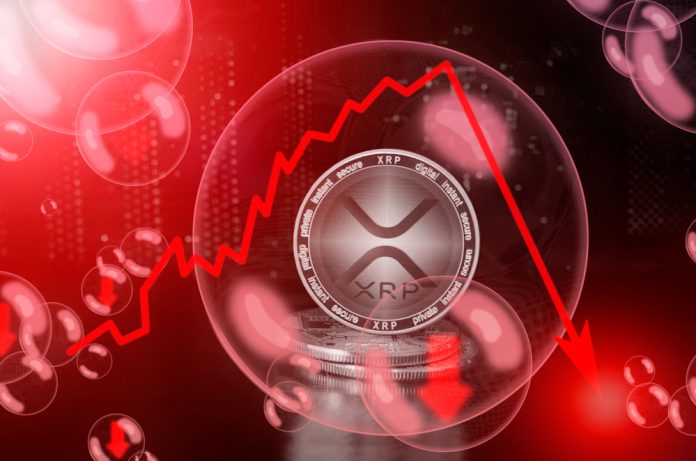 It has become more apparent today will not necessarily be a positive day for most cryptocurrencies, tokens, and digital assets. Especially for the top markets, the pressure is intensifying at an alarming pace right now. One interesting development is how XRP overtook Ethereum in market cap once again, even though both markets are hemorrhaging value right now. A very intriguing situation ensues.
XRP Price Drop has a Positive Side
It is not necessarily all that common to see financial markets lose value yet still overtake some "competitors" in terms of value. In the cryptocurrency world, developments like these tend to happen a lot more often than most people tend to realize. Today is a more than interesting example in this regard, as XRP overtook Ethereum in market cap again despite losing a lot of value in the past few hours.
To put the current XRP price momentum in its proper perspective, there is a net 6.1% loss in USD value and a 0.5% drop in BTC value. The latter art is quite telling as to how things may evolve in the coming hours, as an XRP/BTC outbreak wouldn't necessarily be out of the question. However, in the USD department, the value of one XRP currently sits at $0.3465. Not the biggest drop in history by any means, but still a worrisome trend to keep an eye on.
On social media, there are some interesting discussions taking place regarding XRP's price momentum. Imperator Emhyr is keen to highlight the potential of XRP in terms of usability and how it can impact the SME industry moving forward. It is important not to look track of the bigger picture regardless of how the market may be evolving at any given time. Unfortunately, it seems the positive vibes surrounding this asset are not always sufficient to keep the price afloat.
XRP is about leveling the playing field for smaller businesses and institutions so they can compete with the big banks. It's about preventing monopolies and giving power to individuals. #XRP is P2P, I can send it to anyone in the world instantly almost for free.

— ⚡Imperator Emhyr⚡ (@XRP_Var_Emreis) January 10, 2019
It is equally important to keep in mind what is happening behind the scenes of Ripple. Although Ripple and XRP are two completely different things, the company is pushing products to market which may result in an improved usage of XRP for the parties involved. How that will affect the value of XRP exactly, is a different matter altogether, but there is a good chance a fair few companies will at least experiment with XRP at some point in the future.
#Ripple CEO Brad Garlinghouse is optimistic that 2019 will see #XRP take off for real. Garlinghouse added that Ripple's network of customers includes over 200 financial customers, many of them poised to begin incorporating #XRP into their operations. Here's hoping.

— Altcoin Expert of INDIA (@Rakesh_swain62) January 10, 2019
The cryptocurrency, token, and digital asset industry would be off far worse if people weren't intent on sharing some memes or GIFs every now and then. Kevin Janssen asks a very interesting question in this regard and the associated image may bring a chuckle to a few people in the process. When markets bleed value, there is literally nothing one can do about it, thus it is always better to make the best of the current situation by whatever means necessary.
Why is it that "buying the dip" always seems to cause another dip? 🤔#Cryptocurrency #Crypto #XRPcommunity #XRP pic.twitter.com/UboMjej7VS

— Kevin Janssen (@JanssenKev) January 10, 2019
For the time being, it remains unclear how long this new market dip will last. Although there is a chance the remainder of the day will bring more of the same, XRP may be in a slightly different position compared to others. This is primarily because the XRP/BTC ratio could turn pretty bullish at any given moment, regardless of what Bitcoin is doing at the time. This may also help negate XRP/USD losses in the coming hours. Today will undoubtedly trigger some intriguing market shifts regardless.
---
Disclaimer: This is not trading or investment advice. The above article is for entertainment and education purposes only. Please do your own research before purchasing or investing into any cryptocurrency.
Image(s): Shutterstock.com