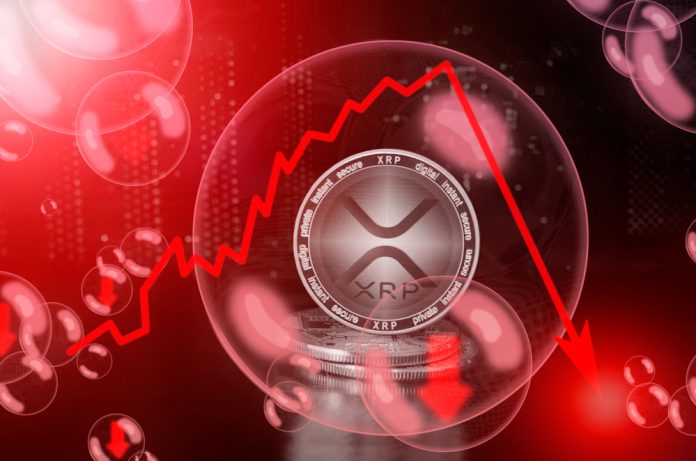 It has become more than apparent a lot more altcoins and assets are linked to Bitcoin than most people assumed. In fact, it seems the value of XRP is still linked to Bitcoin in some ways, which is rather surprising. Unfortunately for XRP holders, this also means its value will tank alongside Bitcoin and cryptocurrencies alike, which is not something a lot of people are looking for.
XRP Price Seeks Control of $0.35
Although XRP is usually one of the more stable assets compared to cryptocurrencies, it seems that situation is no longer accurate. There are two different aspects to how the value of XRP is evolving, as both the USD and BTC value seem to be linked rather closely right now. That does not bode well for the future valuation of this asset, as the overall negative price trend is now affecting XRP in a major way.
Over the past 24 hours, there has been a net 14% loss in XRP's USD value, combined with a 3% loss over Bitcoin. While that is not necessarily too bothersome in the XRP/BTC department, it is evident there is no positive momentum to keep the value above $0.35 right now. This situation is always subject to change, but for now, it simply isn't looking good whatsoever.
On social media, a lot of talks surrounding XRP have either quieted down or turned around for the worse. More specifically, there are still some positive developments taking place. The launch of XRP Community Popo, while not a big development, still shows spreading information on this project will be a key point of focus moving forward.
XRP Community Popo is officially here. Get alerts on ALL the misleading statements, predictions, clickbait, and more made by your community "elites". #xrp #xrpcommmunity #xrparmy #xrpstrong

— XRPCommunityPoPo (@XRP_PoPo) November 25, 2018
Ben Maouhoub, on the other hand, acknowledges the current cryptocurrency and crypto asset price trend is anything but promising. In fact, it would appear the current dip is a bit enticing to people who want to buy in cheap, although one has to wonder how things will evolve in the near future. Continuing to buy the dip is an option, although not necessarily a viable one.
Me: "Invest responsible!"

Also me: "Kids, say hello to your new family! …and be friendly – they've paid a lot, so that daddy can buy dip no. 100"#btc #XRP #ETH

— Ben Maouhoub (@BenMaouhoub) November 25, 2018
When looking at today's XRP price momentum, it is evident things are not looking too great. The value per XRP hit a low of $0.328 earlier today, although the current momentum seems to be slightly more positive first and foremost. As such, it seems things may turn around for XRP pretty soon, albeit for now, this negative pressure will continue to loom overhead first and foremost.
XRP Overview – 24 Hour:

Average $XRP price across exchanges: $0.349647
Change: $-0.057084 (-14.04%)
High: $0.406878
Low: $0.328383
Volume: $140.94M
Market Cap: $13.86B

View more details at: https://t.co/DziTJtCCH8#XRP #XRP #Cryptocurrency pic.twitter.com/sja6F2nRC6

— Ripple Price [XRP] (@CryptoPriceXRP) November 25, 2018
When looking at the bigger picture, it would appear the XRP price might not find stability at $0.35 right now. There is still a lot of potential in this market right now, albeit the overwhelming bearish pressure is not looking too great. As such, a further drop to $0.32 or even $0.3 is certainly possible, which further confirms the pressure is not over just yet.
---
Disclaimer: This is not trading or investment advice. The above article is for entertainment and education purposes only. Please do your own research before purchasing or investing into any cryptocurrency.
Image(s): Shutterstock.com