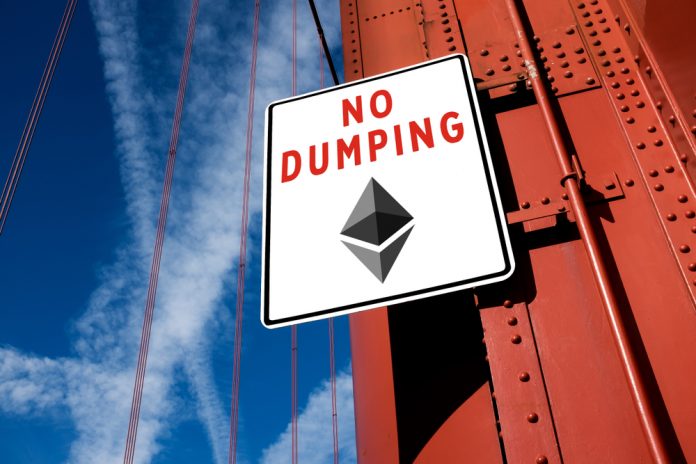 The year 2018 has not been kind to any cryptocurrency or digital asset. Things will not necessarily improve in the near future either, primarily because most other currencies derive value from Bitcoin first and foremost. In the case of Ethereum, once valued at over $1,200, things are not looking too great right now. A small nudge in the wrong direction can send its value into the double-digit range.
Ethereum Price Woes Suddenly Grow Very Dire
As all cryptocurrencies continue to struggle for traction, the year 2018 will most likely not end on a high note. That is somewhat unfortunate, especially when considering how things looked in January and February. Ever since that time, things have not gone according to plan by any means. Especially where the Ethereum price is concerned, things are not looking too great under the current circumstances.
Over the past 24 hours, all cryptocurrency markets have seen plenty of red once again. Ethereum is no exception in this regard, primarily because of an 8% loss in USD value and a 1% deficit over Bitcoin. As long as Bitcoin does not recover its lost value whatsoever, it seems rather unlikely Ethereum will make any real moves. Right now, one Ether is valued at under $105, and it seems that price will continue to go down in the hours to come.
There is one interesting development involving both Ethereum and Ethereum Classic users need to be aware of. Anyone who has been using the Coinbase Wallet application will now have their ETC balance credited to their ETH wallet. Any ETC transactions sent to this ETH address over the past few months will now show up automatically. Fixing such a lingering issue is always a positive sign for the future.
Your $ETC address will be the same as your current Ethereum #ETH address, so any ETC you have sent to your @CoinbaseWallet ETH address in the past will now show up after the update

Ethereum Classic on Coinbase Wallet#EthereumClassic #ClassicIsCominghttps://t.co/ojhXoEZYdx

— Classic is Coming (@ClassicIsComing) November 27, 2018
Based on all of the negative market momentum, traders and speculators are wondering what the future will hold exactly. It is evident 2018 will not be the great year of cryptocurrency whatsoever, and 2019 might not necessarily yield much improvement. For Cryptopatient, it seems 2021 will be the go-to year for future growth. By that time, the Ethereum price may have dropped to $50 or lower, if this trend keeps up.
Chinese year of the OX 2021#btc #crypto #eth #ltc

— Cryptopatient "Believe nothing, Trust No-One" 👽 (@Cashconnector) November 27, 2018
The technical analysis of Ethereum's price chart is not necessarily promising either. The massive sell-off over the past few weeks is seemingly not ending anytime soon, even though anything can happen in these markets. For now, it is a very steep decline, and one that can easily push the value per ETH to the $75 range before 2018 comes to an end.
#ethereum – Изменился критический уровень и зона продаж.#ETH pic.twitter.com/ZakUFSudbC

— Romanoff (@Rv_Romanoff) November 27, 2018
If Ethereum were to drop to $100 or even lower, it is plausible to assume panic would ensue. A lot of people bought ETH when it was near the $1,000 mark due to FOMO. Those who have been waiting for a bounce will undoubtedly start to cut their losses at $100, as that may be a point of no return, so to speak. At this time, it seems the drop to the double-digit range is a matter of time, unless Bitcoin decides to do something extremely spectacular.
---
Disclaimer: This is not trading or investment advice. The above article is for entertainment and education purposes only. Please do your own research before purchasing or investing into any cryptocurrency.
Image(s): Shutterstock.com