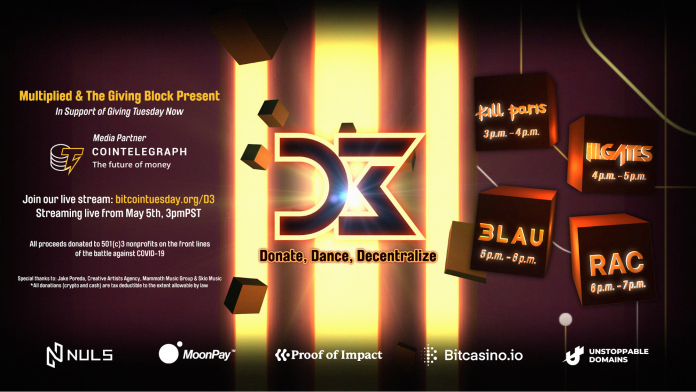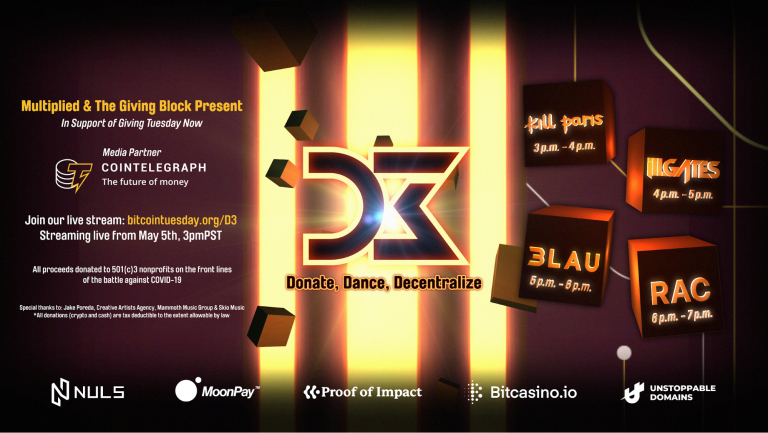 Two of the leading platforms in crypto use-based activities have teamed up to help bring awareness  and raise financial support for those most affected by the COVID-19 pandemic. 
The disease, first reported in December 2019, has left a trail of unprecedented human loss across the globe, forcing countries and societies everywhere to live in a state of lockdown for months, exacerbating an economic downturn that has seen unemployment and productivity hit record lows.
The first licensed crypto casino, Bitcasino and crypto-led charity, The Giving Block both share a single vision of supporting the fight against COVID-19 and they have put the vision to work by raising funds through a virtual relief benefit concert — the D3 (Donate, Dance, Decentralize). The crypto-charity event was launched on May 5 and live streamed at 3PM PST – 7PM PST | 6PM EST – 10PM EST.
By partnering with The Giving Block, all cryptocurrency donations towards the fight against COVID-19 were seamlessly deposited and converted into US dollars. Donors watching the event were able to donate a wide range of crypto to 29 different organizations in the sectors of healthcare, poverty alleviation, natural conservation, education and many more. Bitcasino sweetened the deal for the first 100 to contribute $50 or more, shipping them a free Watford FC Bitcoin jersey — the English Premier League football club sponsored by its sister company Sportsbet.
The event was held in collaboration with #GivingTuesdayNow, a philanthropic platform for a global network of like-minded individuals and organizations looking to offer positive contributions towards crises. 
The Game Changer Giving Back 
Bitcasino has always prided itself as a platform that can help make a difference, and one that is actively looking to give back to communities. Just last year, it made crypto history by being one of the first crypto companies to donate a significant amount (over $100,000) to the famous #TeamTrees treeplanting campaign also supported by the likes of Elon Musk.
More recently, the pioneer crypto casino just wrapped up its three-week-long fundraising campaign 'Crypto vs COVID-19, where players were able to donate their unused loyalty points to the #cryptoCOVID19 cause, with proceeds amounting to $100,000 going to various charity organizations.
Tauri Tiitsaar, Director of Bitasino, expressed the platform's interest in offering relief support in the middle of a human crisis. In his words:
"Standing with the crypto community and supporting the efforts to tackle COVID-19, which has left a mark on so many lives, is one of the most important things we've ever done. The human crisis we're witnessing is something we've never been challenged with before and everyone has been under so much stress, but together we're stronger in these unprecedented times. 

Bitcasino has always considered itself a fun, fast and fair crypto company and by partnering with GivingTuesday we feel that we can help make a difference, and bring more generosity to the world."
Bitcasino is now a market leader in its field with its name synonymous with successful crypto-led fundraising for charities. To learn more about the Giving Tuesday Now event, visit the official website. Catch the latest on the D3 concert or learn more about Bitcasino.