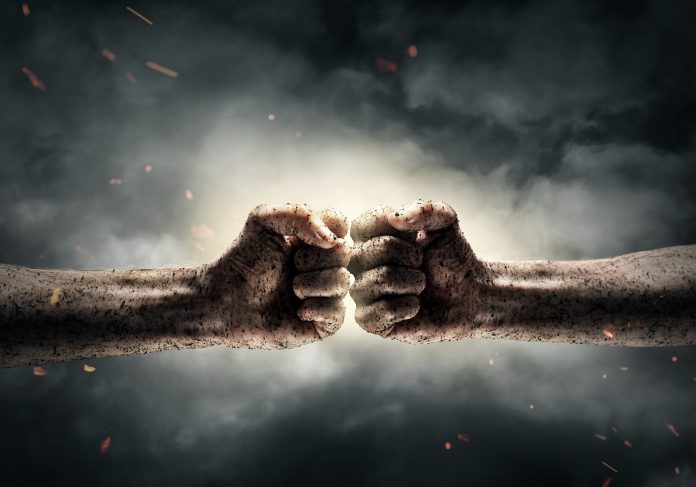 Crypto markets have been extremely volatile in the past couple days. This has caused a disruption in the status quo of the top 10 cryptocurrencies. Many have traded places in their rankings including Bitcoin Cash (BCH) which is currently fighting for the top 4 spot based on market cap.
Bitcoin Cash VS EOS
It was only two days ago when EOS overtook Stellar Lumens based on market cap, earning it the top 4 spot. However, that didn't last long as earlier today Bitcoin Cash briefly surpassed EOS with the 25% price hike. At the time of writing the two are battling it out for the number 4 spot.
The current market cap for Bitcoin Cash is at $2.32 billion, slightly higher compared to EOS's market cap of $2.28 billion and XLM's market cap that is at $2.2 billion. Placing BCH in the number 4 spot based on market cap at the time of writing.
When it comes to Bitcoin Cash news, while the price is mostly following Bitcoin's movements, what might have caused the extra bullish momentum today is Bitcoin.com's announcement of the Oracle. The new featured will be available at oracle.bitcoin.com and features a prediction market using BCH as its underlying currency. The Oracle is currently still under development, however one can request beta access.
According the announcement, some features that will be available with the Oracle include:
"tools that can monitor personal goals, track sports results, detect exchange rate movements, record social media platforms, and monitor news. Alongside this, you could even track the Bitcoin Cash code repository, pull requests and more with our oracle pulling data from Github's API and other sources."
Increasing use cases for a cryptocurrency will always bring an increase in value, thus BCH's recent price hike comes as no surprise. The real question is whether the bullish momentum can sustain itself and whether or not Bitcoin Cash can keep the top 4 spot.
Bitcoin Cash Price Technicals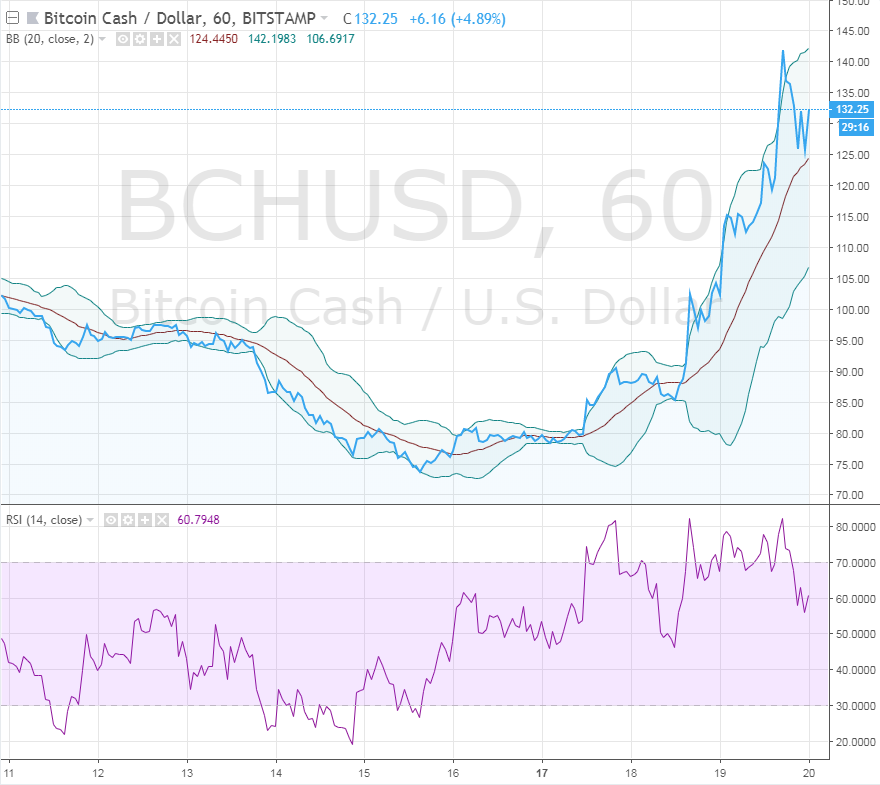 Relative Strength Index: The current RSI of 60 points indicates the market healthy and has a strong momentum, meaning that further price movement is expected. Furthermore, it doesn't look like the market is overbought which is a positive sign.
Bollinger Bands: The upper limit is $142 and the lower limit is $106. The current price point of $131 is above the 20 day moving average which is at $124. The deviation between the upper and lower limit is also extremely high, suggesting further movement.
More volatility is expected based on the indicators, however we are seeing the bullish momentum slow down across the board quite a bit in these past few hours. As such my personal prediction is that the market will retrace by a few percent before deciding its next move.
---
Disclaimer: This is not trading or investment advice. The above article is for entertainment and education purposes only. Please do your own research before purchasing or investing into any cryptocurrency.
Image(s): Shutterstock.com