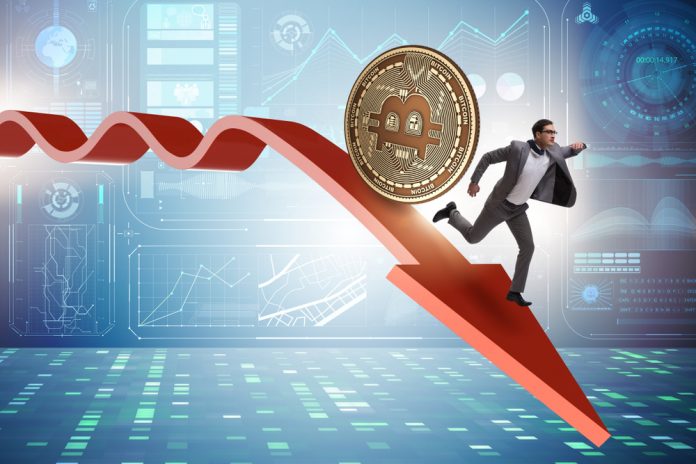 It's been a bearish year for the cryptocurrency industry, but today marks a new low for the king of cryptos. Bitcoin shed over 12 percent to hit its lowest level since October last year, with other cryptos following suit. In what has been a day to forget for the industry, Ethereum, Ripple, Stellar and EOS all shed 15 percent in a few hours, with nearly all major cryptos seeing double-digit losses. With its hard fork slated for tomorrow, Bitcoin Cash wasn't spared either and lost 20 percent, the largest loss in the top 20.
A Market In Turmoil
At press time, Bitcoin was trading at $5,540 having lost 12.8 percent in the past 24 hours according to CoinMarketCap. This was the aggregated price, with some markets noting even lower prices. One of these is BitMEX in which Bitcoin was trading at $5,300. It's worth noting that BitMEX accounts for the highest percentage of Bitcoin daily trading volume and therefore has major influence on the overall price. Currently, it accounts for 35 percent of the volume, miles ahead of the second-placed OKEx which accounts for 2.9 percent.
Bitcoin wasn't doing well on Coinbase Pro either where it was trading at $5,340. Other markets in which Bitcoin was heavily battered include Tokyo, Japan-based Liquid, San Francisco-based Kraken and European exchange Bitstamp, all of which traded below $5,350. Interestingly, markets supporting the South Korean won experienced much higher prices, with Coinbit, Upbit, Bithumb and GDAC all registering upwards of $5,800.
This is Bitcoin's lowest price for the year and the first time it has traded below $5,500 since mid-October 2017. Back then, Bitcoin started quickly rising and just two months later, it achieved its record highs, just below $20,000, a trend many investors hope it will reprise.
The sharp and unexpected decline comes after weeks of extremely low volatility, with Bitcoin at one point being less volatile than the U.S stocks. It also comes at a time when many have been predicting a bull run, including the renowned Binance CEO, Changpeng Zhao. CZ, as he is fondly known, stated recently that while he is not certain what will cause the bull run, he knows it's about to happen.
The reason for the sudden slump may not become clear immediately, the founder of analytics site CryptoCompare stated. Speaking to Reuters, Charlie Hayter stated:
The market had been entering a wedge, with the volatility so low. What you are seeing low is a breakout on the downside. Sometimes when things happen, it takes a while for the true reason to become clear – an exchange trade or regulatory action.
The other cryptos weren't spared either. Ethereum shed 14 percent to trade at $177, an astonishing 87 percent drop from its January peak. The largest altcoin traded as low as $155 on some exchanges such as CoinZest, the lowest it has traded since May last year. XRP lost 10 percent, EOS lost 12 percent, Litecoin 14 percent and Stellar 13 percent. Bitcoin Cash was the biggest loser in the top 20 at 20 percent, trading at $436 at press time. This represents a 30 percent decline from its price after the short rally experienced a week ago. It could get worse for BCH as its hard fork is set to go down tomorrow.
Image(s): Shutterstock.com