The digital currency market has been on quite a downtrend this year, causing severe problems for blockchain projects. BTC was trading at $68k in late 2021 but is now struggling to breakout past $20k. Ethereum is trading a little over $1k after dropping from nearly $5k. BTC and crypto prices have vastly dropped, leading to the devaluation of the entire crypto ecosystem.
Due to the crypto winter, many analysts believe this could be the end of the blockchain space. Is crypto dying? No! Considering the factors mentioned below, crypto is nowhere near death.
Historical Performance Against Crypto Bear Markets
Historically, the crypto ecosystem has recovered from its multiple severe falls. After hitting the high of $20k in December 2017, Bitcoin lost value to $3.4k in a prolonged bear market in late 2018. BTC later surged to $13k in mid-2020. In mid-2021, BTC surged to $63.7k but plunged to merely $29.8k. Towards the end of 2021, BTC surged to over $68k in a bull market.
In the earlier instances, BTC lost over half its value but recovered. The historical performance proves this asset class, although in winter, will recover in the future. The crypto market cycle of bears and bulls has been quite beneficial to some investors.
The year-to-date chart for Ethereum is looking quite stark as well, dropping from $3.7k in January to a low of $991 in early June.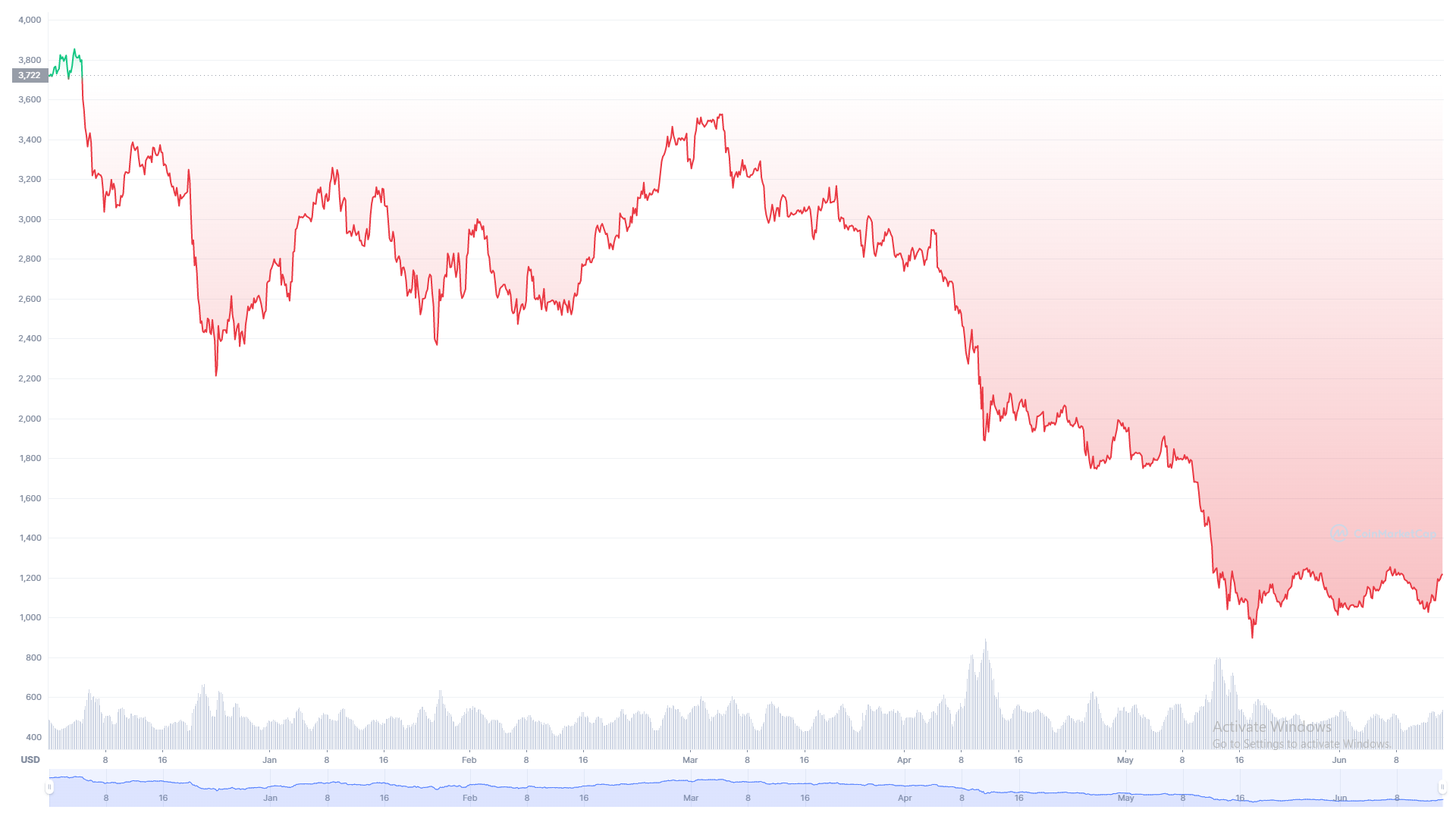 XRP also had quite a volatile past several months, dropping from $0.84 at the beginning of 2022 to a low of $0.30. One of the most significant contributors to XRP's bearish price action is the ongoing battle with the SEC, causing substantial strain on the market. In recent news, however, the judge called out the SEC in the Ripple lawsuit, giving them a small victory in the latest Ripple vs. SEC war saga.
Investors are Buying the Dip
Research indicates investors still want to join the markets amidst the ongoing crypto winter. For instance, despite market crashes, Wu Blockchain recently tweeted that: 
"In a survey of more than 2,200 people conducted in the Chinese crypto community on Weibo, 8% of the voters believed that Bitcoin and Ethereum could buy the dip when the price reached $18000/1000; 26% will buy in $15000/800; 40% will buy in $10000/500."
The survey indicates that crypto investors still wait for further price plunges to 'buy the dip.' Some anticipate that the prolonged bear market could drive BTC to $13k. Many will buy BTC at the $13k purchase price. If the digital assets world were dying, investors would dispose of them rather than hold them. Buying the dip is a positive signal indicating high confidence in the coin. 
Other Analysts Sentiments
When addressing the question 'Is crypto dead?' in the Washington Post, Molly White said, "Realistically, I don't think you could say that crypto is dead in any literal sense. But I do think that we're seeing maybe more of a mass realization that it's not as great of an idea to invest in crypto."
The analyst's sentiment is partially true; Crypto is Not dying. However, the idea that investors think it's not a good idea to invest in crypto is entirely baseless. Many investors are buying the dip. Recent reports from Glassnodes and other crypto exchange analytics networks indicate that BTC whales and shrimps are accumulating more coins despite the winter.
In addition, the recent scandals in cryptocurrency, such as the Terra Luna and the Celsius platform collapse, are causing additional strain on crypto markets as thousands of investors incurred drastic devaluations and losses due to the fall of significant crypto platforms and projects.
While the current prices might seem depressing to traders who entered the market in Q4 2021, for long-term holders, now is an excellent opportunity to Dollar-Cost Average their crypto investments to purchase digital assets, virtual real estate, and NFTs at all-time-lows. While some analysts claim that another correction of as much as 30% could be imminent this year, the long-term sentiment of cryptocurrency markets remains highly bullish.
Niche cryptocurrency categories like Metaverse crypto coins continue to perform exceptionally well as projects and teams like Wilder World (WILD) continue to build their products during this bear market, disregarding the short-term price action. Mission-based projects couldn't care less about the short-term gains of their tokens compared to their community's long-term vision.
Disclosure: This is not trading or investment advice. Always do your research before buying any cryptocurrency or investing in any projects.
Follow us on Twitter @nulltxnews to stay updated with the latest Crypto, NFT, AI, Cybersecurity, Distributed Computing, and Metaverse news!
Image Source: sqback/123RF