After a slight break the past two days, Bitcoin's price is back at it again this time breaking through the $6000 resistance and currently trading at $6042 on Bitstamp. What's surprising about today's bullish momentum is Bitcoin's decoupling from the movements of the stock market. The past few days cryptocurrency markets seem to have been affected by the fluctuations of the Dow Jones, but that trend is apparently coming to an end.
What's even more surprising, is how the recent news about the Binance hack along with the shut down of DeepDotWeb are having no effect on the market. It seems that at this point, crypto is a beast of its own that is following technical signals rather than current events.
Being involved with cryptocurrency for many years, there has definitely been a change in how various events do or do not contribute to price fluctuations. In the past, various news about the shut down of darknet markets, seizure of crypto related websites, and even news about certain regulation would have a serious impact on the market. In 2019, cryptocurrency is much more established compared to the years prior and we are no longer seeing outside events have such a drastic influence on the price.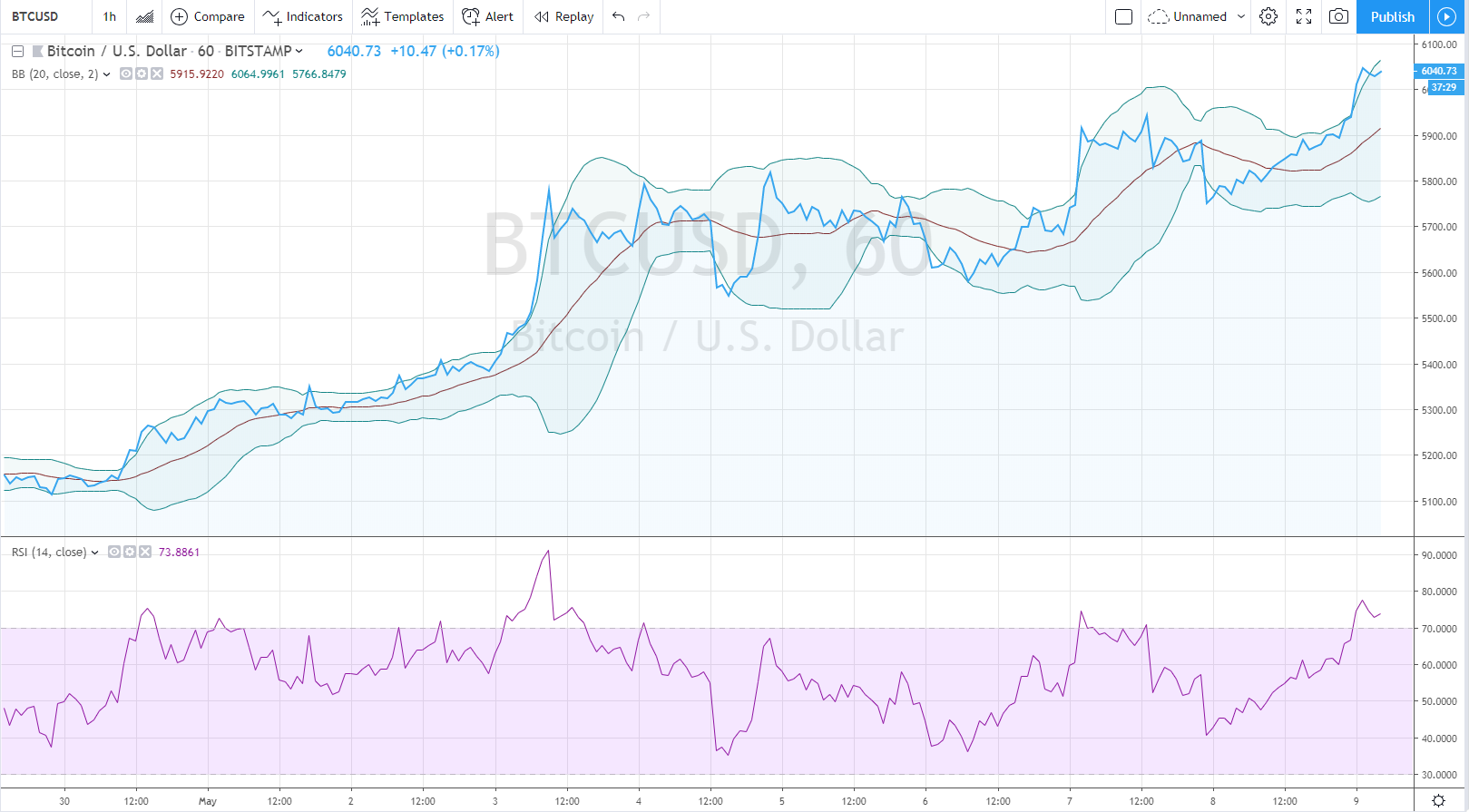 Relative Strength Index: At the time of writing the RSI is at 72 points meaning the market is slightly overbought. We should expect either a slight retracement or a pause in the bullish run before any further moves can be made. Even if we stay at the $6000 support line that's still great news for future potential gains.
Bollinger Bands: Looking at the bollinger bands, we are seeing the price slightly below the upper band, meaning that there is still potential for slight gains. However, we also saw the price cross the upper band before retracing slightly.
Both the RSI and BB indicate that there should be a slight pause in the bullish momentum before any further gains can be made. It could be a decent opportunity to either enter or close out your position if you believe there will be further bearish momentum soon.
---
Disclaimer: This is not trading or investment advice. The above article is for entertainment and education purposes only. Please do your own research before purchasing or investing into any cryptocurrency.
Image(s): Shutterstock.com