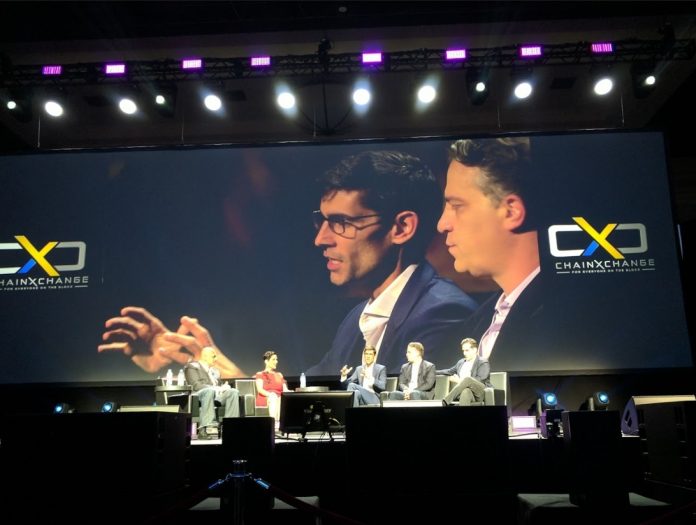 With the opening night of ChainXchange blockchain convention, Las Vegas blockchain week is officially under way. Tonight's main stage was headlined by World Food Programme CFO Houman Haddad, Wall Street Journal Deputy Editor Sam Walker, and Editor-in-Chief of Wired Magazine, Nicholas Thompson.
The theme of the night, and the convention as a whole, is the idea of the emergence of the fourth industrial revolution, one highlighted by the adoption and integration of blockchain technology, robotics, and artificial intelligence.
Walker kicked off the talks with his speech about leaders and captains- the integral role a paramount leader plays in a dominant team, different leadership styles, and traits that define the ideal leaders. He suggested that, in this impending technological revolution, humility will be a defining trait of the leaders of tomorrow.
Walker was followed by Houman Haddad, who explained his recent initiative in integrating a blockchain-based beneficiary system for refugees to purchase groceries from the camp supermarkets. Prior to blockchain, the World Food Programme had fed refugees by giving them allowances in the form of mobile money, food credits, and sometimes cash to be used at the camp market. However, this system required a lot of sensitive information from the refugee, which, in often cases, either wasn't accessible or compromised the safety of the individual.
Instead, Haddad introduced a system upon the Ethereum blockchain, where each refugee was granted an Ethereum wallet, linked to their iris. By scanning their iris at checkout, the private keys could be accessed to transfer funds. This eliminated security needs, and provide a far more efficient manner in connecting refugees with funds. Haddad shared that there are over 100,000 refugees using this system, and he expects that number to grow to 500,000 by the end of the year.
Lastly, Nicholas Thompson theorized about the future of technology through different angles, factoring in societal impact alongside revolutionary benefits. Among different possibilities, Thompson spoke in regards to the radicalization of political ideals through technology, and the leverage it gives to emotional candidates. He also talked about the intentions of Instagram to leverage AI to monitor and filter mean comments in hopes to build a nicer internet, and the possibility of conscience and brain power being stored and interacted with after death.
Following the speeches, the three participated in discussion regarding this fourth industrial revolution. Major themes of the conversation included job displacement and even societal change through automation, the implications of quantum computing, and, of course, how blockchain can factor into all of this. When asked about his fears for the immediate future, Thompson responded, "The thing that scares me in tech, more than anything else, is consolidation of power." He goes on to add, "Blockchain restores power to decentralized alternatives… This is happening, you can't stop it!"
Prior to the speeches, several startups interacted with attendees at various booths. Among setups included Skycoin and its unique Skyminer and a demonstration of the hot virtual reality game, Beat Saber, which is akin to a virtual reality evolution of Guitar Hero. The demonstration was put on by Reality Smash, who also developed an augmented reality game in which attendees can explore the venue to collect points that can be redeemed for Block Venture (XBV) tokens.
Image(s): Shutterstock.com