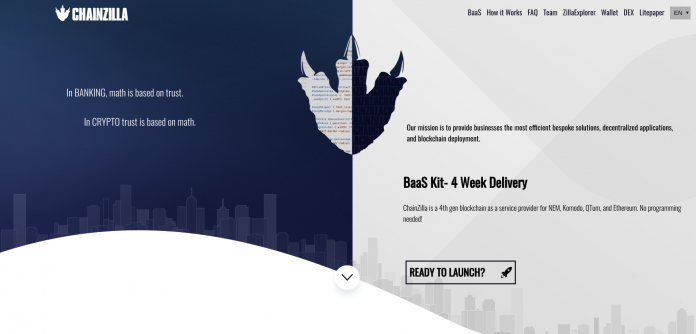 A fair few companies have shifted their attention away from the Ethereum blockchain due to scaling concerns. ChainZilla is a company which aims to facilitate this transition for teams who want to access a blockchain which suits their specific needs. It's an interesting business model, albeit one that raises a few questions.
ChainZilla Offers a Unique Service
One has to admit the Ethereum blockchain may not be capable of accommodating all of the DApps being built on top of its infrastructure. That situation will come to change once Ethereum's scaling concerns are addressed, although it remains unclear if and when that will happen exactly. Until such a solution is in place, some companies will try to switch to a different blockchain.
This is where ChainZilla comes into the picture. The company specializes in helping companies transition away from Ethereum and onto either NEM or Komodo. Both of these blockchains specialize in higher throughput capabilities and versatility. They are also easy to use and secure, although they may require a slightly different mindset compared to Ethereum.
ChainZilla makes the migration from Ethereum a fairly painless process. Developers first need to determine whether their project needs a token or a blockchain. Not every blockchain project needs a token, yet every token project needs a blockchain to get up and running. One downside of all Ethereum-based projects is that every single venture introduces a new token which may not necessarily be needed.
The ChainZilla team is confident that they can move a project from Ethereum to either Komodo or NEM in a span of four weeks or less. They will take care of all migration steps and DIY solutions. Other features offered include the issuance of Qtum smart contracts, as well as support for apps, including wallets, explorers, and decentralized exchanges.
While it is commendable to see companies such as ChainZilla offer help in this regard, this approach also raises some questions. There is no reason for any company to move away from Ethereum if their application or project isn't anywhere close to being finalized. By the time those DApps and projects come to market in their full capacity, Ethereum should have its next layer of scaling in place already.
At the same time, there is no reason for all projects to focus on one and the same blockchain ecosystem either. If everyone focuses on Ethereum, there will be little innovation and competition. Different blockchains offer very different options for developers to explore. As such, all projects and companies need to explore the various options.
Image(s): Shutterstock.com