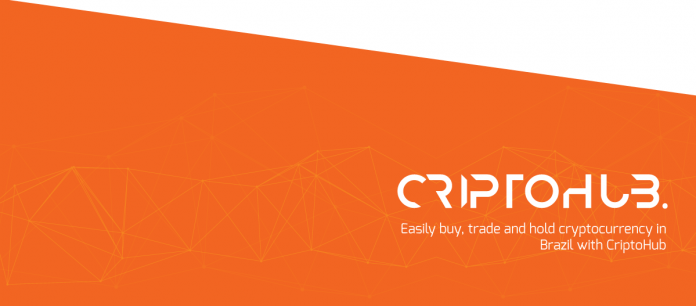 CriptoHub is a game changer, set to capitalise on Brazil's Crypto Fever
Cryptocurrency has been growing in popularity by the day, and the latest country to feature sky-high growth in demand for this currency is the beautiful South American country of Brazil. As of end of year 2017, there were as many as 1.4 million Brazilians trading in cryptocurrency, investing $10billion a month on cryptocurrencies.  
Disclosure: This is a Sponsored Article
CriptoHub aims to capitalise on this rising enthusiasm by launching its cryptocurrency exchange – based on cutting-edge technology – for the Brazilian market.
The Brazilian crypto market – positive regulation
Crypto has caught the people's imagination in Brazil, and this is evident from the way the country has been building its supporting infrastructure to facilitate the unparalleled growth in demand for cryptocurrencies. One such development is the launching of the Brazilian Association of Cryptocurrencies and Blockchain (ABCB), which is aimed at facilitating the creation of legislation that will help the country progress, and capitalise on its crypto fever.
The underlying principle behind this initiative, among others, is to formalise the world of cryptocurrencies by forming a process for coordinating with government bodies and institutions about crypto trading. This is a big step in the right direction, since consumer-driven growth is hampered when there is no legal framework to support it.     
CriptoHub – capitalising on demand and user needs
Along with the rise in the number of people who are keen on cryptocurrencies, there is an increasing diversity among individuals showing interest in the phenomenon. For instance, it was earlier thought that only the technologically savvy young crowd were keen on investing in cryptocurrencies. That has changed today, with CriptoHub committed to make investing in cryptocurrencies a democratic endeavour that is inclusive of all sections of the society, and not just for the technologically savvy alone.
Further, the current demand for cryptocurrencies in Brazil is not matched by an equivalent supply, since there are quality issues with the current crypto exchanges in Brazil. Issues such as scalability, not being abreast with times in terms of technological knowhow and advancement, and the need for greater agility in terms of withdrawals necessitate the introduction of high quality services in the Brazilian crypto market.
Trust in crypto
To overcome the existing trust deficit caused by issues with the current crypto exchanges in Brazil takes unrelenting commitment to building high quality systems and processes, and promoting trust in CriptoHub's brand value. The CriptoHub Coin (CHBR) runs on Ethereum ERC20 technology, which is the cutting-edge platform currently available. CriptoHub brings in instant scalability and security to users, essentially revolutionising the very definition of crypto exchanges in Brazil.
This trust is further enhanced by the strict audit requirements adhered to by CriptoHub – the exchange will publish bi-annual reports that are audited by international external auditors. This will not only ensure compliance to the high standards as detailed in CriptoHub's whitepaper, but will also introduce the much needed trust for Brazilian crypto enthusiasts to demonstrate safety and security of their funds.
The CriptoHub advantage for domestic growth
The global markets have seen enormous growth in the value of cryptocurrencies. For instance, Binance was the fastest unicorn start-up that became the largest exchange in the world in just seven months. The CriptoHub exchange aims to replicate this success on the domestic arena, creating a system that delivers efficiency and results for the Brazilian crypto enthusiasts looking to maximise their value through a trusted system.
Introducing versatility to Brazil's crypto fever
CriptoHub aims to be Brazil's best cryptocurrency exchange – it aims to achieve this by broadening the options available for Brazil's cryptocurrency users and traders. Some of the existing crypto exchanges in Brazil are far too restricted in their trading options, with many of the leading names operating with just two or three cryptocurrencies available within them.
This indicates a clear potential for CriptoHub to make a mark in Brazil – CriptoHub aims to offer as many as 20 crypto assets with their launch in Brazil, which could be a game changer in the country's crypto landscape. With such high levels of interest and demand, Brazilians certainly deserve more, and CriptoHub wants to provide just the service standards that could make the difference to Brazil's diverse crypto users.
With growing demand in the Brazilian crypto markets, unmatched versatility, advantages such as scalability and technology, and high levels of commitment to transparency and trust, CriptoHub is set to revolutionise the traditional definition of crypto exchanges in Brazil.
Further information about CriptoHub, its operations, future plans and roadmap can be found at https://ico.criptohub.com.br.  
Image(s): Shutterstock.com