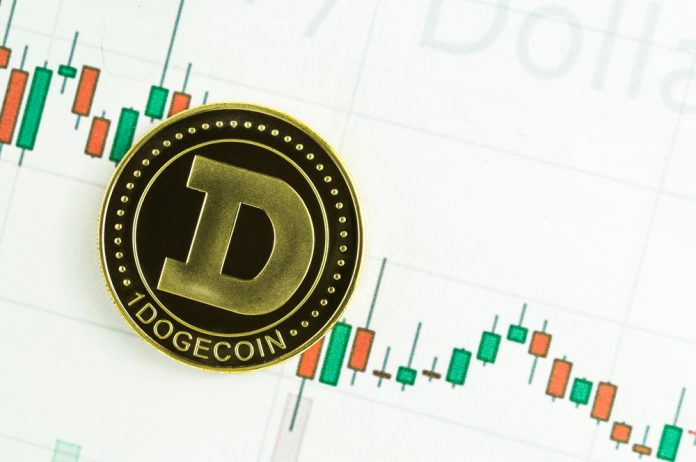 There is no such thing as a boring day in the cryptocurrency world. Even though all major currencies are suffering from a loss, it is evident the Dogecoin price is on the end. This surprising turn of events was bound to occur sooner or later, primarily because DOGE seems to thrive when the rest of the market struggles.
Dogecoin Price Rebound Kicks in
As mentioned earlier this week, a Dogecoin price reversal appeared to be on the horizon. So far, that seems to hold true, as the Dogecoin price has recovered a bit of lost value over the past 24 hours. Although the gain is relatively small, it is rather impressive when considering how the Bitcoin price, as well as Ethereum's value, are both suffering from declines as of right now.
To put this in perspective, the Dogecoin price has gained 3.19% in the past 24 hours. This helps push the value back to $0.006361, and its market cap is on the way to hit $740m again. If this trend keeps up, it is not unlikely Dogecoin's market cap will rise to $75m and potentially higher in the coming days. That can only happen if Bitcoin's value doesn't recover, though, as that appears to hinder DOGE's price growth.
Looking across social media, it seems the opinions on Dogecoin's price momentum are sparking new initiatives and debates. One user explained how the SEC is likely to reject another Bitcoin ETF proposal in the near future, which would send the BTC value spiraling down very quickly. Given how the SEC rejected nearly a dozen proposals a few weeks ago, it seems unlikely any other outcome should be expected first and foremost.
I will be all-in #dogecoin after the next bounce. #bitcoin etf this week will likely be denied… Dogecoin UP. Approved? Bitcoin up, #doge flat. A "safe" play.https://t.co/EosBUpBHmH

— Isa (@__eesa__) September 16, 2018
Whether or not the advice of going all-in on Dogecoin needs to be followed by other traders, is a different matter altogether. There are no real "safe plays" in cryptocurrency these days, unless one is willing to hold onto the cryptocurrency for a very long time. Both Dogecoin and Bitcoin present an interesting case in this regard, as they may both note some interesting trends moving forward.
On the meme front, a lot of exciting things are happening as of right now. It appears someone has replaced a Bitcoin Cash sticker at a local McDonalds with a Dogecoin sticker. Although BCH has seen its fair share of hate, this is simply a joke attempt first and foremost. Even so, one has to wonder if and when any major retailer begins accepting Dogecoin payments. McDonalds is an unlikely candidate in this regard, but one never knows what the future holds.
Someone stuck a bcash sticker on the drive thru at a local McDonald's. Today, we made doge great again. #dogecoinhttps://t.co/sHBt4piDAR

— Mike Olthoff ⚡ (@olthoff) September 15, 2018
For the time being, things look good as far as the Dogecoin price is concerned. Although this trend may not necessarily last all that long, there is plenty of reason to be happy with the current trend. Dogecoin continues to spark a fair few debates as time progresses, which is always exciting and intriguing to keep an eye on.  The coming hours and days may prove to be crucial for this cryptocurrency.
Image(s): Shutterstock.com