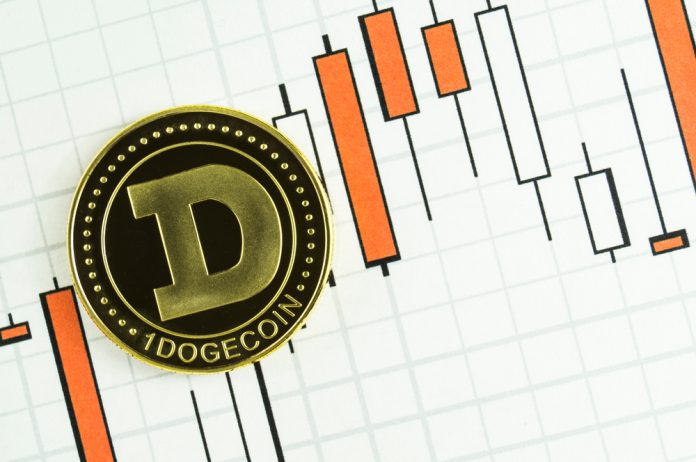 Even though many speculators expected Dogecoin to go through a bull run, it hasn't happened as of yet. In fact, the opposite is coming true, following declines in USD and BTC value. Even though the network remains very popular and suitable to transfer value, the current price level isn't necessarily representing the appeal of Dogecoin right now.
Dogecoin Price Momentum Heads South
In a somewhat surprising turn of events, the value per Dogecoin is not going up as most people had anticipated. In fact, it seems this popular altcoin cannot escape the gravity of the overall bear market affecting the cryptocurrency industry. When even Dogecoin begins to falter, things are not looking good heading into the weekend. Then again, weekends are usually very adverse when it comes to cryptocurrency trading momentum.
Over the past 24 hours, the Dogecoin price has dropped by 1.61% in USD value. As such, the price now sits at just under $0.0021, and may continue to drop lower as time progresses. The deficit in DOGE/BTC is nearly 2.7%, pushing the value down to 57 Satoshi again. It is evident these setbacks are quite steep to overcome based on the current market circumstances. That is not a promising sign for those who expected to pocket some quick profits with Dogecoin this week.
In terms of usability, Dogecoin is still doing its own thing. Unlike other altcoins, tokens, and assets on the market, it continues to rival Bitcoin in terms of value transferred over the network. The latest statistics indicate Dogecoin's network sees $13m worth of value being transferred per hour. That is quite a lot of money changing hands without relying on third parties, banks, or governments.
#Dogecoin is currently "sending" $13M per hr. https://t.co/924UU0KSIt

— mj (@silkmarketindex) January 18, 2019
Imitation is often considered to be the most sincere version of flattery Dogecoin has seen many imitators come and go over the years, although none of them even came close to rivaling the real thing. DogeCash, a relatively new project, is seemingly trying its hand at introducing masternodes and proof of stake. Any approach can be viable in the cryptocurrency industry, but that doesn't necessarily mean DogeCash will prove to be a success in the long run.
@dogecash, a serious #crypto project made by a group of talented #dogecoin fans, uses PoS and #masternodes instead of PoW as the original @dogecoin. Recently listed on @CoinMarketCap, #dogecash is available as $DOGEC in @CryptoBridge
Web: https://t.co/3pIFCUJeXX
🤫🤭💎📈🚀🤑🤩 pic.twitter.com/4kJKWqPBpz

— VIGT (@ViGutierrezT) January 18, 2019
There is also some concern regarding the earlier announced Dogecoin-ERC20 token bridge. Although announced months ago, it now appears no new information has come to light ever since. This has some community members concerned, albeit one has to acknowledge building such a platform will not happen overnight. Even so, it would be good to get some updates regarding "Dogethereum" as the project seemingly has a ton of potential.
#Dogecoin #Ethereum Bridge team members, I hear crickets. We must be getting close to sumptin, or maybe not. pic.twitter.com/Cf4QqLTmyJ

— mj (@silkmarketindex) January 18, 2019
All of the current market momentum would indicate the value per DOGE may continue to decline throughout the remainder of this week. That would be rather unfortunate and it doesn't bode well for all other markets either. One also has to wonder if the price really matters that much for Dogecoin, as its network is clearly the most popular of all altcoins and tokens in terms of transferring value every single day. It is always important to keep the bigger picture in mind when looking at individual markets.
---
Disclaimer: This is not trading or investment advice. The above article is for entertainment and education purposes only. Please do your own research before purchasing or investing into any cryptocurrency.
Image(s): Shutterstock.com