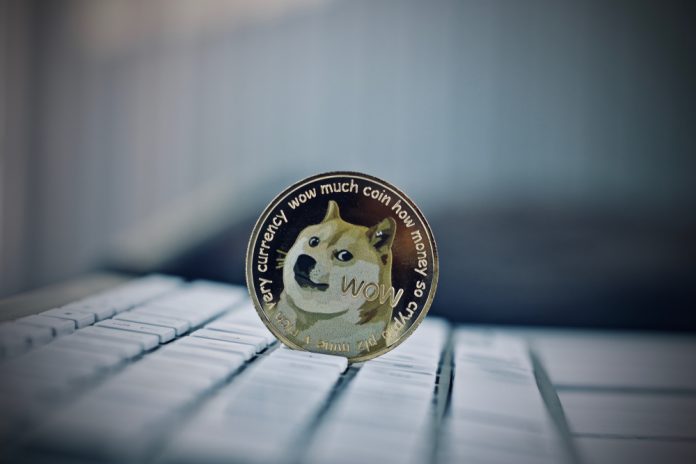 It would appear the weekend is already off to a decent start for most cryptocurrencies. Minor gains can be noted across the top markets, although the hourly charts still don't look as promising. What is rather remarkable is how the Dogecoin price has successfully noted some gains across the board. That is not as unusual as one might think, although this trend is pretty interesting to keep an eye on.
Dogecoin Price Uptrend Starts Taking Shape
As the weekend dawns upon the cryptocurrency markets, interesting things are bound to happen sooner or later. Although most people expected a further bearish trend – which would have been the logical outcome-  it appears the end result is very different. In this particular case, that is a more than welcome development. All of the top markets appear to be in the green, which is very promising in its own regard.
Over the past 24 hours, the Dogecoin price increase has been very interesting to keep an eye on. More specifically, there is a 3.5% gain in USD value and a 2% increase in the DOGE/BTC ratio. As long as this latter ratio continues to improve, it is very likely the USD gains will remain in place as well. Following this uptrend, the DOGE value has surpassed $0.0021 again.
Today is a bit of an odd day for Dogecoin-related discussions on Twitter. Given the usual hostility one can note on this popular social media platform, it appears a lot of community members are showcasing some love for the meme currency of the internet. Crypto_Hulk confirms he isn't just interested in Verge, but also values the potential of Dogecoin and others. A very nice comment, although it is a bit unclear where this sentiment comes from exactly.
My handle says #XVG but i do like other coins aswell, for example: #dogecoin 🙈 #eth #tron and #xmr

— 🌩️Crypto_Hulk🌩️ (@XVGhulk) January 26, 2019
Secondly, it seems Shibatoshi Dogomote is active on Twitter once again. More specifically, this user claims 9 in 10 dogeconomists confirm Dogecoin will be back in the crypto market cap top 20 in the near future. That in itself is pretty interesting to keep an eye on, especially when considering how Dogecoin has been in the top 20 on multiple occasions. Another repeat of that feat of strength would make a lot of investors happy, to say the least.
9/10 dogeconomists agree that #Dogecoin will be in the top 20 a year from now.

— Shibatoshi Dogomoto 🐕 (@CEOofDogecoin) January 26, 2019
Doge Doggerton, on the other hand, fondly remembers the days of Moolah – formerly Mintpal – and how Dogecoin thrives because of that exchange. Although Mintpal eventually disappeared – as did millions in user funds – it was evident exchanges held all of the power back then. Fast forward to 2019 and it appears that situation is not necessarily the case any longer.
Only if Moolah exchange is reopened and Ryan Kenne, uh I mean Alex Green "soaks" a million #dogecoin with an IRC bot……#throwback

— Doge Doggerton (@Bagillionaire) January 25, 2019
Based on all of these circumstances, it is still difficult to make sense of the current Dogecoin market momentum. As there is a fair bit of positive pressure on this market, one would expect the gains to continue. However, the DOGE/BTC gains are not exactly spectacular and can easily drop in the red again. When that happens, it is a matter of time until most of the USD gains are wiped out as well. A very interesting market to keep an eye on over the weekend.
---
Disclaimer: This is not trading or investment advice. The above article is for entertainment and education purposes only. Please do your own research before purchasing or investing into any cryptocurrency.
Image(s): Shutterstock.com