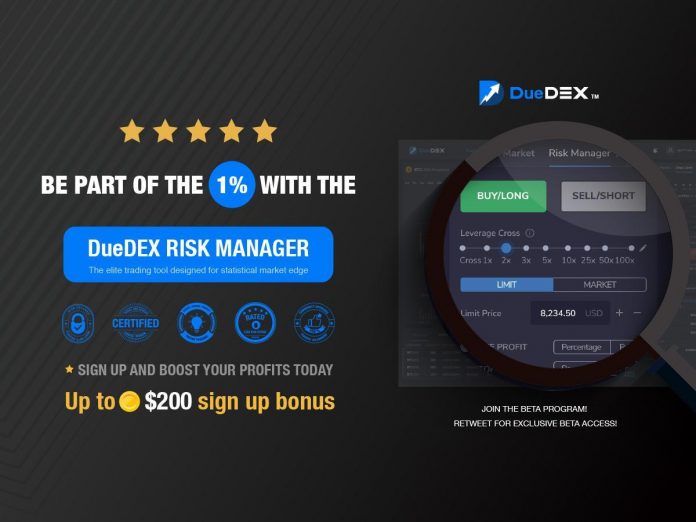 The trading of cryptocurrencies can be an extremely lucrative venture when done correctly. Managing one's risks at a trader is an absolute must. The DueDEX Risk Manager™ is a powerful ally when exploring cryptocurrency markets.
Risk Exposure in Derivatives Trading
Engaging in the trading of Bitcoin and altcoins can turn out to be very profitable. That is, assuming one can analyze markets, make well-informed decisions, and reap the benefits. For both novice and experienced traders, there will always be pitfalls to watch out for. These pitfalls can make the difference between pocketing a profit or piling up losses.
Gaining more exposure to Bitcoin and altcoins can be achieved through leverage products. These investment options are tied to the underpinning price of a cryptocurrency asset. Rather than buying Bitcoin or an altcoin itself, traders are "betting" on which direction the market will move in.
With leverage comes potential increases in profits and losses alike. Many trading platforms allow for more risk exposure through leveraged trading. Diving in head-first without ample preparation or knowledge is asking for trouble, however. 
DueDEX CEO Bo Wang agrees and states:
"This is exactly what the industry needs – more products to help users manage risk."
Managing risks is not only a good idea, but it is also an absolute necessity for traders of any caliber. As appealing as leveraged gains may seem, the leveraged losses have the potential to destroy one's portfolio in quick succession. 
DueDEX Risk Manager to the Rescue
Protecting traders from overexposing themselves to risks is a core feature of the DueDEX Risk Manager™. This tool provides everything one needs in the form of a convenient user interface. It is through this interface that traders will become used to leveraged products and learn to build a profitable trading strategy.
Several unique features are part of the DueDEX Risk Manager™ solution. First of all, there is the "One Click" solution for various order types, position sizes, and equity on the line. Instead of opening the floodgates, traders are encouraged to experiment with incremental increases. 
This particular approach is important to all types of users. At the lowest setting of 0.25% equity on the line, users can still record a deficit across 20 trades and contain their portfolio losses. During volatile market swings, or when exploring new markets, there is no need to risk a big portion of one's portfolio in one trade.
The creators of the DueDEX Risk Manager™ are also looking well beyond order types. Looking at traditional derivatives trading, the Risk Manager unlocks an entirely new experience. 
Identifying resistance and support levels becomes more straightforward due to the tool's trader-oriented approach. Successful trades hinge on recognizing emerging market opportunities while keeping risk exposure as low as possible.
Users who sign up for the DueDEX Risk Manager™ now will receive a trading bonus of up to $200 on their first deposit. 
Learn more about DueDEX  – https://www.duedex.com/