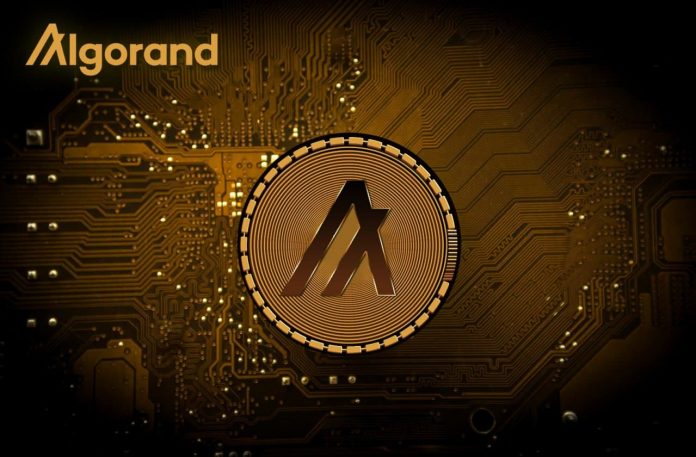 Introduction to Algorand
Algorand is building a pure proof-of-stake blockchain designed to power worldwide frictionless finance. Launched by award-winning Silvio Micali, Algorand is playing its part in changing the worldwide financial landscape by fixing many of blockchain's most pressing issues. 
To put this into perspective, the Algorand blockchain is able to achieve the holy trinity – scalability, decentralization, and security. These three factors are quintessential to building the future of finance, an ecosystem that supports enterprise-grade applications aiming for low entry barriers, ease of use, and next-generation smart contract capabilities. 
The Algorand Protocol is therefore built on three pillars – optimal and scalable smart contract support, the layer-1 customizable Algorand Standard Assets (ASA), and atomic transfers with immediate settlement supporting multiparty transactions. 
From an enterprise standpoint, Algorand's value proposition is crystal clear. Its blockchain will facilitate the deployment of new methods for exchanging value, alongside more inclusive and effective financial tools. Slowly, but surely, Algorand will also bridge the gap between public and private on-chain solutions, while not forgoing the goal to bring multiple forms of financial assets on the blockchain. 
Cryptocurrency and blockchain enthusiasts worldwide are all pointing towards Algorand, and this makes perfect sense given the project's recent developments. 
Highlighting Algorand's Recent Developments
Algorand's planned move into the decentralized finance market kicked off with Silvio Micali's announcement concerning the newly-built set of smart contract capabilities. These were designed to measurably lower transaction costs, making Algorand even more suitable for the fast-moving DeFi market. 
The move was further consolidated through a recently-announced partnership with Curv, a well-established crypto custodian. According to data available on the partnership, Algorand will be integrated within Curv's infrastructure, whereas Algorand will internally make use of the custody solutions provided by Curv. This will lead to better wallet security and functionality for all applications that are being built on the Algorand Protocol. As expected, Curv customers can transact ALGO and its ASA tokens following the partnership. 
Algorand has also signed a partnership with Frontier, who has been given a grant by the Algorand Foundation. Frontier will now support the creation and deployment of Algorand-based protocols on its app. 
Algorand to Host Tether (USDT)
Algorand is also keen on facilitating the seamless storage, transfer, and usage of stablecoins. In response, the project has recently signed a partnership with Tether to support USDT on the Algorand blockchain. Up until now, Tether was supported on several of the market's best-known blockchains, including Ethereum, EOS, and Tron. USDT holders will now be able to leverage Algorand's blockchain to gain access to immediate transaction finality, further consolidating Algorand's value proposition within the decentralized finance market. 
Centre Consortium Places USDC on Algorand
USDC is recognised as one of the market's most trusted stablecoins. Thanks to a partnership between Algorand and Centre Consortium, USDC is now usable on the Algorand chain. This is significant news for USDC holders worldwide, given the fact that Algorand is the second well-known blockchain after Ethereum to support USDT tokens. When transacting USDC on the Algorand chain, users can expect a high transaction throughput, quick settlement, as well as support for DeFi protocols. Algorand-based USDC is now available through Circle Business Accounts as well. 
Marshall Islands Launching Cryptocurrency Based on Algorand
As part of yet another exciting partnership, Algorand recently announced that the independent Marshal Islands will leverage the protocol to launch SOV, the nation's very own digital currency. According to the release, the SOV will enhance the Marshall Islands' operations within the global economy. Algorand was chosen thanks to its scalable blockchain-native solutions that are specifically designed for real-world use cases. With unparalleled stability, speed, security, scalability, and support for smart contracts, Algorand is a viable choice for any and all CBDC endeavours. 
Recent ALGO Price Evolution
ALGO's recent price trends are a no-brainer for anyone that has been closely following the project's recent developments. For those who still find themselves out of the loop, the ALGO token has seen significant growth over the last 30 days. Indeed, there's an ongoing level of volatility, but this is normal for any high-potential cryptocurrency. 
As 2021 came about, ALGO was only priced at $0.32, yet the token quickly saw a significant uptrend following the team's recent announcements and the ongoing cryptocurrency bull run. To be specific, the token managed to reach $0.67 at press time (end of January), whilst also noticing considerable trading volumes.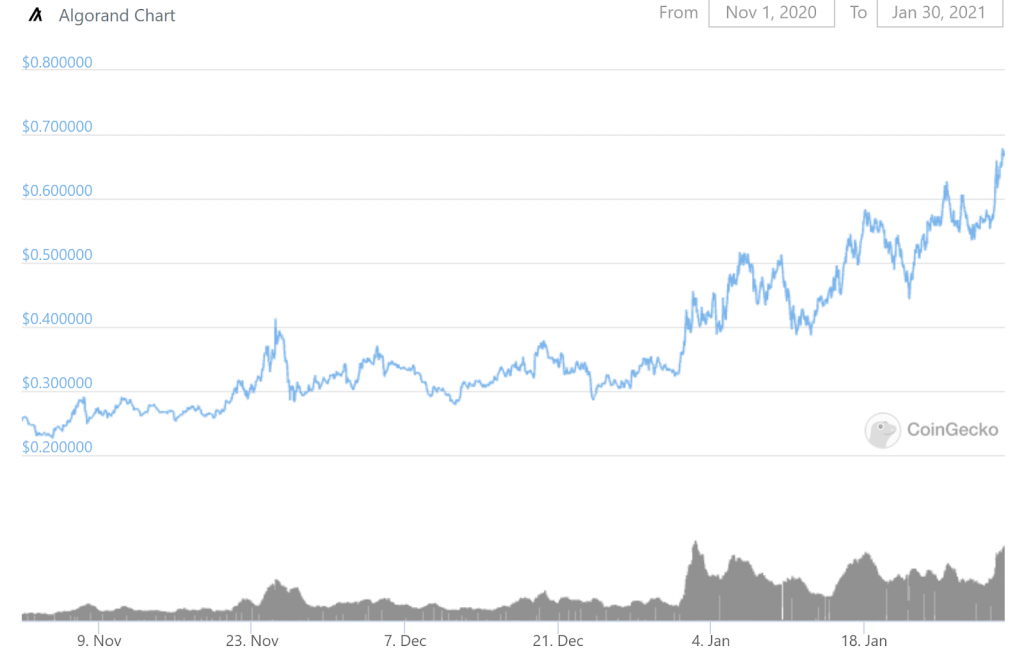 Historical price analysis really shows the magnitude of ALGO's bullrun. A 179% price increase can be observed during the last year, whereas the previous 30 days report a value growth of 99.8%. As such, Algorand's market cap positions itself very close to the previously-attained all-time high, since it's currently estimated at $539 billion. When comparing it to other high-performing cryptocurrencies, it becomes obvious that there's still a lot of room for growth, which will likely be covered within the next few months. 
Bottom Line
With these aspects in mind, Algorand is actively positioning itself as a market-leading blockchain protocol, with significant potential of further accelerating worldwide blockchain adoption. Given its official entry into the DeFI market, Algorand will likely lead to quicker and cheaper transactions, allowing DeFi participants to capitalize on their investments. The ALGO token is also finding itself aboard the bull-train, on its way to reaching new peaks.