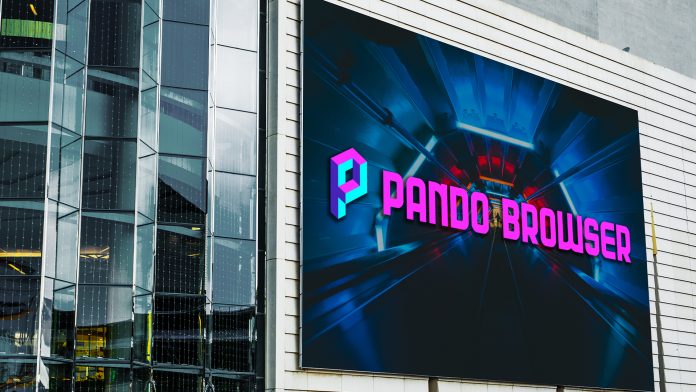 Competition is heating up among internet browsers that seek to protect their users. Solutions capable of blocking advertisements and tracking cookies gain popularity. Pando Browser has attracted over 100,000 Android installs within three months after its launch. 
Pando Browser Packs A Punch
Unlike a standard browser such as Chrome, Edge, Firefox, or Safari, Pando Browser prioritizes blocking advertisements and building a more transparent internet. Rather than rewarding advertisers and technology giants, the Pando team rewards contribution. Whenever users see ads, they are eligible for a reward. The concept is going over well with users worldwide, especially in the mobile department. 
The browser has built-in IPFS integration and mining rewards for its users. Active ecosystem participants receive PANDO coin, a native cryptocurrency that can be sent and received across the network. It is also a currency found on various cryptocurrency exchanges, including Bittrex Global and MXC Exchange. 
Another crucial aspect of the Pando Browser is the free VPN, preventing geo-restricted content and adding an extra layer of privacy. Users have to protect themselves from web surveillance and keep sensitive data out of the wrong hands. The VPN service is fast, free of charge, and does not require the browser's use of Incognito mode. 
Furthermore, users can strip away any advertisements they don't want to see. Pando Browser broadens access to the Web 3.0, a new version of the internet capable of empowering users. In the future, it will be compatible with decentralized applications (DApps).
The browser also has a built-in cryptocurrency wallet to store PANDO coins. 
Over 100,000 Android Installations
The concept of Pando browser appeals to a lot of mobile device owners. Users of the Android ecosystem can download the software from the Google Play Store. So far, Pando Browser notes over 100,000 installations, which marks a significant milestone. It confirms mobile users don't want an internet browser that slows down their device or tracks their online activity. 
With an overall rating of four out of five stars, users seem to enjoy the browsing experience. As the team rolls out further updates and improvements, browsing the web in an ad-free and private manner will become more straightforward. A faster, lighter, and rewarding browsing experience can take away market share from Google and Mozilla. 
Mobile Mining and PANDO Coin
As users receive PANDO coins for viewing advertisements, those coins need to come from somewhere. Pando Browser's built-in Proof-of-Software mining system creates and distributes tokens accordingly. More coins are created when users login regularly, refer other users and explore the opt-in advertisements. 
Under the hood, the mobile device becomes a network node for the PANDO ecosystem.  Based on the operating system, the Pando Browser can create operation times and determine opt-in ad viewing time. 
There will be a maximum of two billion PANDO coins. Seventy percent of the supply is warded to users engaging in mobile mining, to be distributed in the next ten years. Every two years, the mobile mining reward emission cuts in half. Currently, users can generate over 1 million tokens per day.  The remainder of the token supply will help with research and development, as well as marketing efforts. 
Download Pando Browser for Android on the Google Play Store today!