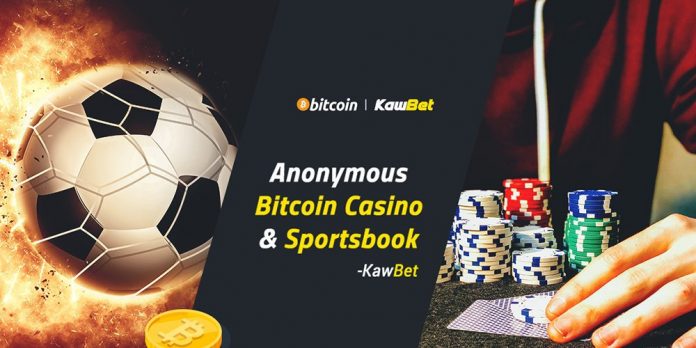 For those already introduced to the unique world of crypto gaming online, it can be a sort of paradox that money censorship avoided with using Bitcoin is negated once depositing at crypto-enabled casinos.
The fact is, most crypto casinos still require some form of Know Your Customer (KYC) process, making it almost unavoidable that a gambler has to provide identification and other personal data to enable gameplay.
Other than the threat to personal privacy, there is also the fact that customer data is at risk of exposure to non-authorized entities. As there is almost certainly no way to ascertain the security of casino databases, hacking, and other malicious attacks could result in the loss or exposure of private and personal data.
Kawbet: Play Anonymously, Cash Out Quickly
Upcoming Bitcoin and sports betting website Kawbet intends to return crypto to its original roots of privacy, by allowing Bitcoin and 25 cryptocurrencies on its casino — without ever needing players to disclose their identity.
What's more, Kawbet has committed to an average withdrawal time of less than 5 minutes, because crypto is meant to be fast.
All this, while enjoying top class betting experience with some of the widest and most modern games on offer.
Protect your data by never giving it Away
Kawbet promises never to collect any personal information on gamblers' identities, not even so much as taking their betting information tied to identity, so players are fully guaranteed on bet privacy.
Never again put up with long waiting times to get the money you won. Deposit and play immediately. Then, enjoy your winnings in minutes with seamless, minutes long withdrawal transactions.
Need help? Run into issues? Kawbet won't keep you waiting around, as over 100 employees are waiting to answer your questions or solve your issues with an average response time of 1 minute.
Lowest margins mean best payouts
Kawbet keeps an eye on all the sporting events and casino games round the clock. They take client feedback seriously and as a result offer the markets that satisfy player needs.
Because Kawbet works hard to get the lowest margins, this means some of the best odds you'll find anywhere in the betting industry. All this translates to more value, bigger wins, for their users.
Refer and earn as a Kawbet partner
Referring new players to Kawbet can be as fun as it is lucrative. Help Kawbet to grow and expand and reap the rewards: with a 20% share of all direct referral profits, to grow as much as 40% depending on new referral volume!
As a Kawbet Partner, make use of a wide array of affiliate marketing tools personalized to your needs. And Partners never need to wait long to enjoy the rewards, as rewards are paid out in Bitcoin every week for qualifying referral incentives.
Find out now what it means to bet, win and earn with crypto the way crypto was meant to be: free, private and fast. Visit the Kawbet casino and sportsbook now.