Decentralised prediction markets have risen to prominence recently in line with the growing popularity of cryptocurrency and blockchain-based applications. Frustrations with the regulations and limitations of mainstream prediction markets have also led players to search for better alternatives.
The decentralised prediction markets offer greater flexibility, allowing users to bet on the outcome of future events in a more open and cheaper manner in a censorship-resistant environment. Users are also able to create their own markets, make forecasts, and bet on them. Additionally, users can bet on a fraction of the outcome thus getting rewards based on their predictions.
The big shift from centralisation to decentralisation 
The ongoing shift towards decentralised prediction markets is an end result of years of failure to innovate in an industry with enormous potential. The prediction markets have stagnated with the key players getting complacent after operating in a closed industry with very stringent regulations. They continue to sit pretty, enjoying the huge returns without a worry of being knocked off their perch. However, this is on the verge of changing drastically as decentralised alternatives have begun making headways into the industry. In true Wall Street fashion, their lunch is about to be eaten by their hungry, decentralised counterparts.
The rise of platforms like Polkamarkets, Augur, Gnosis, and Polymarkets is changing the industry's landscape with player-centric solutions.
Traditional platforms have thrived through segregation across border, regulation and capital controls, often bordering on discrimination against the average player. The decentralised alternatives are changing this with cross-border operations, open and trustless environment and inclusion of players in liquidity provision.
Market operators and regulators in centralised prediction markets usually act as gatekeepers by determining who can participate and limiting what they could speculate on. Decentralised platforms have flipped the coin on its head by opening the market to basically everyone to trade as they wish.
The decentralised prediction market has also eliminated a huge chunk of the fees imposed by the traditional market operators such as trading fees, withdrawal fees and profit shares. Traders on these platforms are only required to pay blockchain fees that are usually negligible.
Comparison of decentralised prediction markets 
Polkamarkets, Augur, Gnosis, and Polymarkets are currently the best decentralised prediction markets. They offer players modern platforms for forecasting the outcomes of wide ranging events in sports, eSports, politics, and weather among others. These blockchain-based markets are transforming the prediction game with multiple innovative features that create more inclusive, open and engaging forecasting.
Below is a comparison of these markets: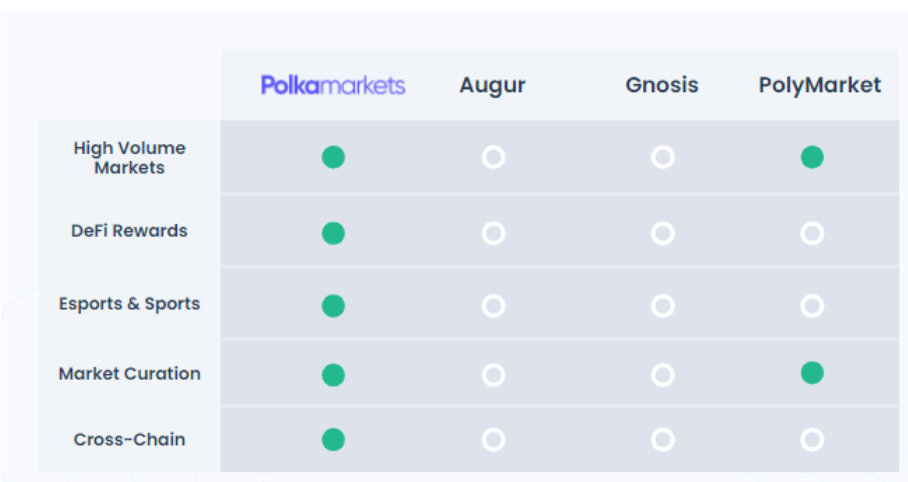 Decentralised prediction markets competitor analysis
From the above comparison, Polkamarkets stands out from its peers being the only platform to offer all the five features. The relatively new market entrant is clearly more innovative than its predecessors adding unique features like DeFi rewards and cross-chain gaming. Polkamarkets has also introduced new prediction markets allowing traders to bet on sports and eSports events.
Polkamarkets combination of prediction markets and DeFi is a stroke of genius as it grants the platform its unique capabilities and confers multiple advantages over its peers.
The project's ingenuity hasn't gone unnoticed as it attracted a lot of interest in its recently concluded strategic sale round. The sale was oversubscribed by +100x with more than 10,000 interested parties submitting allocation requests totalling in the excess of $82 million. They raised $625,000 from an amazing roster of strategic investors, including Moonrock Capital, Morningstar Ventures, NGC Ventures, Astronaut Capital and Spark Capital. 
The huge interest in Polkamarkets is testament to the project's unique approach to breaking the barriers its predecessors have faced, helping it take over the decentralised prediction markets. 
Polkamarkets Unique Value Proposition 
Low trade volume is one of the major challenges that decentralised prediction markets face. Prediction Market volume averaged less than $1M per day in 2020. This figure is not sufficient for the platforms to scale.
By integrating DeFi in its prediction market, Polkamarkets is exposing its users to the massive liquidity flowing in the space. According to DefiPulse, the total value of assets locked in Defi exceeds $38.2 billion and is growing rapidly. On the other hand, the prediction markets are expected to grow by a CAGR of 24.5% in the next five years from $7.2 billion in 2020 to $21.5 billion in 2025.

Polkamarkets successful integration of DeFi with the prediction markets is the perfect match. It expands the platform's potential exponentially as their users and trade volumes grows in lock step with the DeFi space.
It also allows Polkamarkets to offer DeFi rewards to its users further boosting their earnings on the platform from yield farming and staking.
This will be powered by the platform's native token, $POLK that will have a number of uses: 
Play
Users can mine $POLK by making predictions and providing liquidity to Polkamarkets. ⅔ of all platform fees will go directly to Polkamarkets LPs. 
By making predictions and buying and selling fractions of an outcome on Polkamarkets, Users can mine $POLK
Providing Liquidity
By providing liquidity to Polkamarkets, Liquidity Providers (LPs) can also mine $POLK (in addition to receiving fees)
Yield Farming
⅓ of all platform fees go to buy $POLK on DEXs to be rewarded to Liquidity Providers in the form of Yield Farming

The creative approach to the prediction markets by Polkamarkets is not a suitable solution to improving trade volumes but also one that brings additional benefits. The DeFi-powered platform introduces a fresh angle to forecasting, tipping the odds in favour of Polkamarkets taking over the industry.