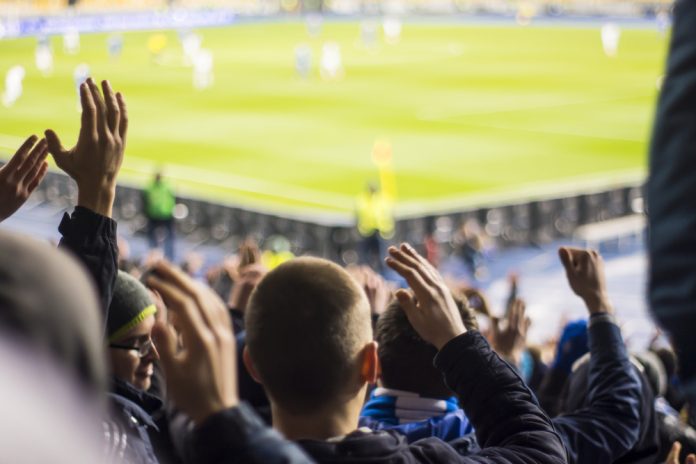 Establishing mainstream appeal has proven to be very difficult for Bitcoin. The falling prices throughout the first half of 2018 have not helped matters much in this regard. Despite facing an uphill battle, eToro continues to make inroads. The crypto trading firm has signed a deal with seven Premier League football clubs to get them more involved with Bitcoin.
Bitcoin Comes to the Premier League
Fans of Premier League soccer will have noticed a new advertisement showing up on the LED screens next to the field over the weekend. eToro, a well-known cryptocurrency trading firm, has inked a deal with seven major teams in the league. Its advertisements will show up across the home fields of Tottenham Hotspur, Crystal Palace, Brighton, Leicester City, and three other clubs.
This is a remarkable milestone for the cryptocurrency industry. Up to this point, there has been no successful public advertising campaign for Bitcoin or any company involved in this form of money. BitPay attempted to support an American football game a few years ago, yet that venture failed to generate any traction. No other attempts have been made to advertise cryptocurrency on a large scale ever since.
eToro is setting the tone in this regard, and in rather spectacular fashion. Through its new partnership with seven Premier League clubs, the company is intent on offering cryptocurrency trials to these teams. All of the teams have created digital wallets with the online trading platform. Additionally, they will receive the advertising payments in Bitcoin, which they can use, hold, or spend as they see fit.
There are several reasons as to why Bitcoin can make a positive impact in the Premier League. It is believed that this cryptocurrency can end ticket touting and counterfeit merchandising. Moreover, it will offer a viable alternative to the Pound Sterling when it comes to dealing with international payments. This partnership also helps these teams to better understand the true potential of Bitcoin's underpinning technology.
The first eToro advertisements showed up during Monday's Crystal Palace-Liverpool game. Seeing an ad for a Bitcoin trading platform is rather unusual, although it is a more than welcome sight at this critical time. It shows that the cryptocurrency industry is still growing as a whole, and there may be a lot more positive developments in the near future. This partnership could help change the general public's perspective on Bitcoin and other cryptocurrencies.
This move appears to coincide with a similar effort taking place in Spain. During the La Liga game between Valencia and Atletico Madrid, advertisements for Singularity-X showed up around the field. This firm specializes in 0% fee Bitcoin trading, and the ads put the word "Bitcoin" front and center for all spectators and home viewers. Slowly but surely, Bitcoin is gaining mainstream traction.
Image(s): Shutterstock.com