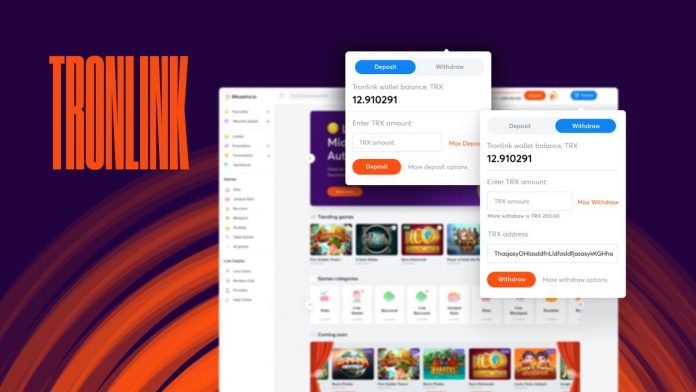 Expanding on an already bustling e-gaming ecosystem, Bitcasino has integrated the TronLink browser extension to its platform, granting greater accessibility and security for TRON (TRX) users.
E-Gaming and Crypto
As Bitcoin and cryptocurrencies overall have risen in value and popularity over the past few years, the new digital economy has attracted swathes of users, spurring on the creation of innovative platforms, services, and solutions to this new exciting space. One of the most popular and earliest ways for people to interact with their cryptos has been e-gaming, with Bitcasino being a leader in this area.
Since 2014, Bitcasino has supplied players with a whopping variety of options boasting more than 2,000 traditional and modern games from slots to live dealer casinos. The latest addition to the already robust platform is a web browser extension designed for the TRON community. 
Being one of the more popular cryptocurrencies on the market, this extension broadens the potential scope of Bitcasino's users as well as creating a smooth deposit and withdrawal system for TRON users. Commenting on the development, Tauri Tiitsaar, Director of Bitcasino said: 
"Crucially TronLink offers our players both security and speed with deposits and withdrawals; it is the next innovative step in ensuring our players have the best possible experience with Bitcasino. Gone is the need to deposit or withdraw TRON to hardware wallets, open an app on your phone or any other website. Players can easily manage their instantaneous deposits and withdrawals without any extra hassle."
According to a press release, the TronLink extension connects Bitcasino players to TRON blockchain network, enabling simple and secure deposits and withdrawals, with funds and private keys protected. 
The TRON Connection
While considered a novelty by many, cryptocurrencies and blockchain technology bring truly impactful changes to the way in which people interact with technology and their finances overall.
Blockchain technology has enabled the creation of digital economies that thrive thanks to the privacy and sovereignty they give to users. Furthermore, there is a lot to be said about the trust it builds between players and the house.
Thanks to the immutable and transparent nature of blockchain technology, e-gaming platforms such as Bitcasino can easily prove that they aren't scamming users out of their money. Furthermore, blockchain and cryptocurrencies offer players anonymity, financial sovereignty and a novel means to gamble online. 
With this latest development, following the partnership with the Tron Foundation in 2019 to allow for easy use of TRX on all Coingaming brands of casino and sportsbook, Bitcasino continues to set the standards in the crypto gaming industry for fast, secure and easy transactions.
Withdrawals are always easy to do and fast to process, with an average of 1.5 minutes the high bar for others to follow.
Enjoy betting TRON today by visiting the official Bitcasino website. Prefer social media? Then follow them on Twitter for the latest updates.