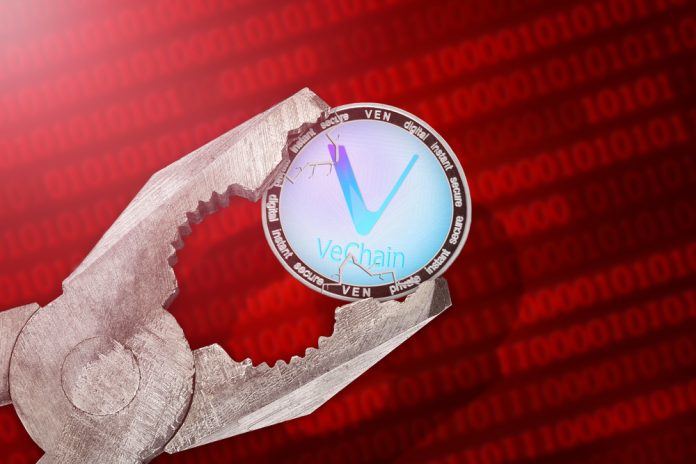 Despite all of the uneasy momentum haunting the cryptocurrency markets, there are some positive developments to take note of as well. The VeChain price is rising once again and has successfully retaken the $0.014 level. It is the only currency in the entire top 20 – besides Tether – to note any positive momentum over the past 24 hours.
VeChain Price is on the Mend Once Again
It is somewhat surprising to see a smaller-cap altcoin buck the negative trend keeping all other cryptocurrencies in its grip as of right now. These kinds of price changes are always interesting to keep an eye on, as they may hint at positive momentum to affect all markets later this week. For the VeChain price, the past 24 hours have been relatively positive. It would appear the token rebranding has gone off without a hitch.
To put all of this in perspective, the VeChain price has seen a steady 3.94% increase over the past day. Compared to Bitcoin and altcoins, that is a more than positive trend. VeChain is the only currency in the top 20 to note any real gains, albeit it remains unclear how long this uptrend can be sustained for. Because of this small increase, the VET value has surpassed $0.0142 once again.
Considering how the Bitcoin price is seemingly stuck in sideways trading momentum, it is all the more impressive to see the VeChain price go up. This momentum is made possible thanks to a 3.98% increase in the VET/BTC ratio. Without this gain, the altcoin would suffer from the same, sideways momentum currently affecting Bitcoin and most other altcoins. Even so, it is highly doubtful VeChain can escape the overall bearish trend much longer.
The overall cryptocurrency trading volume has dipped below $11bn once again and will seemingly continue to decline throughout the remainder of the week. This is not affecting the VeChain volume all that much. Despite not being the most liquid altcoin market, VET notes nearly $38m in 24-hour trades. It is more than sufficient to sustain the current momentum, as long as speculators don't suddenly decide to take profits.
Unsurprisingly, the majority of VET trading originates from the Binance exchange. This trading platform alone combines for 93.4% of all VeChain trades through its BTC, USDT, ETH, and BNB pairs. Huobi's USDT pair is the only other market in the top five. It is impressive to see how well VeChain is doing despite only having 14 recognized trading markets on CoinMarketCap and no fiat currency pairs to speak of.
How the VeChain price will evolve, is always very difficult to predict. Anything and everything can happen in the world of cryptocurrencies, as there are no certainties to speak of. For the time being, it appears the VeChain price may hold onto this current price level, but sustaining a value of over $0.014 will largely depend on how the Bitcoin price evolves in the coming days.
Image(s): Shutterstock.com