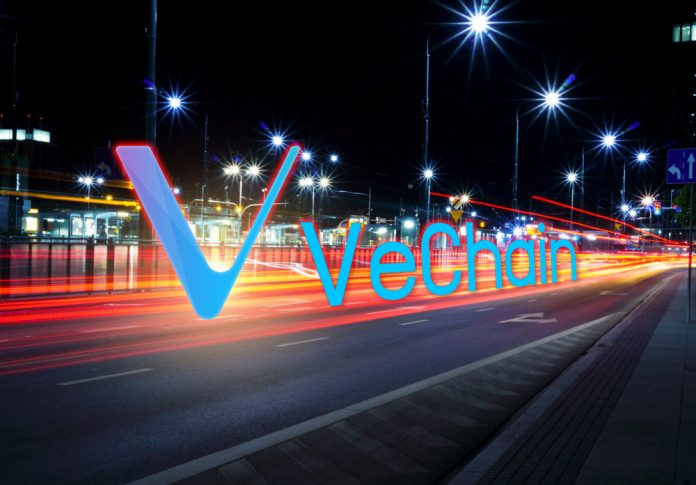 The overall cryptocurrency market momentum has turned rather bearish, which is completely normal. A week of solid gains warrants a correction at some point. There's also the Bitcoin ETF rejection, although that has far less impact than people may think. All top currencies are in the red right now, yet the VeChain price is surging, for no apparent reason.
VeChain Price is Rocking Hard
Looking at the VeChain price chart, volatility is clearly present everywhere one looks. This altcoin has surged to a high value, dropped ever since, surged again dropped further, and now mounting another comeback. With a current value of $2.44, the VeChain price is still far removed from its previous all-time high of nearly $8.
Although most currencies will not set a new all-time high anytime soon, they aren't noting any gains either. This is where the VeChain price is very different, as it has noted a strong 19.59% increase in the past 24 hours. This is made possible despite having virtually no trading volume to speak of. Considering how VeChain VEN tokens are being exchanged to VeChainThor VET tokens, these market changes may be affected in more ways than one as a result.
As one would come to expect from such a steep VeChain price increase, there are notable gains over Bitcoin and Ethereum. VEN Gained 24.2% on Bitcoin in the past 24 hours, whereas the VEN/ETH ratio improved by as much as 23.74%. Again, the current token swap is potentially skewing the numbers a bit, although it is possible people are simply stocking up on VEN to convert them into VET and achieve profits through the launch of VeChainThor.
The trading volume for VeChain looks anything but impressive at this point. Given the token swap, that is no real surprise. Just $10.12m in 24-hour volume is rather terrible, even for an altcoin. Once the conversion to VET is completed, it will be interesting to see if the trading volume picks up again. More importantly, it will be interesting to see if this affects the VeChain price as a whole.
Huobi is leading the charge when it comes to VEN trading over the past 24 hours. Its USDT, BTC, and ETH pairs make up nearly all of the volume. KuCoin's BTC pair and Ethfinex's USD market come in fourth and fifth place. Some other interesting exchanges further down the list include ZebPay, Iquant, Ovis, and so forth.
As is always the case, the current  VeChain price makes very little sense without taking the token conversion process into account. It is evident the launch of VeChainThor has people excited, and a lot of traders are seemingly unaware of how VEN tokens will become completely useless fairly soon. Converting existing or newly acquired VEN tokens tot heir VET counterparts is the advisable course of action at this stage.
Image(s): Shutterstock.com