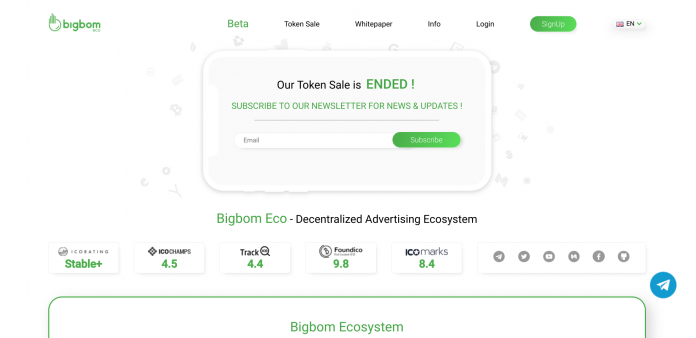 Leo Burnett put it perfectly when he stated, "Make it simple. Make it memorable. Make it inviting to look at. Make it fun to read." An ingenious product by itself is not enough; ask Tesla. Today, with an over-saturation of the market, products need to be channeled to the target audiences, while skimming off the overhead costs as much as possible. To rigorously enforce these market maxims, executives need more than intuition. This is where Bigbom comes in.
Bigbom Eco works as a decentralized advertising ecosystem for online advertising. It looks to encompass all aspects – advertisers, advertising channels, platforms, and content publishers. Bigbom Eco is based on smart contracts using the Ethereum blockchain. This facilitates easy data linking in a transparent, accurate, automated and immutable manner. The marketplace provides, rates, and evaluates all service suppliers. This simplifies the process of the Advertiser connecting with the supplier they deem most suitable. Bigbom's iAds utilize a self-learning algorithm which removes intermediaries from the decision-making process. This advertising system facilitates the automatic optimization of advertisements, helping Advertisers increase their return on investment.
All companies focus on maximizing their market impact while minimizing the cost of marketing. To that end, Bigbom gives them the tools to target the right audience, through the right channel, at the right time.
Overview of the Platform
Bigbom Eco claims to be the first digital advertising ecosystem built as a decentralized application platform (DApp). The intention is to be the arterial link between ad platforms/publishers and advertisers anywhere in the world.
As mentioned earlier, the Ethereum blockchain is used for these smart contracts. Bigbom Eco also uses Tomochain – an innovative solution to address the scalability problem with the Ethereum blockchain.
With advisory and technical support from Tomochain, Bigbom Eco has been comparing the systems' transaction speeds, network fees, and stability.
 
Bigbom ecosystem and how it interconnects
Key Features
The Ethereum network usually confirms a transaction in 20 seconds. Tomochain reduces this by a factor of 10, making it comparable with credit card transactions, at much lower fees. However, with large transactions, whereas traditional payments can take up to 3 days to clear, the Ethereum/Tomochain transaction times are 20,000 times faster.
The system derives its reliability from utilizing a decentralized network. Ethereum and Tomochain are currently incorporating more robust consensus protocols, such as Proof of Authority and Proof of Stake, which will enhance scalability and fault tolerance.
Using blockchain means enhanced security. This is mainly because any record in the blockchain is immutable. Furthermore, users own their private keys, which are the only method of accessing their accounts.
The marketplace on this platform looks to weave a thread between all parties. It looks to engage with advertisers, either directly or via a bidding process. This is coupled with a recommendation engine that will suggest customer interactions.
Bigbom's iAds allow its end users to connect with multiple advertising platforms which will assist in making informed decisions so that they can reach their goal at minimal cost.
How It All Works
The platform's key focus is on ensuring easy engagement while being cost-effective for advertisers. The smart contracts are easy to establish with a few clicks. There are no hidden or extra fees, apart from a small transaction fee for the execution of the smart contract.
The marketplace makes it easy to choose an advertising partner through a system of ratings and reviews on smart contracts.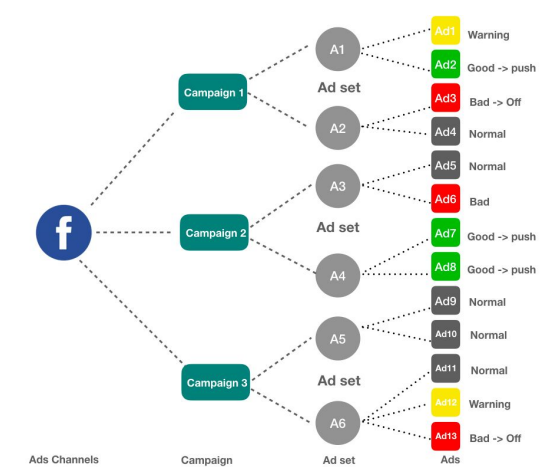 Bigbom is smart enough to push successful advertisements.
The Bigbom Marketplace is primarily based on smart contracts. When an advertiser needs to advertise services from a service provider, both parties will agree on the pricing and key performance indicators at the time of signing the smart contract.
Upon the termination of a contract, advertisers are encouraged to rate and review the service providers. They are then rewarded in the form of BBO tokens from the bonus fund. To ensure traceability, only those who use a service provider which can be tracked through smart contracts can give them a rating.
Bigbom Eco allows users to pay with traditional payment methods. To avoid impacting the overall value of the token, these new tokens will be sold at a rate 5% above the market price.

About the Team
Vung Nguyen is the founder and CEO of Bigbom. He has 11 years of technology startup experience and 8 years of experience in digital advertising. Mr. Nguyen and his partners developed an advertising solution that has displayed over 3 billion impressions per month. In 2015, he graduated from the Silicon Valley Founder Institute, a multinational startup training program.
Anh Huynh is the co-founder and CMO. She graduated from the RMIT Faculty of Marketing and has plied her trade at companies such as Nguyen Kim, Vietnamworks, and Adtop. She is currently in charge of marketing as well as building and expanding Bigbom's community of potential stakeholders around the world.
Hung Nguyen is the lead engineer. He has worked for nearly a decade in the field of technology and systems development and has successfully built advertising systems that serve up to a billion impressions per month.
Cau Trang is the UI/UX engineer. He has a huge portfolio of international projects for both web and mobile platforms.
David Carnell is a financial advisor at ICO & Funds Management at Blockchain Intelligence Group LLC Singapore, which employs industry experts offering all services required to launch a successful ICO including marketing, legal, technical, and financial support.
Token Performance Details
Introduced into the market early last month, Bigbom (BBO) tokens were initially valued at US$0.016 per token.

Token lifetime performance chart (courtesy of CoinMarketCap)
While the currency has followed the general trend of losses, due to the newness of its associated product, it is still difficult to assess the true potential of this token.
As of July 5, the price of a single BBO token stands at $0.005.

Final Thoughts
There is great potential in online advertising and in providing a crypto solution which links ad platforms/publishers and advertisers anywhere in the world.
Owing to its multifaceted nature, it would not be surprising to see this service continue to do well this year.
If you are interested in investing in Bigbon, BBO trading pairs are currently available on DDEX, IDEX, and OTCBTC.
Image(s): Shutterstock.com