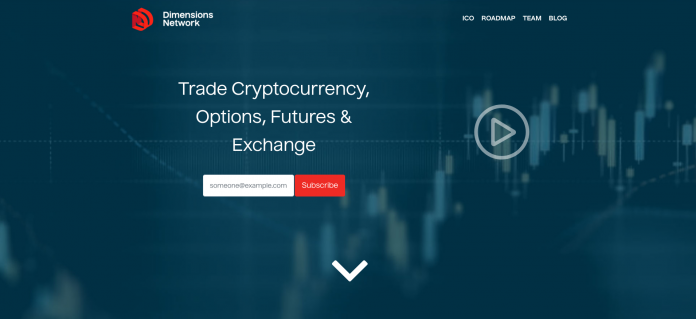 There are a lot of different projects which aim to disrupt the traditional concept of cryptocurrency exchanges. Expanding upon this business model by adding other financial vehicles can make it more appealing. Dimensions Network is going down such a path, as it aims to become the next-gen exchange of the future.
The Dimensions Network Concept
Launching a new exchange with a focus on cryptocurrency is always an interesting decision. The Dimensions Network team aims to bridge the gap between crypto and traditional finance. This will be achieved by allowing users to trade cryptocurrency, options, futures, and much more. This could in turn attract a wide range of users.
Under the Hood
Offering such a wide range of tradeable vehicles is an important first step. The Dimensions Network team, however, has a lot of other options to explore in the near future. An Exchange Aggregator will be introduced to offer buyers the best prices for these tradeable products. Providing this functionality in a convenient decentralized environment will pose a lot of new challenges.
The purpose of Dimensions Network is to provide all of this functionality in a decentralized environment. This will greatly improve the liquidity provided on the platform. Moreover, the team is developing a multi-blockchain platform that will focus primarily on BTC, ETH, and USDT pairs.
An exchange such as Dimensions Network won't serve much of a purpose without fiat currency support. Implementing this functionality has proven to be challenging, but the team will integrate fiat funding and withdrawals soon. This will be achieved by the company's global banking licenses, which still need to be ironed out.
The DST Token
As has become customary in the world of blockchain technology, every exchange and project gets its own token. In the case of Dimension Network, the DST token will grant users 15% of the platform's trading fees as dividends. These earnings will be distributed to users' Ethereum or Dimensions Network wallets.
The Road Ahead
Projects on the scale of Dimensions Network will not be completed overnight. The coming months will be spent on developing the decentralized platform, introducing fiat support, and offering a mobile application. The launch of the decentralized platform won't happen until early 2019. More competition among trading platforms can only be considered a good thing.
Image(s): Shutterstock.com