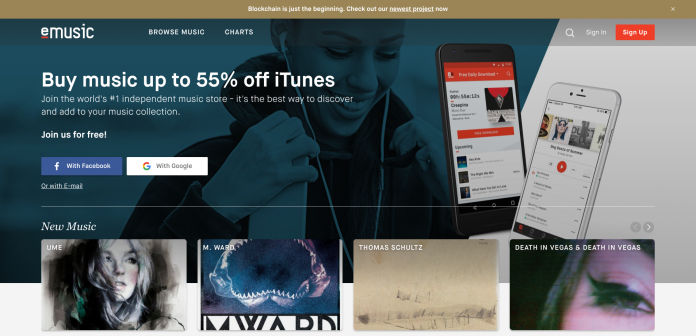 Transforming and disrupting the music industry with blockchain technology is a big challenge. There are a lot of opportunities waiting to be tapped, although making any sort of impact may not happen overnight. eMusic aims to make a big impact in this area. Fair pay and rewarding fans are the team's core principles.
The eMusic Concept Explained
The music industry is undergoing a lot of changes fairly quickly. Streaming is taking center stage, whereas concerts and radio airtime are seemingly becoming less important. A lot of new use cases can be introduced by blockchain technology and cryptocurrencies, which is exactly what eMusic is trying to achieve.
How Does it Work?
At its core, eMusic is designed to rebuild the fundamental music distribution infrastructure. By adding more transparency and efficiency to this industry, a more robust ecosystem can be created. Blockchain technology will offer complementary features, which will result in more music and better pricing for both consumers and artists alike.
Creating a transparent music publishing system will introduce a lot of potential use cases. Any producer or creator of music can benefit from additional transparency. eMusic will also offer a way for retailers and streaming services to create new revenue streams through partnerships with existing content providers.
To date, eMusic claims to have served over 47 million passionate music fans around the world. This company has been around since 1998, although its focus on blockchain only arose in recent years. Thanks to agreements with music label partners, the project may bring a lot more value to blockchain ventures in the music industry. Millions of tracks are available for purchase already.
The EMU Token Explained
It is only natural that the blockchain pivot means eMusic will issue its own token as well. Known as the EMU token, it will be a key part of the ecosystem, giving users access to promotions, content, loyalty rewards, and so forth. The team firmly believes that EMU should not be considered an investment opportunity, nor will it increase in value over time. It is a utility token used as a form of payment on the eMusic platform and a loyalty reward token.
The Road Ahead
Building a disruptive blockchain ecosystem for the music industry is very challenging. eMusic is currently focusing on its crowdsale, as well as artist outreach and internal testing of its blockchain solution. Rights and loyalty management features will not arrive until Q2 of 2019.
Image(s): Shutterstock.com