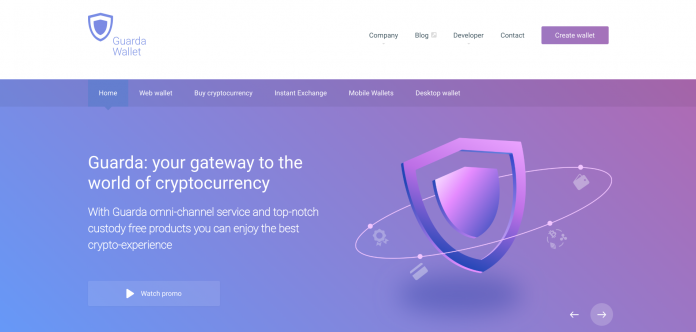 There has been a growing demand among cryptocurrency enthusiasts for wallet solutions which support multiple currencies. Guarda may become a big player in this regard, as it offers quite a bit of functionality. It supports plenty of currencies and tokens, and goes well beyond traditional wallet services.
The Guarda Wallet Service
Over the years, web-based cryptocurrency wallets have come and gone in droves. Very few of these services have tended to stick around for more than a year. In the case of Guarda, the team has become a relatively big contender, mainly because of its active collaborations with various cryptocurrency teams and developers. As such, it is a very potent platform which is not just about storing one's cryptocurrency portfolio.
Under the Hood
The Guarda web wallet supports many currencies. Ranging from Bitcoin to EOS and ERC20 tokens to Qtum, the list is quite large. However, this ecosystem is about much more than just a web wallet. Guarda also offers an instant exchange for the various currencies it supports, and there are no limitations as to how users can perform their trading.
More importantly, Guarda's instant exchange maintains user privacy at all times by not requiring an account. There's also an option to buy supported cryptocurrencies using Visa or Mastercard payment cards. This makes the concept of buying cryptocurrency a lot more accessible, which is something the industry direly needs at this stage.
For those users who are looking for more wallet solutions, mobile and desktop support is also available. It is evident that the Guarda team has been trying to create an all-encompassing and convenient cryptocurrency solution for both novice and advanced users alike. Having more options at one's disposal can only be considered a good thing, especially when it comes to multi-currency support.
The Road Ahead
As is always the case, solutions such as Guarda need to keep evolving. Although there is a lot of functionality to enjoy already, adding new features remains critical. Supporting additional coins, assets, and tokens is another aspect which should not be overlooked. All in all, Guarda is a worthy choice for those users who prefer an all-in-one solution which respects user privacy.
Image(s): Shutterstock.com