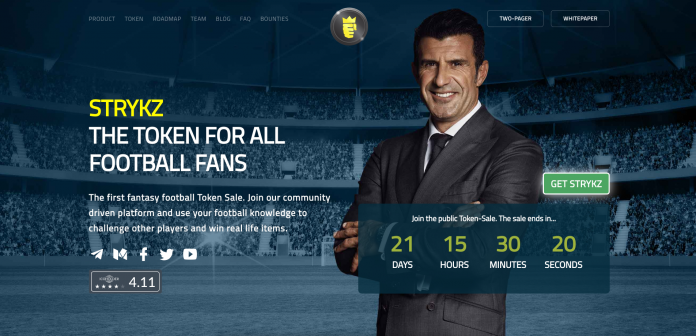 Fantasy leagues have made an impact on the sports industry over the past few years. Digitizing this experience is bound to happen sooner or later. Strykz aims to make its mark on this industry by offering the first fantasy soccer token. Although it has a lot of potential, there are no guarantees of success.
The Football-Stars Concept
Fantasy soccer is a booming industry. Consumers enjoy friendly wagers and putting their favorite players together to form the 'best lineup' week after week. Translating this concept to the cryptocurrency world will be quite challenging, although the Strykz team is confident they can make it work with their Football-Stars platform.
How Does it Work?
Bridging the gap between fantasy soccer and cryptocurrency will be a struggle. The team wants to tokenize gaming for soccer fans all over the world. It is also worth noting that the project allegedly has the backing of renowned soccer star Luis Figo as its brand ambassador. While that doesn't necessarily legitimize the project all of a sudden, it is still pretty interesting to keep an eye on.
It appears Strykz has also partnered with various major fantasy soccer platforms to make this venture a success. Its underlying technology could help revolutionize the industry as a whole by supporting localization efforts. Moreover, the Football-Stars platform is cross-compatible and utilizes a free-to-play model, which will make it very approachable for consumers all over the world.
Whether or not this vision is sufficient to catapult Strykz and Football-Stars to the mainstream is unclear. The concept seemingly has a lot of merit, and the backing of German platform Kicker is a major breakthrough. Even so, making a lasting impact once the initial hype calms down will be critical for Strykz. It will mainly depend on how useful the token turns out to be.
The Strykz Token
Any blockchain-oriented project has its own token these days, and Football-Stars is no exception. The native Strykz token will be traded across exchanges, and it can be used on the Football-Stars platform to unlock content and features. New partnerships are being forged to create more use cases for the token, but nothing has been set in stone just yet.
The Road Ahead
Building the Football-Stars platform is only the first step in making this cryptocurrency-oriented fantasy soccer platform a success. For the time being, the team is focusing on a token sale and expanding the overall functionality of the platform. Early 2019 will see an aggressive expansion into the Asian market, which will be worth keeping an eye on.
Image(s): Shutterstock.com