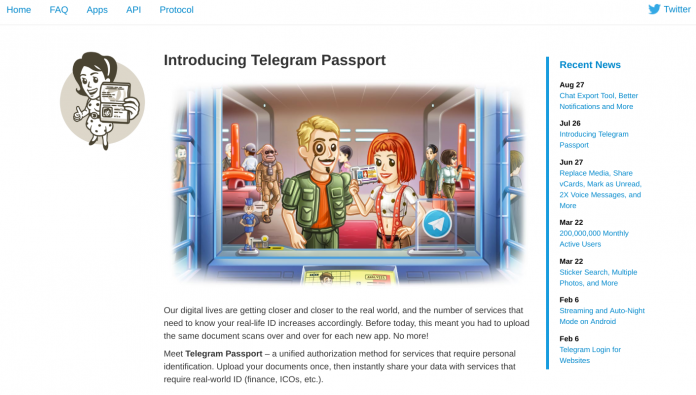 Even though Telegram has become a very popular social messaging platform, it offers a lot of functionality which users remain unaware of. One of those features goes by the name of Telegram Passport, which aims to disrupt traditional login and authentication services used on the internet today. Whether or not it can succeed in this regard remains unclear.
The Telegram Passport Concept
Most consumers have grown accustomed to accessing online services using usernames and passwords. In the past few years, a new trend has emerged in terms of third-party authentication tools. Facebook's login service is one of the chief examples of this. Telegram Passport is a very similar feature, as it is being integrated into many services and platforms.
How Does it Work?
For the end user, Telegram Passport will work in a similar fashion to any other third-party authentication service. By offering a tool such as Telegram Passport, the company removes the need to use logins and passwords, as well as erodes users' reliance on services such as Facebook and other social networks to verify their identity. More competition is direly needed in this area, and Telegram Passport seems to offer exactly that.
Unlike what people may expect, Telegram Passport can be used across a wide range of projects. In fact, it seems to be quite popular among blockchain and cryptocurrency firms, including the CEX and Xena exchanges, as well as the CryptoPay wallet. Other companies using this feature include Profi, Worki, Minter Network, and ICOadmin, to name a few. Telegram Passport is quite popular despite being relatively new, which is rather promising.
The solution has also received some big upgrades at this early stage. Telegram Passport supports names in various languages, as well as other types of documents to verify a user's identity at any time. Moreover, the encryption of data has been improved upon. There will be future enhancements as well, although Telegram has not unveiled exact details.
The Road Ahead
It is good to see cryptocurrency and blockchain platforms incorporate new authentication solutions to improve user privacy. Telegram Passport is shaping up to be a very nice addition in this regard, even though it is only now beginning to gain traction. Whether or not other exchanges or wallet providers will introduce support for Telegram Passport remains to be seen. It is an option worth exploring, for obvious reasons.
Image(s): Shutterstock.com