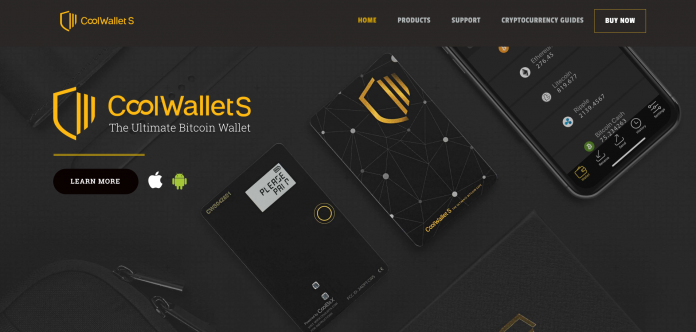 Hardware wallets are an integral part of the cryptocurrency industry. They are an excellent way of keeping one's cryptocurrency portfolio safe from harm. The CoolWallet S claims to be the ultimate Bitcoin wallet, even though it's not just useful for BTC. A wide range of other currencies and tokens are supported.
The CoolWallet S Explained
More competition in the world of hardware wallets can only be considered a good thing. Although Ledger and Trezor make perfectly fine devices, there is always room for other companies to try and do better. The CoolWallet S is designed to support Bitcoin, Ethereum, Litecoin, Ripple, Bitcoin Cash, and ERC20 tokens.
How Is It Different?
Unlike most traditional cryptocurrency hardware wallets, the CoolWallet S is designed for mobile devices. It supports both iOS and Android. All it takes to set up this device is to use it and pair it – that's pretty much it. There is no user registration involved, which preserves user privacy and anonymity at all times. All private keys and funds are stored on the device itself, with no intermediaries involved.
The CoolWallet S prides itself on utilizing anti-theft pairing between the wallet and one's mobile device. This allows users to take their cryptocurrency wallets with them at all times, which is also possible with most traditional devices. However, there is no USB connectivity involved, as the CoolWallet S is completely accessible through an encrypted Bluetooth connection.
On a more technical level, there is an EAL5+ certified Secure Element microchip embedded in the wallet itself. This ensures the wallet is tamper-proof at all times. Software-wise, a hybrid decentralized exchange is used to exchange the supported currencies, which will be of great interest to a lot of cryptocurrency enthusiasts.
Future Potential
One thing that may turn off a lot of people is that the CoolWallet S costs $189, excluding shipping fees. With its multi-cryptocurrency support from day one, it is evident the product has a lot of potential. The device is also designed to be flexible, sturdy, and unaffected by the elements. It's always good to see more hardware wallets come to market, although the long-term success of the CoolWallet S remains to be determined at this stage.
Image(s): Shutterstock.com