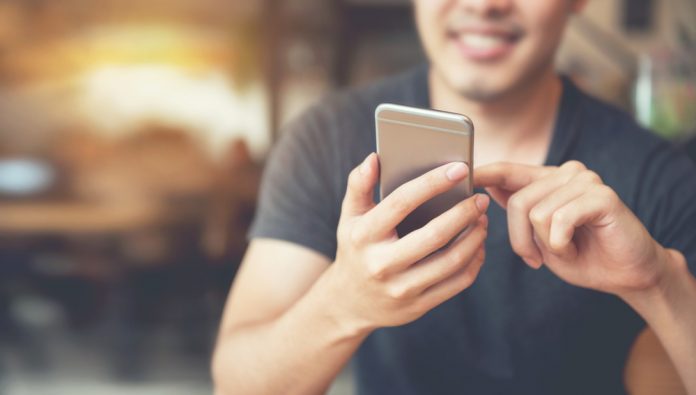 Humanity's march has been characterized by innovation. The groundbreaking wheel was developed to create chariots for wars and pottery for homes. In the modern world, innovation in creating the smartphone and blockchain has driven our digital age. The logical evolution would be to merge these two technologies. This is where Zippie comes in.
The Zippie project looks to build a mobile solution which integrates blockchain-based services. It looks to provide blockchain-powered devices to make it viable for mass use and adoption. At the same time, it provides developers with a platform to integrate their blockchain-based services with the Zippie platform. Finally, it intends to get community members involved by providing direct user feedback.
The ZIPT token is the Zippie platform's utility token, and it is used mainly for three purposes:
To reward active users
To incentivise application development
To form a viable curated market mechanism.
The team at Zippie comes with a history of building open-source mobile operating systems, products and communities. They have already partnered with Jolla to launch a developer and community program that will support their ecosystem. Zippie looks to ensure a smooth user experience in a decentralized way, while still valuing privacy, transparency and collaboration.
Overview of the platform
Zippie intends to embed blockchain into mainstream consciousness by ensuring:
An open and independent mobile platform for decentralized services, to ensure that data and transactions are verifiably transparent
A smartphone experience where private keys and transactions are handled in a safe but easy-to-use way
The integration of various blockchain services, producing a seamless experience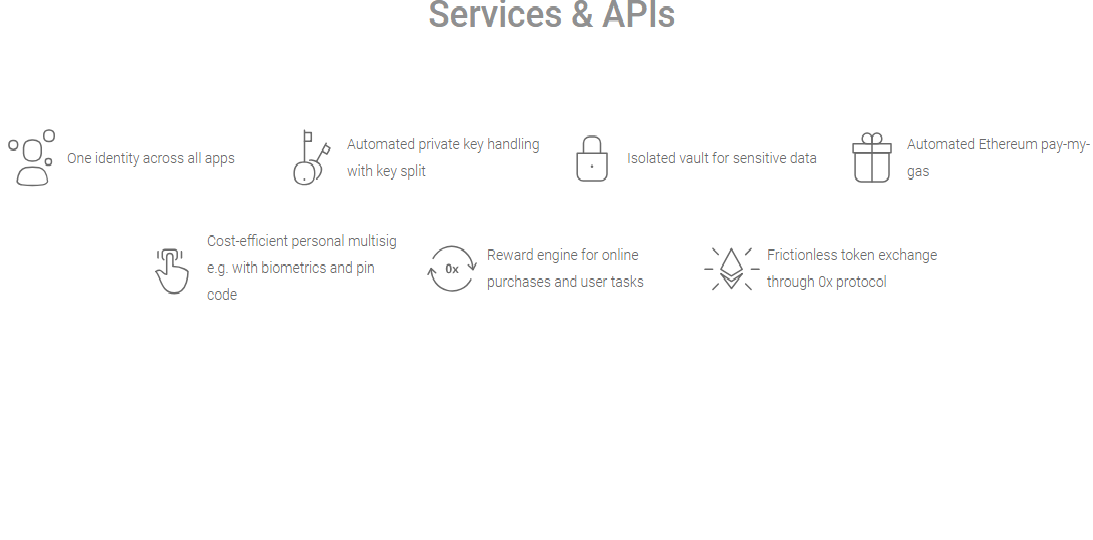 Key Features
The Zippie platform is based on several open-source technologies. It is going to support multiple Android and Sailfish configurations, either side by side with the OS or on its own.
The Zippie platform provides a secure, open-source environment for hosting blockchain services and DApps in separate containers. This makes it nearly impossible for untrustable applications to reach private information.
By utilizing Shamir's Secret Sharing with private key management, Zippie ensures easy handling of one's private keys and identity. The platform-hosted services also provide a secure display overlay on one's phone that can't be intercepted on the OS side.
A developer and community program for Sony Xperia devices is meant to empower DApp developers to integrate their services with the Zippie platform and engage pioneer users. A strong mobile DApp ecosystem, partly funded by the Zippie project, will provide Zippie's users with the services they need, easily and safely. By default, the Zippie platform blocks internet access unless specifically allowed.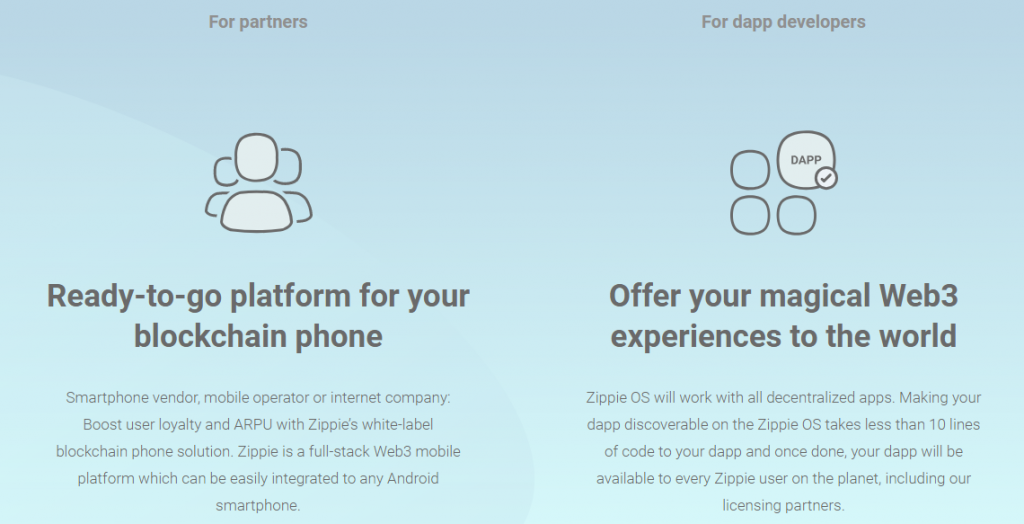 How It Works
The Zippie platform is an Ethereum-based open smartphone runtime environment which supports Ethereum and other blockchain protocols and DApps natively and securely.
After downloading and installing the platform, one's device boots up and requires a photo ID to establish the user's digital identity. This digital identity is the user's legal identity and is also used to build a reputation score based upon one's community and financial activity.
Zippie automatically generates private and public keys for each user's wallet. The platform splits the private key into two or more pieces for extra security.
For everyday transactions, the user can identify him or herself with a fingerprint sensor. After identification, the device pulls both parts of the private key and triggers the transaction.
By mining cryptocurrencies or renting their device's processing power or storage, the end user can accrue ZIPTs. The DApp store has various blockchain-based services that are curated by the community. Lastly, a career portal is linked to the platform. It allows users to earn ZIPT tokens by recommending people.
About the Team
Dr. Antti Saarnio is the founder and executive chairman. His resume includes a wide range of experience, from the chairman at Jolla to a developer of open mobile operating system Sailfish OS. He has over 15 years' experience in emerging markets and investment management, having worked at KPMG and Accenture.

Carsten Munk is the CTO and co-founder, as well as the founder of the Mer mobile open-source community project. He did pioneering work on Linux/Android stacks for Nokia and later for Jolla as its CTO. He's the team's leading blockchain expert and holds an M.Sc. in computer science.
Robert Pallas is a software partner and lead developer at Devtailor. He is an experienced entrepreneur and software development team leader. He earned a M.Sc. in cybersecurity, with his 2012 thesis being about Bitcoin security.
Niilo Ristmeri is the head of marketing and business development. He is an expert in agile marketing. He was involved with marketing and sales at both Jolla and Embassy of Design. He holds a B.BA. degree in marketing and management consulting.
Teemu Päivinen is an advisor who brings extensive knowledge and experience as an entrepreneur and investor focused on blockchain and governance. He is also the founder and chairman of Oddshot.tv.
Token Performance Details
Introduced into the market in May, Zippie (ZIPT) tokens were initially valued at US$0.071 per token.

ZIPT token lifetime performance chart (courtesy of CoinMarketCap)
While the currency has not set any new records, due to the newness of the associated product, it is difficult to assess the true potential of this token.
As of June 25, the price of a single ZIPT token stood at $0.041.
Final Thoughts
Zippie is ambitious in its scope, with a cross-platform application morphing into an operating system. Even in its nascent stage, this service can potentially be deployed on various public chains, networks, and operating systems. As a result, it would not be surprising to see this project do well this year.

If you are interested in investing in Zippie, ZIPT trading pairs are currently available on DDEX, IDEX, and OTCBTC.
Image(s): Shutterstock.com