Ever since Christmas eve, cryptocurrency markets have been changing directions every single day. After peaking at $0.44 earlier this week, XRP has been looking for support ever since. Currently XRP is trading at $0.36, down roughly 3% in the past 24 hours.
Other than a huge price spike of over 50% back in September, XRP has been following the overall cryptocurrency market trends throughout 2018. Things are no different at the time of writing as XRP is closely following Bitcoin's movements. Speaking of BTC's price, things aren't looking to good right now as the currency is unable to break past the $4,000 level. In fact, earlier today the currency dropped over $100 in just an hour – bringing it to the current level of $3,831.
Why are we talking about Bitcoin's price movements if this article is about XRP? Well, if Bitcoin is unable to break past $4,000 it is also unlikely that we will see any bullish momentum for XRP. Because Bitcoin is the trend setter as its market cap is still almost 5 times that of XRP, if one wants the digital asset to perform then BTC needs to make some gains. It is possible that XRP's price will diverge from that of Bitcoin, but there is currently no evidence of that happening.
XRP News
In recent news, Kraken announced the addition of XRP and BCH margin trading to its platform. Unfortunately, the PR didn't go as planned. On twitter, the XRP community criticized the exchange for its naming convention of the digital asset. Kraken named the asset as Ripple (XRP), but the community believed it should have been named simply as XRP, without Ripple in its name.
Why is it too much to ask that you list $XRP as XRP? Everybody is trying to be crystal clear here. Why aren't you?

— 𝚃𝚒𝚏𝚏𝚊𝚗𝚢 𝙷𝚊𝚢𝚍𝚎𝚗 (@haydentiff) December 29, 2018
The reason the naming convention matters is to avoid confusion for newbie investors who might think they are buying shares of the Ripple company. However, XRP is a separate digital asset that exists 100% independently of the Ripple company.
When it comes to the price, it looks like Kraken's announcement did have a slight impact on the market, which moved XRP's price from $0.34 to $0.37 after the announcement. The addition of XRP to its margin trading platform didn't have as big of an impact compared to Binance's announcement earlier this week that it was adding XRP as the base currency. That resulted in the digital asset sustaining over 20% gains in just a single day bringing it to a price of $0.44.
XRP/USD Price Analysis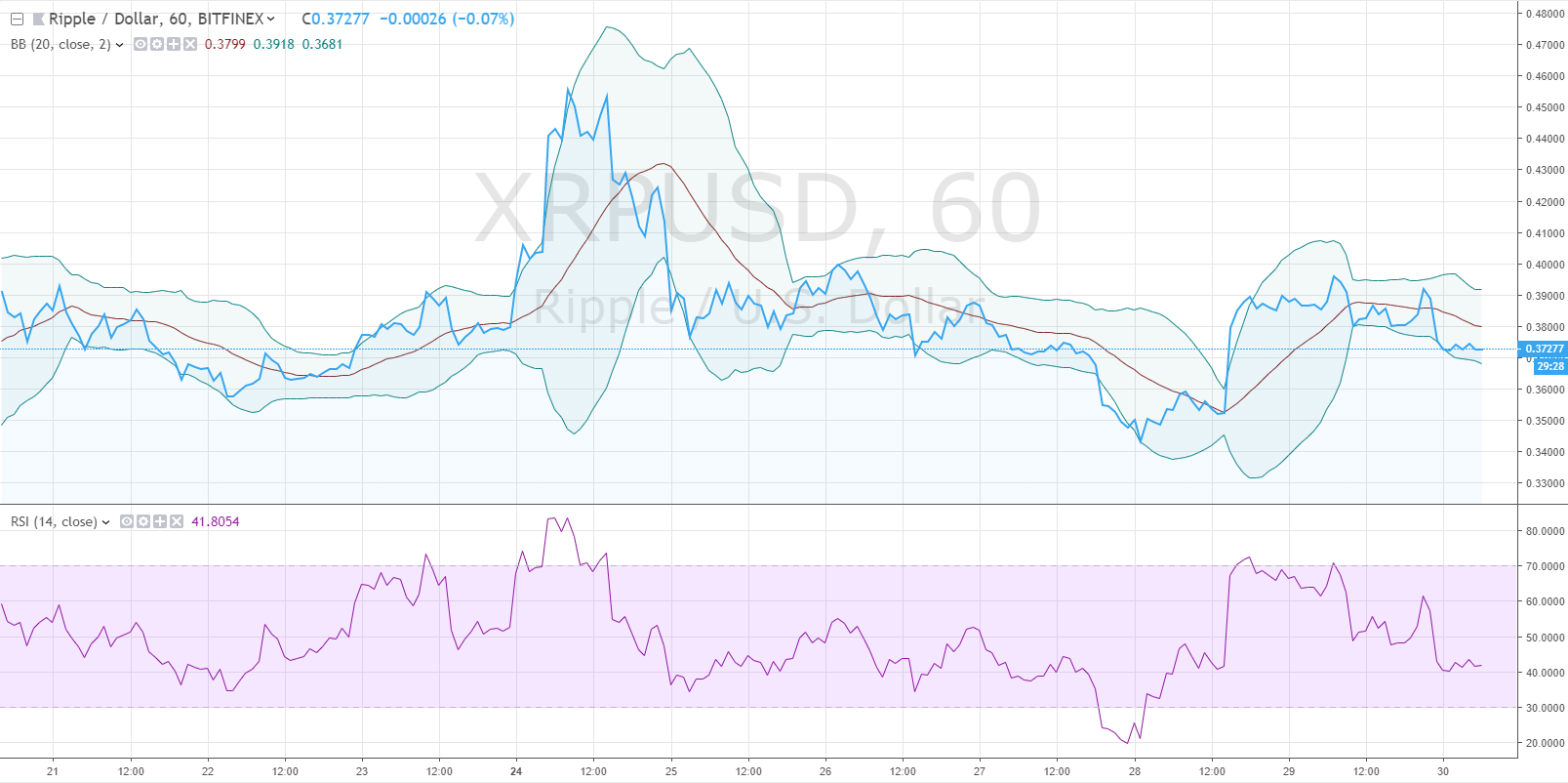 Relative Strength Index: Currently the RSI is at a healthy 43 points, signalling the market is in a good position and ready to make a move. What I would like to point out is how the RSI has been a pretty good indicator as of late. If you look at the last time the RSI surpassed 70 points and signaled an overbought market, shortly after the XRP price dropped. Similarly, the last time the RSI dipped below 30 points the market rose in value shortly after.
Due to this pattern, the next time the RSI moves outside the healthy threshold, expect the appropriate market movement. We will put this theory to the test the next time the RSI either dips below 30 or rises above 70.
Bollinger Bands: The current price is below the 20 day moving average which isn't a good sign. Unfortunately when the market has been below this level it has sustained bearish momentum. The good news is, the BB channel relatively narrow so even with the bearish momentum the price shouldn't drop too much.
Final Thoughts
With the upcoming New Year, I would imagine that we still have one more bull run left for 2018. After all, cryptocurrencies already dropped over 80% since their all time high in January. Even another 50% drop would be irrelevant to those who bought at the peak as most of their funds are already gone. It really does seem like cryptocurrency has hit rock bottom, and the good thing about rock bottom is there is nowhere to go but up.
---
Disclaimer: This is not trading or investment advice. The above article is for entertainment and education purposes only. Please do your own research before purchasing or investing into any cryptocurrency.
Image(s): Shutterstock.com