What goes up must come down. The week started off on a good note, markets seemed to be recovering and most cryptocurrencies saw double digit gains. Unfortunately, it seems the Monday bull run is coming to an end as the market is correcting on Christmas eve, effectively erasing the gains sustained in the past 24 hours. Bitcoin Cash was hit exceptionally hard losing almost 20% in value, risking its top 4 position to EOS.
After seeing insane gains last week and passing EOS for the number 4 spot by market cap, it seems that Bitcoin Cash is on its way back down, currently trading at $165 and having a $500 million lead on EOS based on market cap. The good news is, EOS also went down 10% as all cryptocurrency markets are seeing red. In fact, crypto lost over $10 billion in market cap in the past couple hours, this just shows how volatile this space is exactly.
Bitcoin Cash News
When it comes to news, Bitcoin.com recently announced that they will be launching the BCH Oracle. The Oracle is a prediction market that can be used to get information on various services, bitcoin.com explained:
"by utilizing the security of the distributed BCH ledger we can trust the autonomous oracles to determine certain outcomes"
The outcomes include social media posts, news pieces, github code, and much much more.
Why The Price Drop?
Other than the overall bearish momentum, how can we explain BCH's 20% price drop? One rumor that may be contributing to the significant drop is how Bitmain allegedly fired the Bitcoin Cash development team. Samson Mow explain on twitter:
Bitmain has quietly laid off their entire Copernicus team (#Bcash GO client). Only 1 week notice. Some had just joined the company. Layoffs just in time for Christmas. #BitmainIPO @HKEXGroup @SCMPNews pic.twitter.com/Kt2Ce90sBW

— Samson Mow (@Excellion) December 23, 2018
It is definitely sad to see layoffs during Christmas time, but unfortunately business is ruthless. This decision is not exactly surprising as earlier this month Bitmain closed their hub in Israel.
Bitmain is a Chinese based ASIC manufacturing company. As Bitcoin's price has sharply dropped in recent months, miners were hit extremely hard. Some, like Digital Gold even had to completely tear down their operations and shut down all the rigs. We can only hope that the market will reach some sort of equilibrium in the near future so that businesses can start recovering. Check out this video by Digital Gold to see how badly miners were really affected with the bear market:
BCH Price Technical Analysis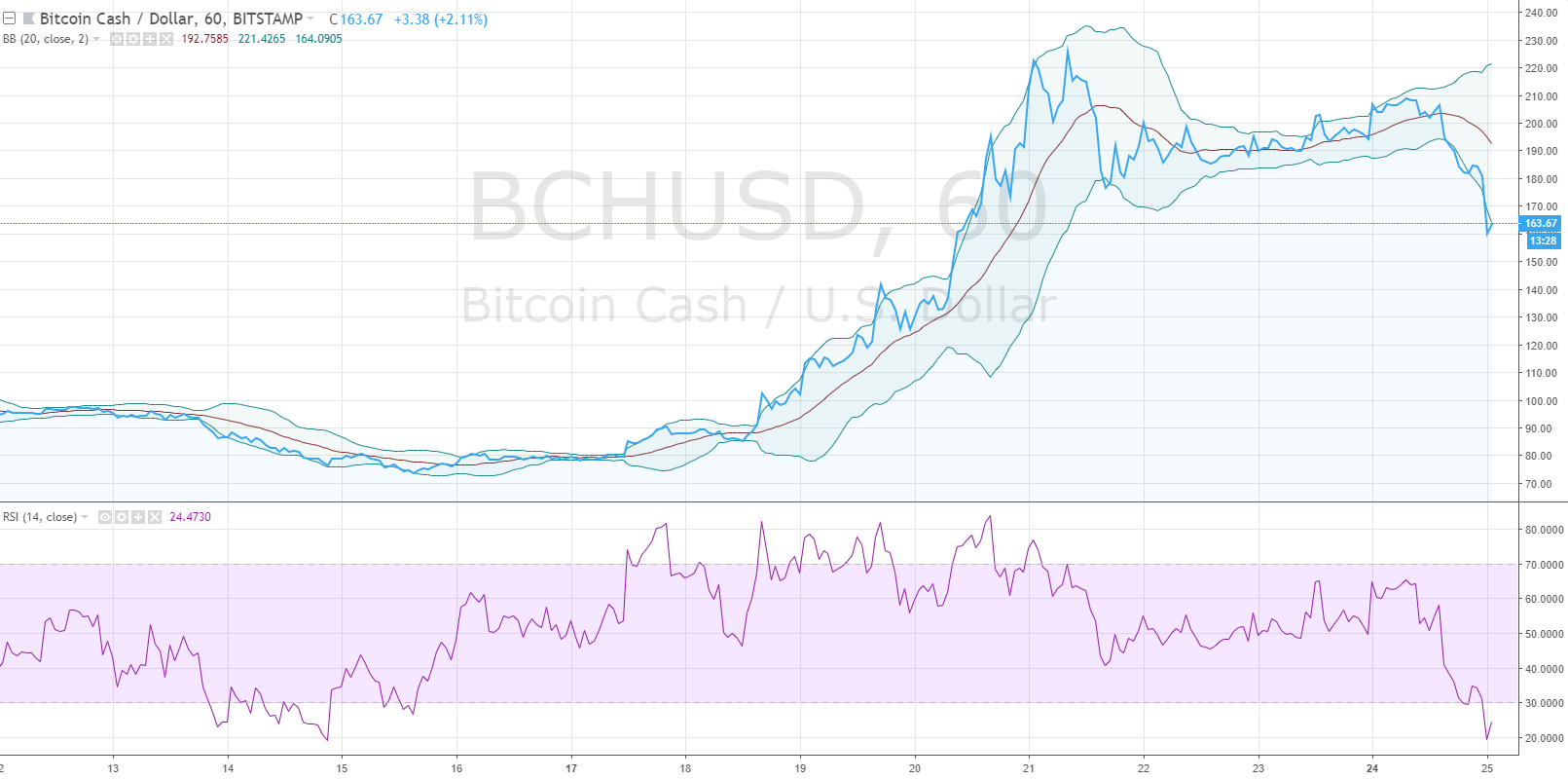 Relative Strength Index: Looking at the RSI which is at 23, the market is definitely in the oversold territory. Looking at previous oversold RSI's we see that it can stay in that threshold for quite some time, not a good sign.
Bollinger Bands: We are seeing the market tracing the lower end of the Bollinger Bands. Again, not a great sign as the last time it behaved that way was in the beginning of the month after the Bitcoin SV fork. During that time, BCH dropped from $160 to $80, the whole time the market was tracing the lower ends of the Bands.
Most likely BCH will recover in the near future assuming crypto markets stabilize and at least stay above the $120 billion market cap. Christmas day may not be such a great period for the markets as most people will be spending their time with their family and not buying cryptocurrency. However, high hopes remain for New Years as there is no better way to celebrate 2019 than with a bull run.
---
Disclaimer: This is not trading or investment advice. The above article is for entertainment and education purposes only. Please do your own research before purchasing or investing into any cryptocurrency.
Image(s): Shutterstock.com