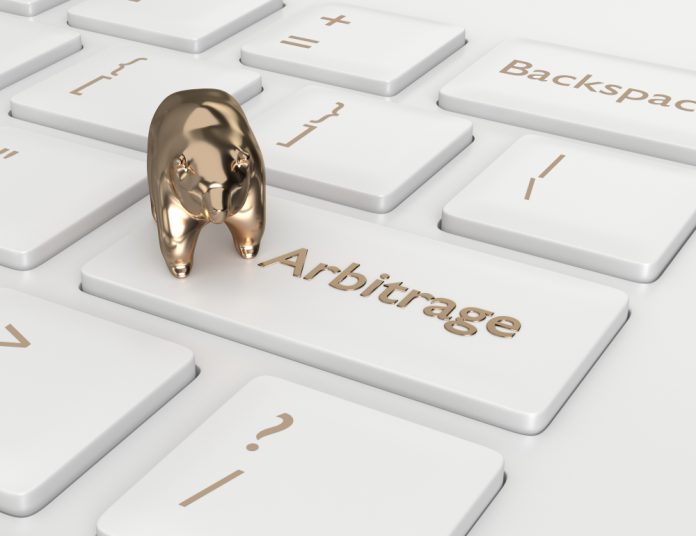 Making money in the cryptocurrency world can be done in many different ways. Holding currencies and selling them for profits is certainly one way to go about things. Arbitrage trading is another viable approach, as it allows for somewhat less riskier profits to be secured. The following six currencies allow for an interesting profit to be scored, depending on overall platform liquidity.
Ontology (Binance / KuCoin)
It is somewhat refreshing to see some new currencies pop up in the list of arbitrage opportunities today. Ontology, or ONT, isn't often subjected to a price spread. Today, however, the value between Binance and KuCoin is slightly different, allowing for a 0.78% profit to be scored. It is not the most appealing gain by any means, but it is better than seeing one's portfolio value dwindle as more time progresses.
Stellar Lumens (Kraken / HitBTC)
As is usually the case when it comes to arbitrage opportunities, there is at least one pair on Kraken which can be used to score some quick profits. Buying XLM on this exchange and selling it on HitBTC allows for a net 1% profit. Both platforms usually have decent trading volume for XLM, thus there are some options waiting to be explored throughout the day.
Ethereum (Bitstamp / Bitfinex / HitBTC)
A lot of similar arbitrage opportunities exist for top cryptocurrencies today. Buying Ethereum on Bitstamp lets users sell ETH on Bitfinex or HitBTC for a profit of 0.8% up to 1.2%. Buying on Kraken and selling on either KuCoin and HitBTC will yield very similar profits. Having multiple options to explore is always a good sign, assuming these gaps remain in place for a while.
Litecoin (Kraken / Bitstamp / Koineks)
The same arbitrage opportunity associated with Ethereum can also be used for Litecoin trading, for the most part. Buying on Bitstamp and selling on Bitfinex, HitBTC, or Koineks can yield a 1% profit. Buying LTC on Kraken and selling on HitBTC is slightly more lucrative, as it yields a 1.1% profit. No major spreads are to be found today, but that is only to be expected during this new bearish trend.
XRP (Bitstamp / Kraken / HitBTC)
No one will be surprised to learn any arbitrage opportunity affecting Ethereum and Litecoin will also apply for XRP. Using the same exchanges across the board, there is some good money to be made from buying and flipping XRP. The profits are slightly higher as well, as traders can expect to pocket a profit of up to 1.3%. A pretty decent arbitrage gap given the overall market trend.
Bitcoin Gold (Koineks / Bitfienx / HitBTC)
Even though it seemed as if the Bitcoin Gold arbitrage opportunities had all but dried up in the past few days, the opposite has come true. As of today, buying BTG on Koineks and selling it on either HitBTC or Bitfinex can reward users with a profit of up to 1.19%. Again, a very small price gap, but one cannot look a gift horse in the mouth. Especially not in the cryptocurrency industry, as the year 2018 hasn't offered too many money making opportunities so far.
---
Information provided by Arbing Tool.
Disclaimer: This is not trading or investment advice. The above article is for entertainment and education purposes only. Please do your own research before purchasing or investing into any cryptocurrency.
Image(s): Shutterstock.com