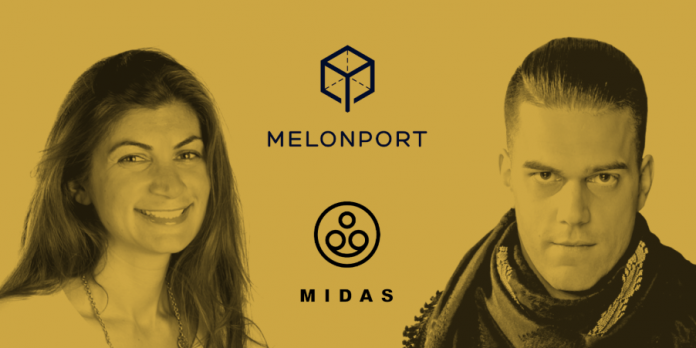 Midas Technologies AG is proud to add to two new members to their project who will provide fresh perspectives on the up and coming Midas project. The Melonport co-founders Reto Trinkler and Mona El Isa will join the companies advisory board to aid in the development of the retail investing app Midas. The two founders bring extensive experience in international finance and software development. They have both have been selected as members of Forbes "30 Under 30".
Disclosure: This is a Sponsored Article
CEO of Midas Technologies AG, Adrian Gallo, recently voiced the companies happiness in being able to welcome two of the most professional and experienced individuals in crypto to their board. Adrian believes that Reto's assistance in development questions will ensure the optimal integration of Midas with the Melon protocol. Midas believe that Mona's extensive expertise in financial industries and her wide network among industry leaders as well as regulators will help them gain strength to support an outstanding product.
A little bit about Melonport
Melonport AG is co-owned by Reto Trinkler and Mona El Isa, founded in July of 2016. The duo operates from Zug in Switzerland where they managed to raise CHF 2.5 million in under 10 minutes through their MLN tokens. Melonport AG is responsible for the development and releasement of Melon, an asset management computer.
Melon is an autonomous system which has been designed specifically for managing cryptocurrency assets. The frontend and backend are hosted and executed on a decentralized platform. The front end is built from IPFS whereas the backend operates off a set of Ethereum contracts.
More on the Midas Project
Midas is an application powered by blockchain technology operating from a decentralized platform that allows users to access the Melon Protocol. The application creates a friendly environment where users can interact with each others portfolio and buy and sell crypto assets. The primary function called the Midas Touch will work like a "like" button to keep track of assets in a simple manner.
The application enables users to team up alongside each other or against one another. Apart from cryptocurrencies and token assets the platform provides alternative retail assets like crypto collectibles and prediction markets.
All investments are transparent and give users full control over their money and where it goes. Users will be allowed to restructure their portfolio with a few simple clicks. No paperwork or middleman will be needed thanks to blockchain technology ensuring users get a fair and reliable experience.
Reto Trinkler from Midas Asset Management explained the focus touch in a recent interview. Reto believes that 'Ease of use' is one of the most overlooked aspects in the design of blockchain applications and is the primary focus of Midas Touch.
Midas Beta and Pre-Sale
Midas Technologies AG  is an ongoing project which needs further development however the company has already launched a beta signup in addition to an airdrop event. Before the beta is launched, the Midas team will include registered testers during the development to guarantee the app runs as planned and suits the needs of users.
Website: https://midas.social
Image(s): Shutterstock.com