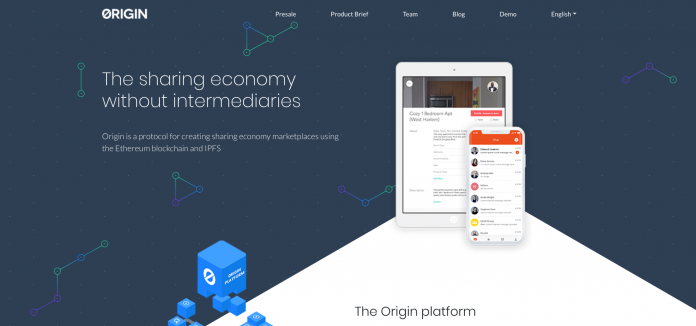 The sharing economy is a concept which can make its impact on the cryptocurrency industry. If the Origin Protocol team is to be believed, they will create a sharing economy marketplace using the Ethereum blockchain and IPFS. Commercializing such a project may still prove to be a challenge, although the concept introduces some interesting possibilities.
The Origin Protocol Explained
Empowering developers and businesses to build dApps on a blockchain is not a new business venture by any means. Various projects aim to do exactly that, but the Origin Protocol aims to do so without intermediaries and with a strong focus on the sharing economy concept. Their native protocol offers some key advantages not found in other products, which can give it a competitive edge.
How Does it Work?
Bridging the gap between the sharing economy and cryptocurrency is not as straightforward as one may assume. For the Origin team, there are a few key challenges which remain apparent. Through the native protocol, developers and businesses can create and manage listings for digital assets and services. As such, a peer-to-peer market discovery system can be built for various different purposes.
Unlike what some people may assume, this venture is not designed to be a cryptocurrency exchange of sorts. Instead, it aims to encompass the entire sharing economy, including ride-sharing solutions, shopping services, food delivery companies, et cetera. With Ethereum's blockchain and the IPFS, a lot of new use cases can be explored, albeit there is never a guarantee for success.
Various companies are already building dApps on top of Origin. The companies include SPIN, Wehome, Blocklancer, Bee, and CanYa. As such, it shows there is a genuine interest in the technology provided by Origin Protocol.  With the native support for smart contracts and the open and shared data system, Origin Protocol can unlock many new business opportunities along the way.
The Road Ahead
As is always the case with projects such as these, there is always work to be done. A beta of Origin Protocol is currently active on Ethereum's testnet, and the main net launch is expected to launch in the coming weeks. The first third-party dApps will come to market in 2019, although no exact dates have been announced at this time.
Image(s): Shutterstock.com