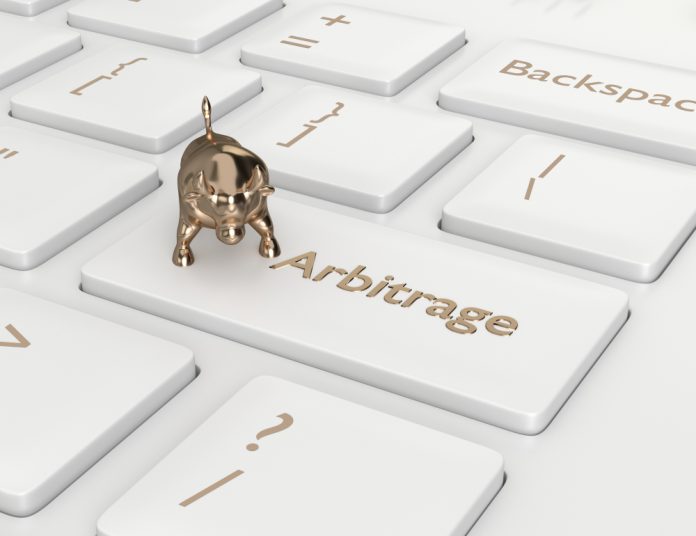 While most people are looking to score bargains today, others will double down on their efforts to score cryptocurrency profits. Given the current negative market momentum, that may be a lot more difficult than first anticipated. Luckily, there are numerous arbitrage opportunities, all of which will yield some pretty decent profits, depending on platform liquidity.
Basic Attention Token (Poloniex / Gate)
It is the first time in a while the Basic Attention Token price allowed for some arbitrage trading. Today is that day, for those who are willing to explore this market. The value of BAT in Gate.io is lower compared to Poloniex, which allows for some profit taking along the way. When flipping BAT between these two exchanges, traders can easily net a 2.5% – 3% profit. More than respectable figures, given the current fire sale across all markets.
Cardano (Gate / Binance)
For the third time in a row, there is a small Cardano arbitrage opportunity traders can take advantage of. This is pretty interesting, as it shows the overall market price for ADA is very different from platform to platforms. Buying on Binance and selling on Gate.io will yield a 1% profit for doing virtually nothing. An opportunity too good to pass up on, especially during Black Friday.
Monero (Kraken / HitBTC / Poloniex)
For some unknown reason, very few people seem to take advantage of the current Monero arbitrage opportunity which first opened up several days ago. Even today, there is still a 2.4% gap for XMR prices between Kraken and HitBTC, Poloniex, and Gate. Exploring this gap seems to make a lot of sense, as there is a genuine demand for XMR on all of those exchanges. Moreover, these are very easy profits which do not involve too many risks.
USDT (BtcTurk / KuCoin / Bittrex)
Another arbitrage opportunity slowly becoming more apparent comes in the form of Tether's USDT. This stablecoin is subject to many price changes between BtcTurk, Bittrex, and Kucoin. Buying on either of those first two exchanges and selling on KuCoin can yield a profit of up to 2.9%. That is quite a substantial amount for the most liquid stablecoin in the industry today.
Dash (Kraken / Gate / HitBTC)
Buying Dash on Kraken has been a pretty good idea all week long. Not necessarily for those who want to chase straight profits associated with this altcoin, but rather for arbitrage traders. Its price on Kraken is up to 2.9% lower compared to HitBTC, Poloniex, and Gate. This means there are quite a few opportunities to explore as the day progresses. Today's fire sale will only ensure these gaps remain in place and potentially grow larger.
EOS (Paribu / Bitfinex / Binance)
Today is a pretty interesting day to buy EOS low and sell it at a higher price. The exchange to buy from is Paribu, which maintains a rather low price compared to all other major platforms. Selling EOS on Gate, Bitfinex, Binance, KuCoin, or HitBTC can yield a quick profit of up to 1.6%. All of these exchanges have sufficient liquidity to make this an appealing arbitrage opportunity.
---
Information provided by Arbing Tool.
Disclaimer: This is not trading or investment advice. The above article is for entertainment and education purposes only. Please do your own research before purchasing or investing into any cryptocurrency.
Image(s): Shutterstock.com